New York Professional Events List
4th Adverse Event Reporting and Safety Strategies Summit (EXL)
---
Date
Dec 04, 2017 - 08:00 AM - Dec 05, 05:00 PM
Organizer
New York Media Technologies LLC
Location
Sonesta Philadelphia Downtown Rittenhouse Square 1800 Market Street Philadelphia, PA 19103 United States,
Philadelphia,
PA ,
US,
ZIP: 19103
Phone: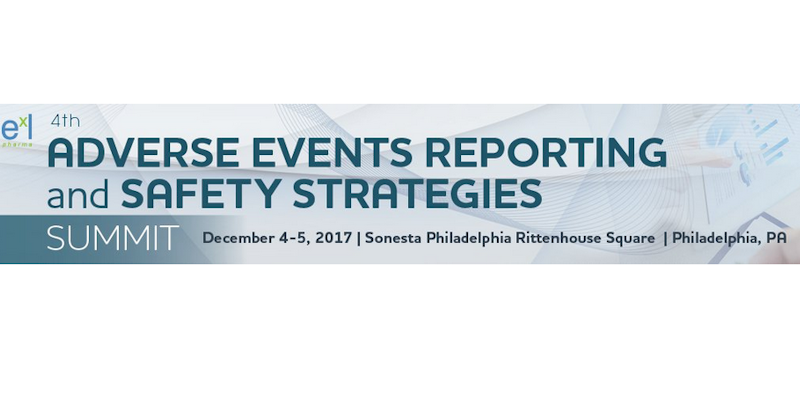 4th Adverse Event Reporting and Safety Strategies Summit
Adverse events are the pillars of pharmacovigilance and safety operations as we know them. They are the drivers for developing safety databases, risk management plans, risk evaluation and mitigation strategies, benefit-risk assessments, and periodic reports. Their collection and reporting is instrumental in leading to preventative actions for marketing better and safer drugs.
The 4th Adverse Event Reporting and Safety Strategies Summit illuminates and disseminates best practices in pharmacovigilance and adverse events management. Attendees will explore lessons learned and replicate best practices of our illustrious speaking faculty of regulators and industry-leading practitioners, and other experts.
The pharmacovigilance space is constantly evolving — as are the needs of professionals and stakeholders in this area. In order to promote patient safety, proactively monitor adverse events and understand their impact in every phase of development, it is crucial to keep up to date with the latest regulatory changes, innovations and emerging technologies.
This summit is expressly designed for PV professionals and stakeholders seeking to ensure global compliance and improve their company's effectiveness in adverse events reporting, drug safety management and risk mitigation. The summit disseminates best practices of life sciences companies to detect and prevent adverse reactions that positively impact drug safety profiles by illuminating tactics for related to benefit-risk assessment, real-world data solutions and analyses, signal detection, periodic reporting and solicited/unsolicited reports.


Top Five Reasons to Attend
Harmonize PV globally in compliance with the disparate expectations and timelines of regulatory authorities

Prepare comprehensive reports by optimize signal detection in enhancing data collection and mining methods

Improve safety through robust safety governance and internal audits of risk management efficiency assessments

Execute tactics and leveraging tools for measuring risk management efficiency to better identify potential and prevent adverse events

Vet emerging technologies, solutions and partner strategies to streamline global safety operations and reporting
Who Should Attend
This conference is designed for professionals from pharmaceutical, biotech and medical device companies with responsibilities in the following areas:
Pharmacovigilance

Drug Safety

Risk Management

Safety Research/Epidemiology

Pharmacoepidemiology

Medical Product Safety Assessment

Regulatory Affairs
Clinical Research

Safety Surveillance

Signal Detection

Clinical Safety

Patient/Medical Safety

Health Outcomes

Phase IV/Postmarketing Safety
This conference is also of interest to:
Adverse Event/Case Management Service Providers

Safety Database Providers for Case Management

CROs

PV Services Providers and Consultants

Conference Chair
Susan Welsh,
Chief Safety Officer,
CSL BEHRING
Featured Speakers Include:

Deepa Arora, Vice President Pharmacovigilance, Global Head Drug Safety and Risk Management, LUPIN LIMITED

Stephen A. Goldman, Managing Member, STEPHEN A. GOLDMAN CONSULTING SERVICES; Former Medical Director,MEDWATCH, FDA

Deanna Montes de Oca, Associate Director, PV Operations Clinical Safety and Pharmacovigilance, OTSUKA

Judith Sills, Vice President and Head, Global Pharmacovigilance, THE MEDICINES COMPANY

Sameer Thapar, Assistant Professor and Advisor, Drug Safety and
Pharmacovigilance, RUTGERS UNIVERSITY

Michael von Forstner, Co-Chair, Pharmacovigilance Working Group, MEDICINES FOR EUROPE
Event Partners
---
Association of Clinical Research Professionals (ACRP)
ACRP supports clinical research professionals through membership, a broad array of training and development tools, and certification. Founded in 1976, ACRP is a Washington, DC-based nonprofit organization with more than 13,000 members who work in clinical research in more than 70 countries. ACRP's vision is that clinical research is performed ethically, responsibly, and professionally everywhere in the world. ACRP's mission is to promote excellence in clinical research.
MEDtube
MEDtube is an innovative video education platform for health professionals. It allows sharing videos and other materials with a community of more than 110,000 users worldwide, as well as building e-learning courses. The videoteque is updated daily and now contains almost 15,000 videos.
PharmaLeaders
PharmaLeaders.com is an online environment dedicated to enriching the careers of more than 200,000 life sciences professionals. With breaking news and informative content grouped into one of nine segmented channels, in-depth special reports, job and events postings, and so much more, industry executives, manufacturers, marketers and educators can count on PharmaLeaders for the tools they need to succeed in today's competitive market environment.
pharmaphorum.com
pharmaphorum drives innovation within the pharmaceutical industry, by bringing together healthcare through a suite of media services that help produce and disseminate thought leadership, combined with an online platform for communicating messages to a global audience.
PharmaVOICE
PharmaVOICE magazine, reaches more than 41,000 qualified subscribers and 100,000 users with its digital edition. PharmaVOICE is the forum that allows business leaders to engage in a candid dialogue on the challenges and trends impacting the industry. PharmaVOICE provides readers with insightful and thought-provoking commentary in a multiple-perspective format through forums, topics, and articles covering a range of issues from molecule through market. PharmaVOICE subscribers are also kept abreast of the latest trends and information through additional media resources, including Social Media, WebLinx Interactive WebSeminars, Podcasts, Videocasts, White Papers, E-Surveys and e-Alerts.
PM360
PM360 is the premier, must-read magazine for marketing decision makers in the pharmaceutical, biotech, and medical device industries. Published monthly, PM360 is the only journal that focuses on delivering the full spectrum of practical information necessary for product managers and pharma marketing professionals to succeed in the complex and highly regulated healthcare environment. The journal's targeted and insightful editorial focuses on issues that directly impact critical decision making, including: planning and implementation of cutting edge strategies, trends, the latest technological advances, branding/marketing, advertising/promotion, patient/professional education, sales, market research, PR, and leadership. Additionally, the '360' in our title signifies the combination of this critical, how-to info with personal and career insights for an enjoyable and thought-provoking read. By providing the full circle of enriching content, PM360 is truly an indispensable tool for busy and productive marketing professionals to stay at the top of their game.
Technology Networks
Technology Networks is an internationally recognised publisher that provides access to the latest scientific news, products, research, videos and posters. Our global community is made up of over 300,000 researchers and scientific professionals from the life science, drug discover and analytical arenas.
Please contact the event manager Marilyn below for the following:
- Discounts for registering 5 or more participants.
- If you company requires a price quotation.
Event Manager Contact: marilyn.b.turner(at)nyeventslist.com
You can also contact us if you require a visa invitation letter, after ticket purchase.
We can also provide a certificate of completion for this event if required.

NO REFUNDS OR TRANSFER ALLOWED ON REGISTRATIONS
-----------------------------------------------------------------
This Event Listing is Promoted by
New York Media Technologies LLC in association
with EXL Events Inc.
http://www.NyEventsList.com
http://www.BostonEventsList.com
http://www.SFBayEventsList.com
-----------------------------------------------------------------
SHU170601CEV MAR170928UPD
Agenda
---
Day One
MONDAY, DECEMBER 4, 2017

CASE MANAGEMENT
8:00AM – 8:30AM
Registration and Continental Breakfast
8:30AM – 8:45AM
Chair Opening Remarks
Susan Welsh, Chief Safety Officer, CSL BEHRING
8:45AM – 9:45AM
Improve Product Safety With a Cohesive Company-Wide Approach
Stephen A. Goldman, Managing Member, STEPHEN A. GOLDMAN CONSULTING SERVICES; Former Medical Director, MEDWATCH, U.S. FOOD AND DRUG ADMINISTRATION
9:45AM – 10:30AM
Improve Efficiency, Safety, and Compliance Through Strategic Selection, Management, and Oversight of Vendors
Judith Sills, Vice President and Head, Global Pharmacovigilance, THE MEDICINES COMPANY
10:30AM – 11:15AM
Engage PV Vendors: Experience of a Small Biotech
Bill Haddock, Head of Safety, OVID THERAPEUTICS
11:15AM – 11:30AM
Networking Break
11:30AM – 12:15PM
Implement an Effective CAPA System in Pharmacovigilance
Deepa Arora, VP Pharmacovigilance and Global Head Drug Safety and Risk Management, LUPIN LIMITED
12:15PM – 1:00PM
Luncheon
1:00PM – 1:45PM
Ascertain Hidden SAEs/SUSARs in Endpoint Reports by Systematizing and Standardizing a Process
Ghazala Haque, Safety Surveillance Manager, DUKE UNIVERSITY MEDICAL CENTER
1:45PM – 2:30PM
Case Study: CSL Behring's Model for Embedded Vendor Collaboration to Supplement Case Management
Joanne Grego, Global Vendor Management and ICSR Quality Lead, GCSP, CSL BEHRING
Richard Wolf, Head, GCSP Regions and PV Operations, CSL BEHRING
2:30PM – 3:00PM
Networking Break
SIGNAL MANAGEMENT AND ASSESSMENT
3:00PM – 3:45PM
Improve Signal Management and Drug Safety by Preempting or Responding to Causes of AE in Manufacturing
Paul Beninger, Assistant Professor of Public Health and Community Medicine, Tufts University School of Medicine; Former Vice President, Global Patient Safety, GENZYME
3:45PM – 4:30PM
Utilize Real-Word Data From Social Media and Other Sources for Signal Detection
Andres Gomez, Vice President, Head of Epidemiology, Safety Science and Analytics, BRISTOL-MYERS SQUIBB
4:30PM – 5:15PM
Determine Your Global Signal Management Strategy
Michael von Forstner, Co-Chair, Pharmacovigilance Working Group, MEDICINES FOR EUROPE
5:15PM –
Conclusion of Day One

Day Two
TUESDAY, DECEMBER 5, 2017

DATA SCIENCE AND TECHNOLOGY
8:00AM – 9:15AM
Continental Breakfast
9:15AM – 9:30AM
Chair Recap of Day One
Susan Welsh, Chief Safety Officer, CSL BEHRING
9:30AM – 10:15AM
Automation of Adverse Events Reporting and Artificial Intelligence Application
Israel Gutierrez, Senior Director Drug Safety and Pharmacovigilance, PHARMACYCLICS
10:15AM – 11:15AM
Use Artificial Intelligence to Enhance Safety Operations: Currently Available and Upcoming Technology
Sameer Thapar, Assistant Professor and Advisor, Drug Safety and Pharmacovigilance, RUTGERS UNIVERSITY
11:15AM – 11:45AM
Networking Break
11:45AM – 12:30PM
Panel: Harness New Technologies for PV
Panelists
Israel Gutierrez, Senior Director Drug Safety and Pharmacovigilance, PHARMACYCLICS
Sameer Thapar, Assistant Professor and Advisor, Drug Safety and Pharmacovigilance, RUTGERS UNIVERSITY
12:30PM – 1:30PM
Luncheon
AUDITS AND INSPECTION TRENDS
1:30PM – 2:15PM
Ensure Inspection Readiness Through Mock Inspections
Deanna Montes de Oca, Associate Director, PV Operations Clinical Safety and Pharmacovigilance, OTSUKA
2:15PM – 3:00PM
Comply With the FDA's June 2018 Deadline for Combination Product Safety Reporting
Gay Steinbrick, Director, Global Clinical Safety and Pharmacovigilance, MERCK
3:00PM – 3:15PM
Chair Closing Remarks
Susan Welsh, Chief Safety Officer, CSL BEHRING
3:15PM –
Conclusion of Conference
Speaker Details
---
Faculty
---
Deepa Arora
Vice President, Pharmacovigilance and Global Head, Drug Safety and Risk Management, LUPIN LIMITED
Paul Beninger
Assistant Professor of Public Health and Community Medicine, TUFTS UNIVERSITY SCHOOL OF MEDICINE
Former Vice President, Global Patient Safety, GENZYME
Deanna Montes de Oca
Associate Director, PV Operations Clinical Safety and Pharmacovigilance, OTSUKA
Michael von Forstner
Co-Chair, Pharmacovigilance Working Group, MEDICINES FOR EUROPE
Stephen A. Goldman
Managing Member, STEPHEN A. GOLDMAN CONSULTING SERVICES
Former Medical Director, MEDWATCH, U.S. FOOD AND DRUG ADMINISTRATION
Andres Gomez
Vice President, Head of Epidemiology, Safety Science and Analytics, BRISTOL-MYERS SQUIBB
Joanne Grego
Global Vendor Management and ICSR Quality Lead, GCSP, CSL BEHRING
Israel Gutierrez
Senior Director Drug Safety and Pharmacovigilance, PHARMACYCLICS
Bill Haddock
Head of Safety, OVID THERAPEUTICS
Ghazala Haque
Safety Surveillance Manager, DUKE UNIVERSITY MEDICAL CENTER
Judith Sills
Vice President and Head, Global Pharmacovigilance, THE MEDICINES COMPANY
Gay Steinbrick
Director, Global Clinical Safety and Pharmacovigilance, MERCK
Sameer Thapar
Assistant Professor and Advisor, Drug Safety and Pharmacovigilance, RUTGERS UNIVERSITY
Susan Welsh
Chief Safety Officer, CSL BEHRING
Richard Wolf
Head, GCSP Regions and Pv Operations, CSL BEHRING
Event Categories
HEALTH AND MEDICINE CONFERENCES
,
Healthcare
,
Life Sciences, Biotechnology
,
SCIENCE AND TECHNOLOGY CONFERENCES
,
Technology
Keywords: fun, access , analyses, assessment , audience, business , Clinical , community , conference , database
---
---
---
Comments
---
---
Newsletters
VIP Life Time Subscription to our Newsletters!

$399.99