New York Professional Events List
Welcome to Convergence India
---
Date
Mar 09, 2021 - 09:00 AM - Mar 10, 09:00 AM
Organizer
New York Media Technologies LLC in association with Exhibitions India Group.
Location
Pragati MaidanNew Delhi, DLIndia,
New Delhi,
DL ,
US,
ZIP: India
Phone: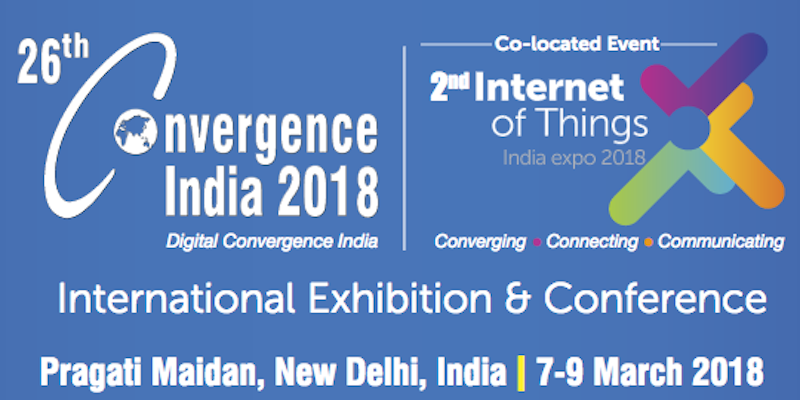 Description
Welcome to Convergence India
Launched in 1992, the Convergence India series of expo is credited as South Asia's largest ICT expo.

Convergence India is the only platform in this region which demonstrates convergence of technologies in Telecom, IT, Broadcast & Digital media sectors.

The expo will showcase latest trends and technologies related to Telecom, Broadcast, Cable and Satellite TV, Cloud & Big Data, IoT, Digital Homes, Mobile devices, Film and Radio, Content Creation, Management and Delivery, etc. and also provides engagement with digital innovators, international business gurus, telecom and broadcasting czars, leaders from IT & Internet and IoT industries. It is a mecca of mega-minds accumulating under one roof to take Prime Minister Narendra Modi's vision of Digital India ahead, thus resulting in empowering the citizens of the country by transforming the landscape of Indian economy.

The three-day exhibition and concurrent conference sessions provides an excellent networking opportunity for speakers, visitors and delegates. This platform attracts high quality exhibitors to showcase their expertise and identify the thriving business opportunities in India.

Convergence India is the largest ICT expo in this region.
This event is conglomeration of telecom, IT, broadcast & digital media industry, thus creating an ideal platform for world business leaders to discuss and debate the challenges, opportunities and roadmap ahead.
In the present era of convergence, distinction between telecom, IT & broadcast sectors is getting blurred. This makes Convergence India expo an ideal platform to showcase these technologies.

• India's digital economy will cross US$1 trillion in the next 5 years
• 1.05 billion citizens possess Aadhar cards
• IT exports have crossed US$100 billion
• Mobile subscribers in excess of 1 billion
• 50,732 gram panchayats have optical fibre laid
• Robust ebank, e-education and ehealth infrastructure.

Please contact the event manager Marilyn below for the following:
- Discounts for registering 5 or more participants.
- If you company requires a price quotation.
Event Manager Contact: marilyn.b.turner(at)nyeventslist.com
You can also contact us if you require a visa invitation letter, after ticket purchase.
We can also provide a certificate of completion for this event if required.

NO REFUNDS OR TRANSFER ALLOWED ON REGISTRATIONS
-----------------------------------------------------------------
This Event Listing is Promoted by
New York Media Technologies LLC in association
with Exhibitions India Group.
http://www.NyEventsList.com
http://www.BostonEventsList.com
http://www.SFBayEventsList.com
-----------------------------------------------------------------
SHU170424CEV MAR170926UPT
Event Categories
COMMUNICATIONS AND TRANSPORTATION CONFERENCES
,
Technology
Keywords: fun, business , conference , Eating, Economy, exhibition , exhibitions, film , Fun , Health
---
---
---
Comments
---
---
Newsletters
VIP Life Time Subscription to our Newsletters!

$399.99