New York Professional Events List
Unicera Istanbul Ceramic, Bathroom, Kitchen Fair (cnr)
---
Date
Mar 01, 2021 - 10:00 AM - Mar 02, 10:00 AM
Organizer
New York Media Technologies LLC in association with CNR Holding
Location
CNR Expo Yeşilköy - İstanbulCNR ExpoCNR Expo YeşilköyCNR Expo, İstanbul 34149Turkey,
Turkey,
Turkey,
US,
ZIP: Turkey
Phone: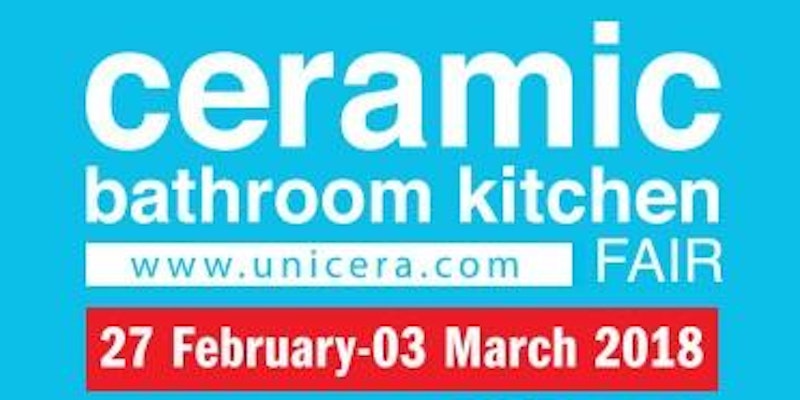 Description
INTERNATIONAL MEETING POINT OF THE GLOBAL CERAMICS INDUSTRY
Held by CNR Holding in association with the Turkish Ceramics Federation (TSF) and Trade Association for Sanitary and Building Supplies (TİMDER), UNICERA is the second largest international fair in the industry, which is preparing for its new edition to be held from February 27 to March 3, 2021, at CNR Expo in Istanbul, Turkey.
In UNICERA 2021, a total of 73,281 professional visitors from 126 countries, and over 200 exhibitors from 11 countries met. UNICERA brings together the leading players in the ceramic, bathroom and kitchen industries, and it is a great opportunity for expanding business relations and networking for buyers and sellers in Europe, Asia, MENA Region Countries, Russia, Balkans and Turkic Republics.
Exhibitors Profile
Why should you exhibit?
UNICERA brings a large number of purchasing delegations from the Middle East, Balkans, Eastern Europe, Russia and C.I.S, Europe and Africa to Turkey, playing a large part in the development of the Turkish ceramic industry. UNICERA aims to introduce new markets and new buyers to the Turkish ceramic industry in 2021.
The wide product range and lucrative business opportunities offered by UNICERA will be available to all exhibitors and visitors at the CNREXPO FAIRGROUND between the dates of 27 February - 03 March 2021
• Generate new lucrative and highly targeted business leads
• Expand your company's customer base
• Develop and strengthen your brand
• Showcase your new developments and obtain instant feedback from your customers and potential customers
• Unprecedented access to important decision making prospects
• Cost effective marketing and networking
Exhibitors Profile
Bathroom Products, Bathroom Furnishings, Sanitary Installations and Accessories
Sanitary Ware Products

Armature Groups

Bath-tub, Jacuzzi, Hydro massage Systems and Accessories

Shower Cabin Systems and Accessories

Toilet, Reservoir, and Complementary Products

Bathroom Furniture and Accessories

Sauna Systems and Equipments

Towel warmer and Radiator Systems
Ceramic Floor & Wall Tiles and Wall-Covering Products
Ceramic Products

Porcelain Products

Granite Products

Natural Stone Products

Marble Products

Tales and Mosaic Products

Glass and Glass Construction Products
Ceramic Processing Technologies and Complementary Products Producers
Ceramic Machines

Ceramic Raw Materials

Ceramic Paint and Raw Materials

Ink and Pigments

Isolation Materials and Chemicals

Ceramic Adhesives

Profiles

Ceramic Cutters, Spare Parts and Accessories

Scraper and Lustering Machines and Stones

Brick- Tile Machines and Equipments
Kitchen Products and Accessories Producers, Importers and Distributors
Kitchen Furnitures

Solo and Built-in Kitchen Devices

Countertops

Closet-in Rail, System and Equipments

Decoration Products and Accessories Producers,

Importers and Distributors

Floor, Wall and Ceiling Covering Products

Decorative Objects and Accessories

Inside and Outside Lightening Products

Electronic Smart Home Systems

Heating, Cooling and Climatization Systems
Manufacturers of Systems and Machinery for Technical Ceramics and Metal-Ceramics
Raw Materials, Mixes and Equipment for Ceramics
Graphic Studios
=============================
15 sq meter? DESIGN BOOTH & SPACE
=============================
- Wooden custom design
- 2 x Glass Tables
- 8 x Chairs
- 1 x LCD TV
- Counter & Stool
- Room with door
- Lighting
================================
Other Included Amenities
================================
- Hotel Accommodation: 5 nights for 2 person in nearby 5 star Hotel
5 min away from Exhibition Center (Wyndham, Radisson Blu)
- Airport transfer to Hotel
- WiFi for 2 person
- Catalogue Registration
- Email marketing activities to 400K visitor database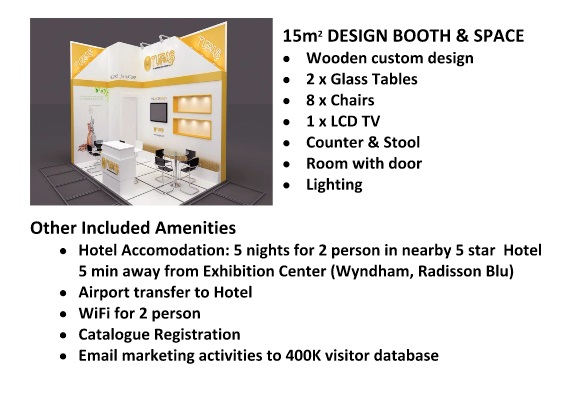 Please contact the event manager Marilyn below for the following:
- Discounts for registering 5 or more participants.
- If you company requires a price quotation.
Event Manager Contact: marilyn.b.turner(at)nyeventslist.com
You can also contact us if you require a visa invitation letter, after ticket purchase.
We can also provide a certificate of completion for this event if required.

NO REFUNDS ALLOWED ON REGISTRATIONS
-----------------------------------------------------------------
This Event Listing is Promoted by
New York Media Technologies LLC in association
with CNR Holding
http://www.NyEventsList.com
http://www.BostonEventsList.com
http://www.SFBayEventsList.com
-----------------------------------------------------------------
MYL170725CEV
Event Categories
ENVIRONMENT CONFERENCES
,
SOCIETY CONFERENCES
,
Technology
Keywords: fun, access , accessories, arts, business , design , development , Eating, exhibition , Fun
---
---
---
Comments
---
---
Newsletters
VIP Life Time Subscription to our Newsletters!

$399.99