New York Professional Events List
MINING INVESTMENT South America (SPI)A
---
Date
Feb 15, 2018 - 09:00 AM - Feb 16, 05:00 PM
Organizer
New York Media Technologies LLC in association with SPIRE EVENTS PTE LTD.
Location
Buenos AiresBuenos Aires, CABAArgentina,
Buenos Aires,
CABA ,
US,
ZIP: Argentina
Phone: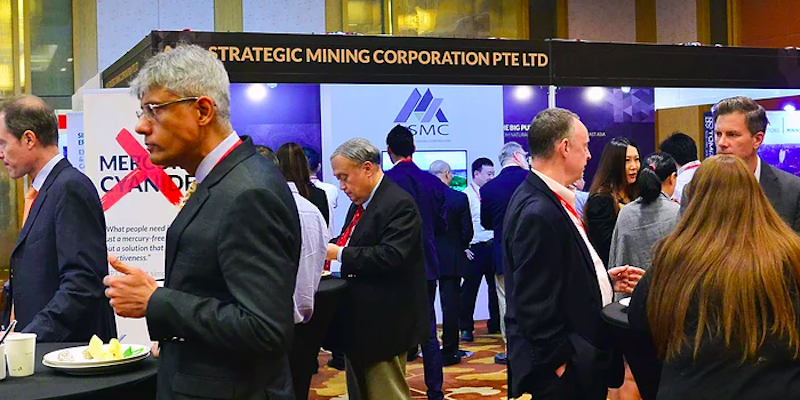 Description
THE FOREMOST SOUTH AMERICAN FORUM FOR THE GLOBAL MINING COMMUNITY
Mining Investment South America is a strategic mining conference and exhibition for the leaders of the mining, quarrying and construction materials industries, bringing together 350 attendees from 20 countries.
Ministers, mining companies, investors and service providers travel from all over Americas, Asia, Europe, Middle East and Africa for three days of partnering, networking and business matching.
Join us at an invaluable platform to seek new partnerships, new business and new opportunities.
THE CONFERENCE
The event delivers the highest level audience in the region, allowing you to speak and network with key buyers and industry leaders under one roof.
Our speakers are industry leaders and provide new perspectives on key issues disrupting & innovating mining sector, share cutting edge content and insights on the mining landscape.
THE EXHIBITION
The exhibition demonstrates the very latest in technology and solution innovations to mining industry buyers.
Mining technology, equipment & services companies, miners and governments take this opportunity to expand connections, launch new products and forge new business partnerships.
WHY ATTEND?
SOUTH AMERICA'S MOST INGENIOUS MINING FORUM
The exhibition is filled with mining companies, service providers and financiers allowing mining professionals direct access to mining projects, technical expertise and latest solutions.
INNOVATION, IDEAS & KNOWLEDGE SHARING
The conference gathers South America's top governments, institutional investors, miners and industry business leaders to discuss latest opportunities for the mining industry.
NETWORKING & BUSINESS MATCHING
A platform where you meet new business partners and do business in South America. Connect with industry players using online business matching application, the exhibition, roundtable discussions and cocktail night party.
Agenda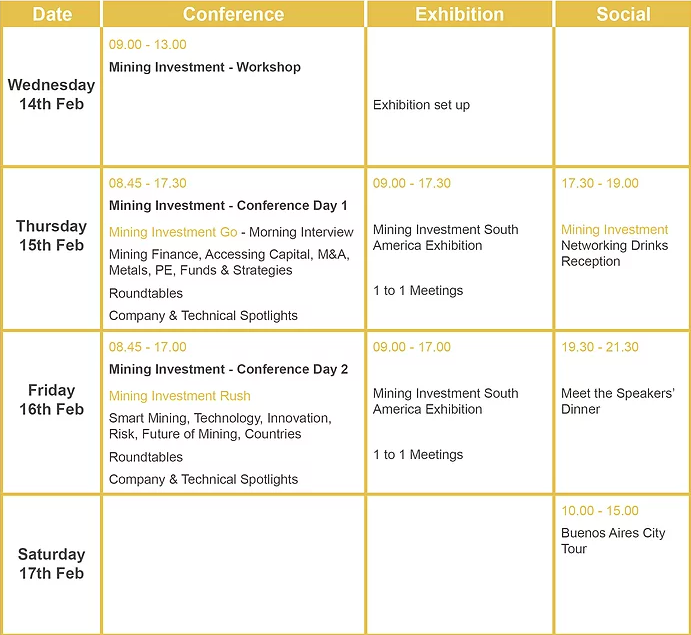 Meet & network with leading industry experts


H.E. TUMUR LKHAGVADOR AmbassadorEmbassy of Mongolia to SingaporeFormer DirectorHunnu Coal, Voyager Resources, Wolf Petroleum & Garrison Capital



ALBERTO ALEMAN Honourable Secretary Panama Investment Promotion Agency, Ministry of Commerce and Industry, Panama



HON TSHEKEDI KHAMA MinisterMinistry of Environment, Natural Resources, Conservation and Tourism, Botswana


PENI SUSANTIExecutive DirectorProvincial Energy and Mining Association, Indonesia



DR KAYODE FAYEMIMinisterMinistry for Mines and Steel Development, Nigeria



OSCAR ZAPATAAsset Sales DirectorDoe Run Peru Liquidacion en Marcha, Peru


YVONNE TANHR Business Partner, Global Marketing & SupplyBHP Billiton



FREDY WILMAN ROJAS CRUZMining EngineerMining and Energy Planning Unit UPME, the Ministry of Mines and Energy, Colombia



DAVID ARCHERCEOSavannah Resources, UK






WILLEM J. SMUTSChief Geologist: Mining DirectorAsia Strategic Mining Corporation Pte Ltd

DMITRY SUSCHOVMember of the Board of DirectorsEurasia Mining Plc, United Kingdom

KEITH WEINERCEOMonetary Metals, USA






DR. TIM SUNChairmanHong Kong International Mining Association

THOMAS PUPPENDAHLManaging PartnerCartesian Royalty Holdings

MICHEL LABROUSSEManaging PartnerMazarin Capital





GRAEME ROBERTSONChairman & CEOIntrasia Capital / Singapore Mining Club

ALBERTO MIGLIUCCICEO & FounderPetra Commodities

JAYANT BHANDARIMining & Institutional Investor ExpertAnarcho Capital





RONALD-PETER STÖFERLECMT Managing Partner & Fund ManagerIncrementum AG, Liechtenstein

AKSHYADEEP MATHURSecretary GeneralFederation of Mining Associations of Rajasthan, India
EDWARD GUSTELYManaging DirectorPenida Capital
MORE



MARCO ROQUEAssociate DirectorEmerging Markets Capital, Hong Kong

ERIK BETHELManaging DirectorInterval Ventures, USA

BO POLNYGold Cycle Analyst & StrategistGold 2020 Forecast, USA





ANDREW HEINRICHSDirector – AcquisitionsStrategic Venture Fund, Hong Kong

ROBERT ADAIRDirector, International Equities & Fund ManagerUOB Asset Management, Singapore

DAVID FERGUSSONChief Investment OfficerWoodside Holdings Investment Management





DR. JOSE LEVISTEChairmanOceanagold (Phils), Inc, Philippines

ELEANOR HAWKINSMining EngineerAMC Consultants, Australia

TINA HOUManaging DirectorWelhunt Energy, Singapore





THAO DH NGOGroup Executive ChairmanFirst Indochina Group, Vietnam

CHRIS POWELLSecretary & TreasurerGATA

CLYDE RUSSELLAsia Commodities and Energy ColumnistThomson Reuters





RAJIV BISWASSenior Director & Chief Economist, Asia-PacificIHSMarkit

BENJAMIN DUNNManaging DirectorGolden Dragon Resources, Singapore

SEAN ZUBICKCOO and Partner Palisade Global Investments Ltd








BIAO CHENManaging PartnerJinjiang Mining FundDeputy Secretary GeneralChina Mining Association

CHRISTANNA BEVINSenior ConsultantSTEP Supply Chain

ERICA RANNESTADSenior Metals Analyst, GFMSThomson Reuters, Singapore




REBECCA HOLLAND-KENNEDYManaging PartnerPepinNini Minerals Limited

PHIL GOREYActing Deputy Director GeneralDepartment of Mines and Petroleum Western Australia
GAUTHIER HORTHSociety DirectorUnion Minière de Saül (UMS), French Guian





DR. GAOMAI TRENCHActing Assistant DirectorDepartment of Mines and Petroleum, Western Australia

KEITH WHITCHURCHPresident DirectorSMG Consultants, Singapore

TIM DUFFYPresident DirectorPT Agincourt Resources, Indonesia





NORMAN BISSETTForeign Legal ConsultantHadiputranto, Hadinoto & Partners, Indonesia

DANEL YAMIL SANCHEZ PEÑADirector, Environmental Quality ProtectionMinistry of Environment, Panama

SILVIA DE MARUCCIExecutive Manager, Economic Analysis & Market Research DivisionPanama Canal Authority
WHO ATTENDS?
YOU CAN EXPECT TO MEET
​We will bring to the event over 350 global miners, entrepreneurs, financiers, investors, government leaders, technical experts and innovators under one roof and will attract all levels of executives to the event.
Mining and Energy Ministers & Department Heads

Mining Company C Level Executives & Senior Management

COOs & Chief Engineers

Chief Geologists

Heads of Geological Survey Boards

Local & International Investors

Asset Managers
Sovereign Wealth Funds, Pension Funds, Equity Funds & Private Equity Funds Managers

Banks

Insurance Providers

Brokers & Corporate Advisors

Equipment Solutions & Services Professionals

Lawyers

Consultants
Please contact the event manager Marilyn below for the following:
- Discounts for registering 5 or more participants.
- If you company requires a price quotation.
Event Manager Contact: marilyn.b.turner(at)nyeventslist.com
You can also contact us if you require a visa invitation letter, after ticket purchase.
We can also provide a certificate of completion for this event if required.

NO REFUNDS OR TRANSFER ALLOWED ON REGISTRATIONS
-----------------------------------------------------------------
This Event Listing is Promoted by
New York Media Technologies LLC in association
with SPIRE EVENTS PTE LTD.
http://www.NyEventsList.com
http://www.BostonEventsList.com
http://www.SFBayEventsList.com
-----------------------------------------------------------------
SHU170808CEV
Event Categories
BUSINESS & MANAGEMENT CONFERENCES
,
Technology
Keywords: fun, analysis, access , audience, business , community , conference , development , Economic , environmen
---
---
---
Comments
---
---
Newsletters
VIP Life Time Subscription to our Newsletters!

$399.99