New York Professional Events List
MINING INVESTMENT Asia (SPI)
---
Date
Mar 15, 2021 - 09:00 AM - Mar 16, 09:00 AM
Organizer
New York Media Technologies LLC in association with SPIRE EVENTS PTE LTD.
Location
Marina Bay SandsSingapore, 018956Singapore,
Singapore,
Singapore,
US,
ZIP: Singapore
Phone: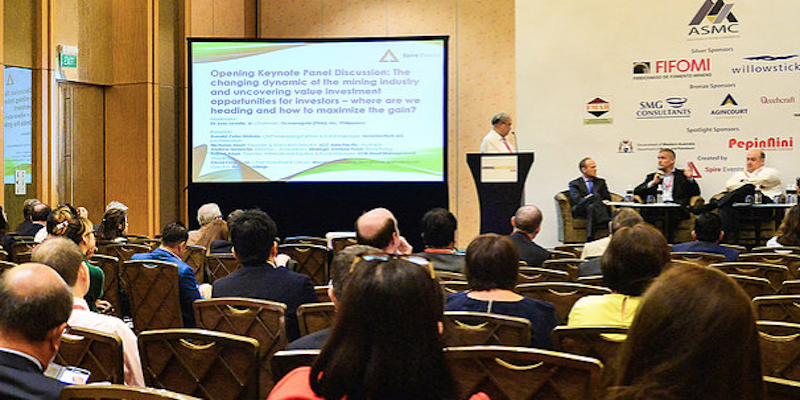 Description
THE FOREMOST SOUTH EAST ASIAN FORUM FOR THE GLOBAL MINING COMMUNITY
Mining Investment Asia is a strategic mining conference and exhibition for the leaders of the mining, quarrying and construction materials industries, bringing together 500 attendees from 35 countries.
Ministers, mining companies, investors and service providers travel from all over Asia, North America, Europe, Middle East and Africa for four days of partnering, networking and business matching
THE CONFERENCE
Mining Investment Asia welcomes ministers, geological surveys, exploring and operating mining companies, investors and key technology and production solution providers wanting to enter or expand their market presence to Asian mineral resources industry.
Our innovative agenda and content, including keynotes, interactive panel discussions, interviews, roundtable sessions and spotlights, will enable you to learn from the best leaders.
Preview Agenda
The Conference Topics Include:
Are we at the start of a new bull cycle for mining and commodities?

Which stock market is handling the rebirth of the mining industry: Toronto or Australia? How can Singapore play a role?

Gold: the start of a new bull market or just a dead cat bounce? How investors are preparing for the next gold mining boom?

What the new US President means for the world and the commodity trade? Is a new wave of infrastructure projects coming up and what are the implications for mining?

How has Mining Services performed in relation to the mining industry in Australia? Why have mid-market deals continued to rank well within the Australian Mining sector?

What are the M&A trends? Will 2021 be the year of M&A?

Should mainstream institutions (pensions, life insurance) invest in the mining industry like they do in utilities and how?

Battery metals sector - Cobalt, lithium, graphite and magnesium – Examining investors' opportunities and challenges in investment, mining and processing

Are private equity investments becoming the mainstream solution for the industry?

Is crowdfunding only for the exploration companies or does it have a wider use?

Assessing royalty and stream finance industry – is this financing business model right for your company? Is it an attractive option for mining companies or a matter of last resort?

Evaluating opportunities in coal, iron ore, diamonds, precious metals and copper

A rundown on India, China, Indonesia, Philippines, Myanmar, Vietnam, Cambodia, Laos and what changes would occur in Thailand

Where is Australia headed? The cost structure of mining after the drop in its currency. Would it stay a provider of commodities to the world? The future of Australian economy.

Women participation in Asia's extractive industry – latest findings and predictions

Focus on Latin America and Argentina in particular - The new president and the administration & implications for mining
Speaker Details
---
Mining Investment Series Speakers
Meet & network with leading industry experts

WILLEM J. SMUTS Chief Geologist: Mining Director Asia Strategic Mining Corporation Pte Ltd

DMITRY SUSCHOV Member of the Board of Directors Eurasia Mining Plc, United Kingdom

YVONNE TAN HR Business Partner, Global Marketing & Supply BHP Billiton



DR. TIM SUN Chairman Hong Kong International Mining Association

THOMAS PUPPENDAHL Managing Partner Cartesian Royalty Holdings

MICHEL LABROUSSE Managing Partner Mazarin Capital



GRAEME ROBERTSON Chairman & CEO Intrasia Capital / Singapore Mining Club
ALBERTO MIGLIUCCI CEO & Founder Petra Commodities
JAYANT BHANDARI Mining & Institutional Investor Expert Anarcho Capital



RONALD-PETER STÖFERLE CMT Managing Partner & Fund Manager Incrementum AG, Liechtenstein

NICHOLAS ASSEF Founder & Executive Director LCC Asia Pacific, Australia



GEOFF MCNAMARA Director Tanamera Resources & Access Asia Mining

JOHN ROBERTSON Director EIM Capital Managers

EDWARD GUSTELY Managing Director Penida Capital



MARCO ROQUE Associate Director Emerging Markets Capital, Hong Kong

ERIK BETHEL Managing Director Interval Ventures, USA
BO POLNY Gold Cycle Analyst & Strategist Gold 2020 Forecast, USA



ANDREW HEINRICHS Director – Acquisitions Strategic Venture Fund, Hong Kong
ROBERT ADAIR Director, International Equities & Fund Manager UOB Asset Management, Singapore
DAVID FERGUSSON Chief Investment Officer Woodside Holdings Investment Management


DR. JOSE LEVISTE Chairman Oceanagold (Phils), Inc, Philippines
ELEANOR HAWKINS Mining Engineer AMC Consultants, Australia
TINA HOU Managing Director Welhunt Energy, Singapore



THAO DH NGO Group Executive Chairman First Indochina Group, Vietnam
CHRIS POWELL Secretary & Treasurer GATA
CLYDE RUSSELL Asia Commodities and Energy Columnist Thomson Reuters


RAJIV BISWAS Senior Director & Chief Economist, Asia-Pacific IHSMarkit
BENJAMIN DUNN Managing Director Golden Dragon Resources, Singapore
ASAREH MANSOORI Mining Engineer AMC Consultants



H.E. TUMUR LKHAGVADOR Ambassador Embassy of Mongolia to Singapore Former Director Hunnu Coal, Voyager Resources, Wolf Petroleum & Garrison Capital
DATUK DR. HAJI WAN JUNAIDI TUANKU JAAFAR
Minister Ministry of Natural Resources and Environment Malaysia, Malaysia (confirming)
JAVIER CORDOVA Minister Ministry of Mines, Ecuador


PENI SUSANTI Executive Director Provincial Energy and Mining Association, Indonesia
HENDRA SINADIA Deputy Executive Director Indonesian Coal Mining Association (APBI-ICMA)
​ Senior Advisor to Minister Ministry of Mining, Mongolia



RICHARD STANGER ​Founder & President Cambodian Association for Mining and Exploration Companies
NYAMAA TUMENBAYAR Chairperson & Co-Founder Woman in Mining Mongolia Association
PATRICIA A. O. BUNYE Founding President Diwata-Women in Resource Development, Philippines


BIAO CHEN Managing Partner Jinjiang Mining Fund Deputy Secretary General China Mining Association
CHRISTANNA BEVIN Senior Consultant STEP Supply Chain
ERICA RANNESTAD Senior Metals Analyst, GFMS Thomson Reuters, Singapore



REBECCA HOLLAND-KENNEDY Managing Partner PepinNini Minerals Limited
PHIL GOREY Acting Deputy Director General Department of Mines and Petroleum Western Australia
K MARCUS CHEE Managing Director Eco Partners SB


DR. GAOMAI TRENCH Acting Assistant Director Department of Mines and Petroleum, Western Australia
KEITH WHITCHURCH President Director SMG Consultants, Singapore
TIM DUFFY President Director PT Agincourt Resources, Indonesia



NORMAN BISSETT Foreign Legal Consultant Hadiputranto, Hadinoto & Partners, Indonesia
GUILLAUME TCHALY NKOLOMONI Founder & Partner Renovec Consultants & Partners
ZHISHAN LV CEO China-ASEAN Mineral Resources Online
Please contact the event manager Marilyn below for the following:
- Discounts for registering 5 or more participants.
- If you company requires a price quotation.
Event Manager Contact: marilyn.b.turner(at)nyeventslist.com
You can also contact us if you require a visa invitation letter, after ticket purchase.
We can also provide a certificate of completion for this event if required.

NO REFUNDS OR TRANSFER ALLOWED ON REGISTRATIONS
-----------------------------------------------------------------
This Event Listing is Promoted by
New York Media Technologies LLC in association
with SPIRE EVENTS PTE LTD.
http://www.NyEventsList.com
http://www.BostonEventsList.com
http://www.SFBayEventsList.com
-----------------------------------------------------------------
SHU170427CEV
Keywords: fun, administration , business , community , conference , Economy, exhibition , Finance , Fun , geologi
---
---
---
Comments
---
---
Newsletters
VIP Life Time Subscription to our Newsletters!

$399.99