New York Professional Events List
Beauty and Wellness Show Istanbul (cnr)
---
Date
Mar 09, 2021 - 10:00 AM - Mar 10, 10:00 AM
Organizer
New York Media Technologies LLC in association with CNR Holding
Location
CNR EXPO Istanbul - TurkeyCNR ExpoYeşilköyİstanbul, İstanbul 34149Turkey,
Turkey,
Turkey,
US,
ZIP: Turkey
Phone: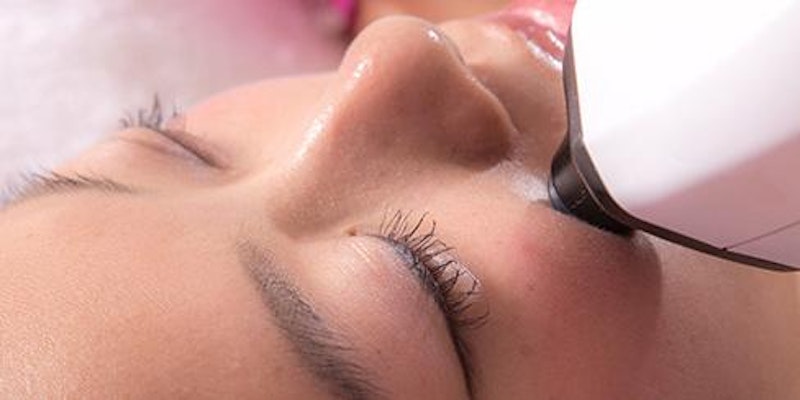 Description
CNR EXPO now brings its 32 years of trade show expertise to the Beauty & Wellness Industry.
With a proven record of success in expanding trade volume of industries by its trade shows, CNR holding is organizing "Beauty & Wellness Show İstanbul" which will be held between March 8-11,2021 at CNR Expo Yeşilköy, İstanbul. Companies operating in beauty & wellness, cosmetic and perfumery, spa and fitness industries will take part in Beauty and Wellness Show İstanbul to exhibit their products and services to buyers, distributes and wholesalers as well as industry professionals.
Over 500 brands will meet with more than 15.000 domestic and international visitors including beauty center owners, cosmetologists, dermatologists, estheticians, spa, fitness developers, plastic surgeons, hairstylists, dealers, distributers and wholesalers.

Finger on the pulse of the industry
Beauty &Wellness Show İstanbul is carefully designed as an international platform. For maximum interaction between the exhibitors and visitors, Beauty and Wellness Show İstanbul will host B2B and B2C events. Throughout B2B events, tailored according to the exhibitors needs, attending companies will meet domestic and international buyers. The Show is expected to increase the trade volume of not only domestic market but also wider geographical area (Balkans, Near East, Middle East, North Africa and Turkic Republics and Europe) with Buyer Misson Programs supported by Turkish Republic Minister of economy.
Contact us to meet with high profile buyers on this highly effective interactive international trade platform.
Exhibitors Profile
Why You Should Take Part?
To interact with high profile buyers.

To increase trade volume of your business by creating new business opportunities and building new strategic alliances.

To benefit from CNR's expertise on organizing tradeshows.

To increase the brand awareness of yours in the region by showing your products or services in the most effective trade platform of Turkey.

To attend tailor made trade events designed to provide effective interaction with your target audience and the key stakeholders within your sector in order to showcase your products and services.

To meet not only domestic but also international buyers which operate in the region.
Exhibitors Profile

The suppliers, manufacturers and distributers operating in:
Medical Esthetics, Dermatological Products and Equipment

Cosmetics & Make-Up Products and Equipment

Spa-Wellness & Fitness Products and Equipment

Professional Nail, Hand and Foot Care Equipment

Hair Care Products and Equipment

Perfumery Products
============================
15 sq meter? DESIGN BOOTH & SPACE
=============================
- Wooden custom design
- 2 x Glass Tables
- 8 x Chairs
- 1 x LCD TV
- Counter & Stool
- Room with door
- Lighting

================================
Other Included Amenities
================================
- Hotel Accommodation: 5 nights for 2 person in nearby 5 star Hotel
5 min away from Exhibition Center (Wyndham, Radisson Blu)
- Airport transfer to Hotel
- WiFi for 2 person
- Catalogue Registration
- Email marketing activities to 400K visitor database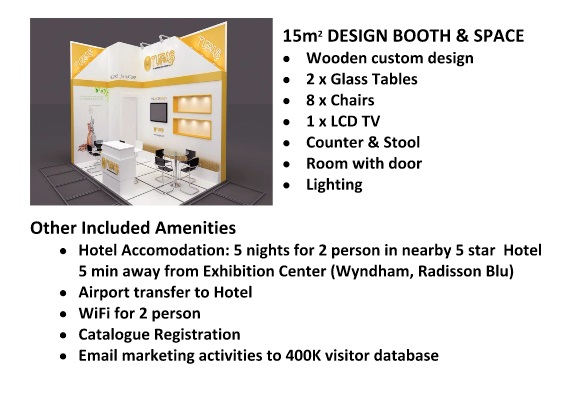 Please contact the event manager Marilyn below for the following:
- Discounts for registering 5 or more participants.
- If you company requires a price quotation.
Event Manager Contact: marilyn.b.turner(at)nyeventslist.com
You can also contact us if you require a visa invitation letter, after ticket purchase.
We can also provide a certificate of completion for this event if required.

NO REFUNDS ALLOWED ON REGISTRATIONS
-----------------------------------------------------------------
This Event Listing is Promoted by
New York Media Technologies LLC in association
with CNR Holding
http://www.NyEventsList.com
http://www.BostonEventsList.com
http://www.SFBayEventsList.com
-----------------------------------------------------------------
MYL170726CEV MAR170926UPT
Event Categories
HEALTH AND MEDICINE CONFERENCES
,
Healthcare
,
SOCIETY CONFERENCES
,
Technology
Keywords: fun, audience, business , design , Eating, Economy, exhibition , Fun , graphical , industry
---
---
---
Comments
---
---