New York Professional Events List
5th Annual Pharma CX Summit East (PCG)
---
Date
Mar 30, 2021 - 08:00 AM - Mar 31, 08:00 AM
Organizer
PanAgora Conference Group - NewYorkEventsList
Location
The Grand Summit Hotel570 Springfield AvenueSummit, NJ 07901United States,
Springfield Avenue Summit,
NJ ,
US,
ZIP: 07901
Phone: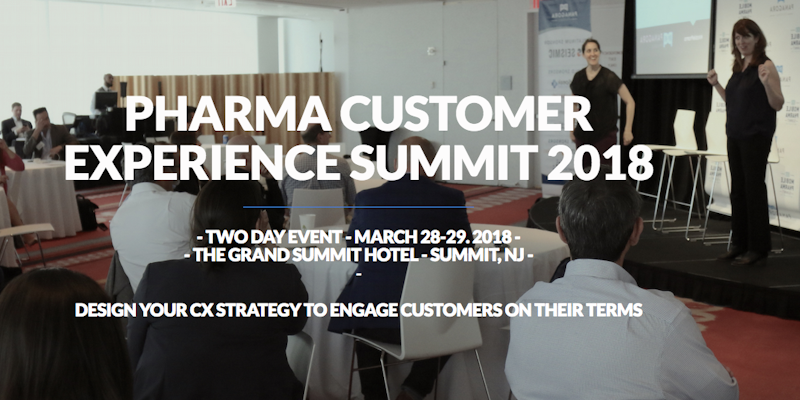 Description
THE PHARMA CUSTOMER EXPERIENCE SUMMIT 2021
HOW CAN PHARMA IMPROVE CUSTOMER EXPERIENCE?
— STRATEGY — CONTENT — TECHNOLOGY — INNOVATION —
Join us on March 28-29 in Summit, NJ for the leading customer-experience event in pharma
LEARN FROM CX EXPERTS HOW PHARMA BRANDS CAN IMPROVE CUSTOMER EXPERIENCE IN A SYSTEMATIC, MEASURABLE AND PROFITABLE WAY
THE LATEST INSTRUCTION, STRATEGY AND ACTIONABLE INSIGHTS FROM DIGITAL EXPERTS IN PHARMA AND OTHER INDUSTRIES
------------------------------
About the Conference
------------------------------
The Pharma Customer Experience Summit is a senior-level business conference designed to help identify,
prioritize and solve key operational challenges that impact the customer experience in pharma.
This two-day event will bring together 125+ pharma marketing, sales & IT executives to discuss strategy, network and propel pharma to customer-centricity.
KEY TOPICS
*Customer Experience: Create a Holistic Multichannel Approach to Engage Patients & HCPs
*Patient-Centricity: Create a Dynamic, Patient Experience Across All Touchpoints
*Physician/HCP Engagement: Strategic Insight to Engage HCPs via Emerging Channels
*Content Marketing: Engage Customers on Their Terms by Providing Valuable Content
*Context Marketing: Leverage Data to Target Customers & Drive Strategy
*Outside Industry: Learn the Latest Strategic Insight from Travel, Banking & Media Experts
----------------
OVERVIEW
----------------
The Pharma CX Summit is the top experiential marketing conference for the industry,
focusing on enabling pharma to exceed customer expectations and meet business objectives.
Hear from 25+ leading digital customer experience experts
and A senior-level industry led audience.
--------------------
THE FACULTY
--------------------
12 pharma CX experts
8 experts from the CX field
4 CX/UX gurus from other industries
--------------------------
THE EXPERIENCE
--------------------------
* Collaboration.
* Networking.
* Learning
To foster this environment, attendance is discounted for pharma/med device companies to ensure this is an industry-led event.
Expect to join 120 of your pharma marketing colleagues with limited vendor attendance.
-------------------
THE FORMAT
-------------------
* Fast.
* Engaging.
* Effective.
Content-Driven Sessions
Plenty of Networking Breaks
Full Lunch & Breakfast Included
Reception to Follow
-------------
AGENDA
-------------
Day One – March 28
8:00 – 8:58 am Conference Registration Open
Welcome Breakfast – Breakfast, Coffee and Refreshments Served
8:58 – 9:04 am Opening Remarks from Conference Emcee
Seth Painter, Business Consultant, HealthLink Dimensions
9:04 – 9:34 am Intelligence Everywhere: Chatbots, AI, and Business Transformation
A year ago, AI was a technology conversation. Today it is a business conversation layered with considerations about workforce realignment, strategic pivots, budget reallocation and user experience. This presentation
provides a common sense narrative based on practical experience on the cultural, technical and philosophical challenges of implementing AI and transforming your business.
Jennifer Snell, Vice President, Next IT Healthcare
9:34 – 10:09 am How GSK is Modernizing the Pharma Business Model
The healthcare industry is going through a period of intense change, including the pharmaceutical sector. Evolving societal expectations and greater competition are fueling opportunities to rethink the status quo and embrace the future with convenient, on-demand, digital access to information and services. Learn how GlaxoSmithKline is addressing this challenge and modernizing its business model on a global scale.
Laura Longstreth, Lead Director, IT Marketing, GlaxoSmithKline
10:09 – 10:44 am CX Design: Next Generation Digital and Brand Experiences
Atomic design is a new methodology that creates a system of elements that can be combined to create increasingly complex elements that are used to create a consistent brand look and feel across any digital platform. Learn how Citi is modernizing its digital work flow, plus recommendations for the pharma
Stephen Gates, Global Head of Design, Citi
10:44 – 11:04 am NETWORKING BREAK
11:04 – 11:34 am PANEL: Design Thinking for Improving and Innovating Customer Experiences
• Keys to building better customer experiences in healthcare
• Designing experiences that provide value and engage customers
• Identifying and improving weaknesses in customer journey mapping
Cordy Swope, Sr. Director, Insights & Experience, Johnson & Johnson
Joyce Ercolino, Digital Business Leader and Strategist
Francis Beaudet, Interaction Designer, Macadamian
11:34 – 12:04 pm The New Health Customer
We are at an inflection point in the history of health. Dramatic technological innovation, the mass consumerization of healthcare, the power of women over healthcare decisions, and the influence of new generations of decision makers have created a moment ripe for change. To succeed in today's healthcare
industry, it's vital to understand the new health customer.
Lynn O'Connor Vos, Chief Executive Officer, ghg | greyhealth group
12:04 – 12:34 pm PANEL: Shaping the Multi-Channel Customer Experience
• Determining the most effective channels and messaging strategy
• What are the biggest MCM challenges for pharma marketers?
• Innovative CX case studies and pilot programs – what's working?
Alison Tapia, Associate Director, Multichannel Marketing, Allergan
Lisa Britton, Customer Experience + Innovation Leader, AstraZeneca
Kristina Lynn, Former Sr. Manager, Multichannel Marketing, Purdue
12:34 – 1:39 pm NETWORKING LUNCHEON
1:39 – 2:09 pm Exploring a New Patient and HCP Journey Model
The space in which patients and HCPs navigate while making treatment decisions is complex and intertwined. Yet, brands often plan patient and HCP marketing efforts in silos. The goal is to encourage positive patient and HCP conversations and the hope is each individual team's efforts lead to a dialogue. But hope is not a strategy. In this session we'll discuss Butler/Till's model for how patients and HCPs learn about treatment options and their efficacy, how brands can follow through on the patient/HCP conversation, and how to identify the key stages where brands should focus their communication efforts.
Mike DiCaprio, Director, Strategic Planning, Butler/Till
Nicole Hamlin, Account Supervisor, Butler/Till
2:09 – 2:39 pm What You Don't Know You Don't Know About Your Customers...
Let's get back to basics here. We all know you can't innovate unless you have
a solid foundation in place. Are you taking full advantage of all the digital tools
in your arsenal? Of course not. Your marketers don't even know the difference
between SEM and SEO, much less how to use them to mine for valuable
insights. Are you listening in social media - not just to inform your digital
initiatives, but to support a truly multichannel approach? You should be. Let's
learn what we need to learn, and identify what others around you don't know
(but should know) to know your customers.
Zoe Dunn, Principal, Hale Advisors
2:39 – 3:09 pm Designing For The Emotion of Healthcare
Human emotions are incredibly complex and interactions regarding our health
are weighted heavily with emotion. When designing the patient journey and
experience, taking emotions into account should be a key component in the
process. Hear about the application of techniques like ethnography, user
testing, personas and co-collaboration that allow the designs to cater to the
emotional experience of the patient. At its core, design is about understanding
people. We'll share specific case study examples and learnings from several
healthcare clients on what happens when designers incorporate psychology,
biology, and customer insight to take a truly human-centered approach.
Lauren Krabbe, Lead Experience Architect, Effective
3:09 – 3:29 pm NETWORKING BREAK
3:29 – 3:59 pm PANEL: Emerging Technology for Healthcare Marketers
• Applications for digital health in branded/unbranded marketing
• Examining the role of mobile technology in the customer experience
• Existing digital technologies and their impact on healthcare marketing
Eric Steager, Director, Corporate Innovation, Independence Blue Cross
Phil Coggshall, Former Associate Director, Consumer Marketing, Merck
Qusai Mahesri, Founder & Managing Director, Xpediant Solutions
3:59 – 4:29 pm Don't Just Deliver Support, Ochestrate on Experience
• Common challenges in building and running patient support programs
• Tools and techniques for zeroing in on patient/caregiver/HCP needs
• Success factors in designing and optimizing a support experience
Greg Klein, Managing Partner, Nuvera Life Science Consulting
Farris Ibrahim Director, Nuvera Life Science Consulting
4:29 – 4:59 pm FDA Update: Life Under the New Trump Administration for Pharma Marketers
This talk will review the impact of the latest moves by the administration on
the pharma industry and discuss the latest developments from the FDA.
Dale Cooke, Regulatory Expert, President, PhillyCooke Consulting
4:59 – 5:29 pm PANEL: Patient Engagement - Keys to Connecting with Patients
• Examining the effectiveness of beyond the pill services
• Where do you think pharma is on the adoption curve of CX?
• What are some of the challenges faced when starting CX?
• How do you build internal skills and stakeholders?
• What does success look like?
Loius Zollo, Director, Global Portfolio Development, Teva
Mike Edwards, Sr. Director, Patient Marketing, LEO Pharma
Cheryl Roche Alexander, President, Enlightened Consulting
5:29 – 7:00 pm NETWORKING DRINKS RECEPTION
END OF DAY ONE
Day Two – March 29
8:00 – 8:58 am Conference Registration Open
Networking Breakfast – Breakfast, Coffee and Refreshments Served
8:58 – 9:08 am Day One Recap from Conference Chairman
Seth Painter, Business Consultant, Healthlink Dimensions
9:08 – 9:38 am What Takes CX to the Next Level? H2H
CX is about creating opportunities by understanding your customers journey.
H2H (Human-to-Human) marketing is how your brand speaks to your
customers along that journey. Using digital and research tools, you can craft
meaningful content to engage with your audience with empathy and
compassion. We will define their respective roles, twelve basic tenets of H2H,
and end on ten questions you should ask when starting your own CX journey.
Alfred O'Neill, Principal, Harbinger Associates
9:38 – 10:13 am BMS Case Study: Co-Creating Healthcare Communications with Patients
The Universal Patient Language (UPL) is a set of resources to help
communicate complex topics with patients. We developed the UPL to
provide practical tools and guidance to teams within BMS and their agency
partners who create patient communications.
In 2021, Bristol-Myers Squibb decided to make the UPL an open-source
capability, sharing it with anyone who is interested in working on patient
communications. The UPL was created, and evolves, with collaboration
from patients, caregivers, advocates, healthcare practitioners, and
communication and visualization experts in co-creation sessions—
workshops where participants build prototypes of new patient
communications.
In this presentation we will walk through one of the first applications of the
UPL–redesigning how Drug Safety Information (DSI) for certain medications
is communicated. The goal was to apply the UPL to create a version of DSI
that would be more engaging for patients to read.
Elizabeth Turcotte, Director, Patient HUB, Bristol-Myers Squibb
10:13 – 10:43 am Simple Is The New Hard!
In a day with a lot of innovation, diverse solutions and resource challenges
from clients, how do you create focus on what is important ...driving the
business? How do you spend less time and resources building and more
time marketing? How do you balance the "build" with the "promotion"?
Companies must select technology stacks and vendors that automate
processes, simplify data connections so the focus can be on driving the
business not establishing an infrastructure. But to make it work companies
must fight the urge to customize and limit configuration. They need tools
and partners that have a "bank" of tools to meet a variety of business needs
and that are scalable.
Qusai Mahesri, Founder & Managing Director, Xpediant Solutions
10:43 – 11:09 am NETWORKING BREAK
11:09 – 11:39 am BMW WORKSHOP: The Power of Hello
In this day of technology, overbooked schedules and multi-tasking, we too
often forget the basic common courtesies of human interaction that could
lead to an exceptional customer service experience. In the luxury automotive
industry, this was ever present at the end of 2021 and it became my mission
to create and educate our partners around the "Power of Hello."
This presentation will encourage each participant to examine who they are
and how they want to be perceived. In this interactive session, we discuss
reasons why "Hello' has become secondary and how to reframe our
perspective to reengage our family, our colleagues and ultimately our
customers. What seems to be a very simple concept has the power to
challenge the audience around their human interactions and their desire to
deliver the ultimate experience to their customers.
After the session, each participant will better understand: 1. How they want
to be perceived as a human being vs. what is happening with the other
person. 2. How "The Power of Hello" is about possibility and opportunity vs.
just a pleasantry. 3. How "Hello" may create higher customer satisfaction
and loyalty. "The Power of Hello" is relatable, thought provoking and a
change agent. I will share our journey that started as a conversation and
through a dose of inspiration and passion has become a movement inside
our organization. "The Power of Hello" will inspire your participants into
action by breathing life into simple acts of kindness.
Jacqueline Jasionowski, Customer Experience Lead, BMW North America
11:39 – 12:09 pm An Effective Patient Engagement Strategy
It has been said that patient engagement is the holy grail of healthcare, but
what is it and who's doing it? Everyone is talking about it, although we can't
agree on what it is. Depending on you talk to, the term can be used to
describe everything from patient portals, social media strategies, using
wearable's to track vitals to patients actively engaging in their own health
and wellness. In this sessoion, hear several perspectives on patient
engagement including how it has evolved, where it's heading and why it's
important.
• The pharmaceutical marketer's perspective
• The provider's perspective
• The payer's perspective
Cheryl Roche Alexander, President, Enlightened Consulting
12:09 – 12:39 pm If Your Marketing Looks the Same as 5 Years Ago You Really Are Not Focused
on the Patient
• Today's marketing goal has to balance the needs of patient vs the needs
of the brand
• To impact health outcomes and the end-user are essential elements
• Who is the end-user, anyway?
Dyan Bryson, Patient Advocate, Health Inspired Strategies
12:39 – 2:00 pm NETWORKING LUNCHEON

END OF DAY TWO
Speakers
---
Louis Zollo
Director, Global Portfolio Development, Teva
Elizabeth Turcotte
Director, Patient Hub, Bristol-Myers Squibb
Stephen Gates
Global Head of Design, Citi
Alison Tapia
Associate Director, Marketing, Allergan
Mike Edwards
Sr. Director, Patient Marketing, LEO Pharma
Joyce Ercolino
Digital Business Leader and Strategist
Cheryl Roche Alexander
President, Enlightened Consulting
Laura Longstreth
Lead Director, IT Marketing, GlaxoSmithKline
Lauren Krabbe
Lead Experience Architect, Effective
Nicole Hamlin
Account Supervisor, Butler/Till
Lynn O'Connor Vos
President, ghg | greyhealth group
Cordy Swope
Sr. Director, Experience Strategy, J&J
Jennifer Snell
Vice President, Next IT Healthcare
Eric Steager
Director, Innovation, Independence Blue Cross
Jorge Herrera
Digital Lead, Emerging Markets, Pfizer
Qusai Mahesri
Managing Director, Xpediant Solutions
Seth Painter
Business Director, HealthLink Dimensions
Dale Cooke
President, PhillyCooke Consulting
Zoe Dunn
Principal, Hale Advisors
Alfred O'Neill
Principal, Harbinger Associates
Jacqueline Jasionowski
Customer Experience Lead, BMW
Francis Beaudet
Interaction Designer, Macadamian
Mike DiCaprio
Director, Strategic Planning, Butler/Till
Lisa Britton
CX + Innovation Leader, AstraZeneca
--------------------------------------------------------------------
Organising company : PanAgora Conference Group
Please contact the event manager Marilyn (marilyn.b.turner(at)nyeventslist.com ) below for:
- Discounts for multiple participants.
- Require a price quotation.
- Require to pay by wire transfer or PayPal
- Invitation letter for visa applications
NO REFUNDS OR TRANSFER ALLOWED ON REGISTRATIONS
Service fees included in this listing.
--------------------------------------------------------------------
This Event is Brought to You by:
PanAgora Conference Group - NewYorkEventsList
http://www.NyEventsList.com
http://www.BostonEventsList.com
http://www.SFBayEventsList.com
CHANOV0811UPT
Event Categories
HEALTH AND MEDICINE CONFERENCES
,
Healthcare
,
Life Sciences, Biotechnology
,
SCIENCE AND TECHNOLOGY CONFERENCES
,
Technology
Keywords: fun, access , administration , applications, audience, biology , Book , breathing, business , communication
---
---
---
Comments
---
---
Newsletters
VIP Life Time Subscription to our Newsletters!

$399.99