New York Professional Events List
2nd Internet of Things India expo 2021 (EIP)
---
Date
Mar 09, 2021 - 09:00 AM - Mar 10, 09:00 AM
Organizer
New York Media Technologies LLC in association with Exhibitions India Group.
Location
Pragati MaidanNew Delhi, DLIndia,
India,
India,
US,
ZIP: India
Phone: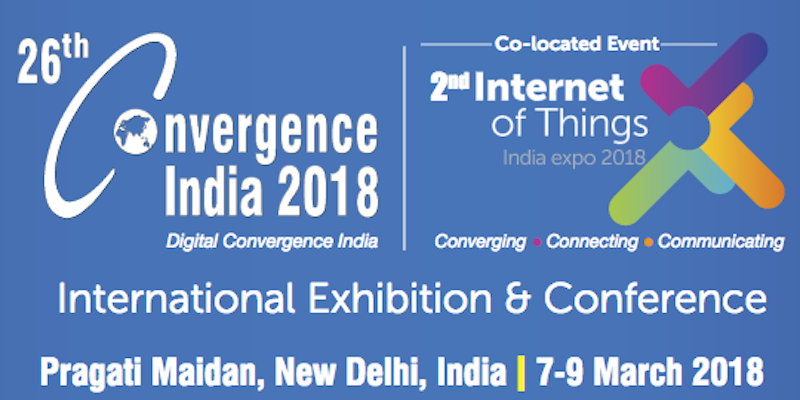 Description
2nd Internet of Things India expo 2021

IoT is the next wave of the industrial revolution crucial to government, businesses and consumers, transforming all sectors including automation, manufacturing, agriculture, automotive, consumer electronics, energy and utilities, healthcare, home automation, infrastructure, etc.

2nd edition IoT India expo 2021 will focus on the IoT ecosystem including governing bodies, hardware, software and services. This edition will have special focus on AR, VR, Robotics, Artificial Intelligence and Wearables bringing technological changes in specific sectors. We understand that building and developing the IoT infrastructure will support and strengthen the Digital India campaign. With smart cities, smart homes, smart infrastructure, smart wearable devices, autonomous and connected vehicles, etc., consumers are witnessing an Internet beyond desktops and mobile devices.

The first edition attracted 4235 visitors from Mobility, Healthcare, Agriculture, Insurance, Legal, Architects, Telecom and Industrial manufacturing industry seeking both hardware and software solutions. Startup Planet showcasing solutions for home automation, mobility and logistics pulled huge interest from corporates, investors, students and IoT startups. Techknow conference sessions were well attended by 70 eminent speakers and 434 delegates from industry and academia. The sessions deliberated on vast opportunities in the IoT ecosystem including starting and integrating IoT in the business, bridging gap between strategy and execution, monetization and policies, ROI and funding of IoT startups and many more.
IoT Global
IoT market will grow from an installed base of 15.4 billion devices in 2021 to 30.7 billion devices in 2020 and 75.4 billion in 2025.

Global spending on IoT technology-based products and services by enterprises is predicted to reach $120 billion in 2021, growing to $253 billion in 2021, attaining a 16% CAGR.

IoT Technology Services spending alone is expected to grow at 17% CAGR in the next five years to reach $143 billion in 2021.

Industrial IoT will add $10 to $15 trillion to global GDP in the next 20 years.

By 2020, the number of Internet-connected things will reach or even exceed 50 billion.

By 2020, annual revenue could exceed $470 billion for the IoT vendors selling the hardware, software and comprehensive solutions.

The IoT technology is estimated to have a total economic impact of up to $11 trillion by 2025.

Machine-to-Machine (M2M) connections will grow from 5 billion at the beginning of this year to 27 billion by 2024.

IoT could generate $4.6 trillion over the next ten years for the public sector, and $14.4 trillion for the private sector.

Wearable tech market to be worth $34 Billion by 2020.Wearables shipments to reach 213.6 million units worldwide in 2020 with watches and wristbands driving volume.

By 2020, a quarter of a billion vehicles will be connected to the Internet, giving a completely new possibility for in-vehicle services and automated driving.

Internet-connected clothing estimates that 10.2 million units of smart clothing will ship by 2020, compared to a meagre 140K units in 2013.

Today, the market for Radio Frequency Identification (RFID) tags, used for transmitting data to identify and track objects, is worth $11.1 billion. This is predicted to rise to $21.9 billion in 2020.

Having a connected kitchen could save the food and beverage industry as much as 15% annually.
IoT INDIA
IoT market in India is expected to grow to $ 15 billion with 2.7 billion units by 2020 from current $ 5.6 billion and 200 million connected units.

IoT market in India is projected to grow at a CAGR of more than 28% during 2021 – 2020.

As the global IoT business is expected to touch $300 billion by 2020, India aims to capture 20 per cent market share in another five years.

The government has taken initiative and framed a draft policy to fulfill a vision of developing a connected, secure and a smart system based on our country's needs. Government's objective is to create an IoT industry in India of $ 15 billion by 2020.

The industrial applications of IoT, primarily in manufacturing, automotive and transportation and logistics, are expected to drive the IoT revenue by 2020.

IOT market in India currently stands at $130 million annually in revenues.

Growing adoption of Cloud in IoT services and shifting focus over industrial IoT (IIoT), rising market of M2M communication and increasing trend of wearable technology applications are among the major factors driving IoT market in India.

In terms of sector type, Telecom is the largest sector being served by IoT in India. Of the total revenue earned by IoT industry in India, 36% or $47 ,million comes from telecom.

Electronics comes second at 29%, followed by Oil & utilities sector at 23% of IoT revenues in India.

Finance, retail & healthcare; the 3 big sectors in terms of size, are late adopters of IoT, providing single digit millions in revenue to IoT sector.

Consumer IoT, which includes smart home devices as well as wearables, account for the remaining 40% of the IoT market. This is set to change, with consumer IoT's share rising to 45% by 2020.

There are currently more than 400 companies providing IoT related services in some form.

Please contact the event manager Marilyn below for the following:
- Discounts for registering 5 or more participants.
- If you company requires a price quotation.
Event Manager Contact: marilyn.b.turner(at)nyeventslist.com
You can also contact us if you require a visa invitation letter, after ticket purchase.
We can also provide a certificate of completion for this event if required.

NO REFUNDS OR TRANSFER ALLOWED ON REGISTRATIONS
-----------------------------------------------------------------
This Event Listing is Promoted by
New York Media Technologies LLC in association
with Exhibitions India Group.
http://www.NyEventsList.com
http://www.BostonEventsList.com
http://www.SFBayEventsList.com
-----------------------------------------------------------------
SHU170424CEV MAR170926UPT
Event Categories
COMPUTERS AND INTERNET CONFERENCES
,
Technology
Keywords: fun, Agriculture, applications, business , communication , conference , culture, developing, Economic , exhibition
---
---
---
Comments
---
---
Newsletters
VIP Life Time Subscription to our Newsletters!

$399.99