New York Professional Events List
23rd International Conference on Cancer Research & Pharmacology (pgr) AS
---
Date
Mar 26, 2021 - 09:00 AM - Mar 27, 09:00 AM
Organizer
Pulsus Group - NewYorkEventsList
Venue
Edinburgh Edinburgh United Kingdom
Location
EdinburghEdinburghUnited Kingdom,
United Kingdom,
United Kingdom,
US,
ZIP: United Kingdom
Phone: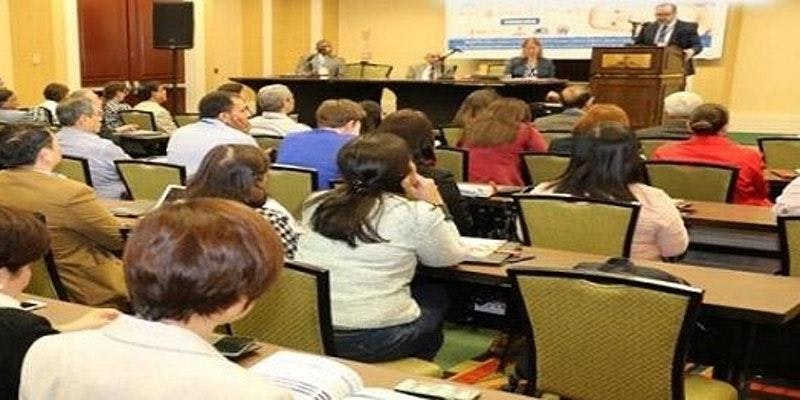 Description
About Conference
PULSUS group is glad to invite all the participants across the globe to attend '23rd International conference on Cancer Research & Pharmacology' during March 26-27, 2021 in Edinburgh, Scotland which includes prompt keynote presentations, Oral talks, Poster presentations and Exhibitions.
Cancer Research 2021 is an extraordinary event designed for International medical health professionals and oncologists to facilitate the dissemination and application of research findings related to Cancer. The cancer conference invites participants from all leading universities, clinical research institutions and diagnostic companies to share their research experiences on all aspects of this rapidly expanding field and thereby, providing a showcase of the latest techniques.
Why to attend??
This cancer conferences will enlighten the public with recent advances in Cancer diagnosis and therapy from around the world and to sharpen the related ideas about cancer research. Moreover this oncology conferenceprovides you a great networking with peers. World-renowned speakers, the most recent techniques, and the newest updates in cancer research fields are the trademark of this conference. Cancer conferences, symposiums and Workshops provide a dedicated forum for the advancement, execution and exchange of information about Oncology and Cancer.
Cancer Research 2021 is a hallmark in the era of cancer conferences with its eminent speakers and notable organizing committee members.
Who should attend??
Oncologists, Radiologists, Chemotherapists, Physicians, Academicians, Academic scientists, Industry professionals, Diagnostic laboratory professionals, Undergraduate & Postgraduate students, researchers, business professionals, Postdoctoral fellows and Trainees, Cancer Diagnostics Associations and Societies.
PULSUS which organizes 1000+ Global events every year is delighted to welcome all the enthusiastic participants across the world to its prestigious Cancer Conference named '23rd International conference on Cancer Research & Pharmacology' which is going to be held during November 26-27, 2021 at Edinburgh, Scotland. Cancer Research 2021 highlights the theme " Informative Sessions on Cancer and Pharmacology Research: Challenges and Achievements".
PULSUS provides an opportunistic environment and vibrant podium through these auspicious events to amplify these steps and meet the highest demand ever, by reflexive and cerebrative connections. PULSUS has been progressively organizing scientific conferences across the globe, rendezvous which consist of various streams of scientific study to improve and accelerate discovery for a better tomorrow. The non-profit firm plans for organizing an average of 1000 international conferences per year which is supported by 700 open access journals and 80,000 Editorial Board Members. The number of reader views of the website has clocked 7.5 million and still counting. Lately around more than 1000 scientific associations of various fields from all over the world have shown interest in association with PULSUS to promote their research work. PULSUS conferences offer exciting features like international symposia, B2B meetings, trade shows, exhibitions, and international workshops to build global networking and meaningful academic research and industry alliances. PULSUS initiated the 'Young Scientist awards' to the enterprising young science researchers and scholars across the globe.
Cancer Research 2021 provides an excellent opportunity to share views, exchange knowledge and establish research collaborations & networking.
The main aim of this conference is Informative Sessions on Cancer and Pharmacology Research: Challenges and Achievements.
Cancer Research 2021 is a unique oncology conference forum to bring together worldwide distinguished academics in the field of public health professionals, academic scientists, industry researchers, scholars to exchange about the state of the art research and technologies.
Target Audience:
· Radiologists
· Oncologists
· Chemotherapists
· Doctors
· Oncology Institutes
· Medical Colleges
· Research faculty
· Academic Scientists
· Students
· Diagnostic laboratory professionals
· Business Entrepreneurs
· Industry professionals
· Directors/Managers/CEO's
· Presidents & Vice Presidents
· Brand Manufacturers/ Marketers of Consumer Products
· Marketing, Advertising and Promotion Agency Executives.
Market Analysis
Cancer is a branch of biology with branches such as organ specific cancer, cancer genomics, cancer pharmacology, cancer immunotherapy etc. This conference will witness a collection of various branches in cancer and it involves a vast range of medical streams within it. This conference will be an excellent platform for interdisciplinary interactions, networking with renowed persons and also to share scientific research knowledge, views and ideas in a single roof.
The organizing committee is decking out for an exciting and informative cancer conference program including plenary lectures, symposia, workshops on a variety of topics, poster presentations and various programs for participants from all over the world. We invite you to join us at the Cancer Research 2021, where you will be gaining a lot of new innovative ideas and knowledge from the scientists and scholars all over the world.
Cancer,a major health problem is the most killer disease of this 21st century. The most common types of cancer being lung cancer causing 1.4 million deaths per year, stomach cancer causing 740,000 deaths, liver cancer causing 700,000 deaths, colorectal cancer causing 610,000 and breast cancer causing 460,000 deaths. This proves invasive cancer to be the leading cause of death in the present century .
Previously deaths by cancer were less. Presently, the mortality rate because of cancer are increasing due to changed lifestyles and longer lifespans. Cancer mortality can be reduced if the disease is detected and treated early.Although cancer can strike any age group yet the risks of being affected by cancer increases with age,its main reason attributing to immunosenesence.The risks of prostrate cancer in ageing men is as high as 80%.
Children and middle age group individuals are highly prone to cancers like Leukemia(34%),brain tumors(23%) and lymphomas(12%). These are the most occurring types of cancer in middle aged individuals also. Breast cancer prevalent in women ranks second as a cause of cancer death in women.
Importance & Scope:
Cancer Research 2021 conference provides the best platform for the experts, researchers, students and business delegates with its well organized scientific program including detail information about the current scenario of cancer research and the advancement in the field of cancer research and also it covers the basic reason behind the cancer to the current trend in diagnosing and treating the cancer. This international event has a main motto on encountering the chronic disease like blood cancer, lung cancer and cervical cancer and so on and also it assist in finding the new technique in the treatment of cancer and in the diagnosis of cancer. This conference also deals with the pharmacology under cancer research, this helps in finding the weapon against cancer.
Pulsus Group welcomes all the Oncologists, Radiologists, Chemotherapists, Physicians, Academicians, Academic scientists, Industry professionals, and Diagnostic laboratory professionals, Undergraduate & Postgraduate students, researchers, business professionals, Postdoctoral fellows and Trainees to be a part of Cancer Research 2021. Advanced Diagnostic and therapeutic equipment along with the novel drugs for the cancer are the integrated part of cancer Research. Hence it will be an excellent amalgamation of academia and industry as it involves every aspects of empirical and conceptual thinking in exploring new dimensions in this field. It is open to all types of research methodologies both from academia and industry.
Conference highlights:
1.Cancer Biology
2.Carcinogenesis
3.Oncogenomics
4.Organ Based Cancers
5.Hereditary Cancers
6.Cancer Epigenetics
7.Cancer Metastasis
8. Cancer Pharmacology
9.Cancer And The Immune System
10.Cancer-Genomics And Metabolomics
11.Therapeutics Of Cancer
12.Neuro-oncology
13.Cancer Biomarkers
14.Novel Approaches Of Cancer Therapies
15.Precision Medicine And Cancer Therapy
16. Stem Cell Transplant Therapy
17.Cancer Management And Prevention
18.Screening For Cancer
19. Alternative Medicine And Cancer
20. Cancer Research
21. Cancer Nanotechnology
22.Cancer Imaging
Glance at Market of Cancer:
Cancer is the second leading cause of death globally and accounted for 8.8 million death in 2021. Lung, prostate, colorectal, stomach and liver cancer are the most common types of cancer in men, while breast, colorectal, lung, cervix and stomach cancer are the most common among women. Cancer affects everyone – the young and old, the rich and poor, men, women and children – and represents a tremendous burden on patients, families and societies. Cancer is one of the leading causes of death in the world. Yet, many of these deaths can be avoided. Between 30-50% of cancers are preventable by healthy lifestyle choices such as avoidance of tobacco and public health measures like immunization against cancer causing infections. Others can be detected early, treated and cured. Even with late stage cancer, the suffering of patients should be relieved with good palliative care. The economic impact of cancer is significant and is increasing .The total annual economic cost of cancer is around US$ 1.16 trillion. In 2021 about 8.8 million people died from cancer-nearly 1 in 6 global deaths. The number of new cases is expected to rise by about 70% over the next 2 decades. Only 1 in 5 low- and middle-income countries have the necessary data to drive cancer policy.
Sessions/Tracks
1.Cancer Biology
Cancer cells are typically defined by their capacity to divide uncontrollably. Cancerous tumors are malignant, which means they can spread into, or invade, nearby tissues. In addition, as these tumors grow, some cancer cells can break off and travel to distant places in the body through the blood or the lymph system and form new tumors far from the original tumor. They have the property of secondary malignant growths at a distance from a primary site of cancer.Cancer cells arise from the body's own tissues. Cancer Cell Biology includes the molecular, biochemical, and cell-based approaches to better understand cancer pathogenesis
2.Oncology
Carcinogenesis is the the process by which normal cells are transformed to cancer cells.These cells have the property of excessive growth and metastasis.Carcinogenesis may result from various factors like mutation of the DNA.
3.Oncogenomics
Cancer is a genetic disease—that is, cancer is caused by certain changes to genes that control the way our cells function, especially how they grow and divide. Cancer is caused by certain changes to genes, the basic physical units of inheritance. Genetic changes that increase cancer risk can be inherited from our parents if the changes are present in germ cells. Also, inherited genetic mutations play a major role in about 5 to 10 per cent of all cancers.
4.Organ Based Cancers
Cancer has a diversified nature in relation to the organ specificity. Cancer is a group of more than 100 diseases that develop across time in virtually any of the body's tissues. Each type of cancer has its unique features; the basic processes that produce cancer are quite similar in all forms of the disease. Organ Specific Cancers are cancers named basing on the location of cancer in the body organ. The various types of cancers include Head & Neck Cancer, Lung Cancer, Skin Cancer, Breast Cancer, Bone Cancers, Ovarian Cancer etc.
5.Hereditary Cancers
Usually referred as cancer syndrome this is a type of genetic disorder in which inherited gene mutations affect individuals to form cancerous growth of cells and also early onset of cancer.These syndromes is caused by mutation in tumor suppressor genes.
6.Cancer Epigenetics
The study of epigenetic modifications to the genome of cancer cells without changing the nucleotide sequence is referred to as cancer epigenetics.Their manipulation helps a lot in detection of cancer an its prevention.
7.Cancer Metastasis
Metastasis is the spread of a cancer or other disease from one organ or part of the body to another without being directly connected with it. When cancer cells break away from a tumour, they can travel to other areas of the body through the bloodstream or the lymph system
8.Cancer Pharmacology
Cancer pharmacology plays a key role in drug development. A cancer vaccine is a vaccine which treats cancer or prevents development of cancer. Vaccines that treat the cancer are known as therapeutic cancer vaccine. Currently no vaccines are able to prevent all cancer. Anti-viral vaccines like HPV vaccine and hepatitis B vaccines are useful to treat some types of cancers like cervical cancer, some liver cancer. Cancer vaccines are being developed for the treatments of different cancers like breast cancer, lung cancer, and colon and skin cancer. Most of cancer vaccines in development are specific for particular cancer types and are the therapeutic vaccines.
9.Cancer And The Immune System
In most organs and tissues of a mature animal, a balance is maintained between cell renewal and cell death. The various types of mature cells in the body have a given life span; as these cells die, new cells are generated by the proliferation and differentiation of various types of stem cells. This cell growth and proliferation are essential for wound healing and homeostasis. Under normal circumstances in the adult, the production of new cells is regulated so that the number of any particular type of cell remains fairly constant. Occasionally, however, cells arise that no longer respond to normal growth control mechanisms; these cells proliferate in an unregulated manner, giving rise to cancer
10.Cancer-Genomics And Metabolomics
Cancer genomics is the study of the totality of DNA sequence and gene expression differences between tumour cells and normal host cells. It aims to understand the genetic basis of tumour cell proliferation and the evolution of the cancer genome under mutation and selection by the body environment, the immune system and therapeutic interventions. The metabolites within a cell or biological system are being used to analyze cancer metabolism on a system-wide scale, painting a broad picture of the altered pathways and their interactions with each other. Cancer metabolomics involves chemical analysis by a range of analytical platforms through targeted/untargeted approaches. The application of metabolomics towards cancer research has led to a renewed appreciation of metabolism in cancer development and progression.
11.Cancer Therapy
Cancer treatments are medical therapies that claimed to treat cancer by different methods like surgery, chemotherapy, radiation oncology, and immunotherapy. Oncolytic virotherapy is an emerging treatment method of cancer which uses viruses to destroy cancers. The recent development in genetic engineering techniques has been made using viruses to attack and destroy cancer cells. Chemotherapy is a method of cancer treatments which uses chemical substances or chemotherapeutics drug to kill the cancerous cells. It is one of the major methods of medical oncology.
12.Neuro-oncology
Neuro-oncology is the study of brain and spinal cord neoplasms, many of which are (at least eventually) very dangerous and life-threatening (astrocytoma, glioma, glioblastoma multiforme, ependymoma, pontine glioma, and brain stem tumors are among the many examples of these). Among the malignant brain cancers, gliomas of the brainstem and pons, glioblastoma multiforme, and high-grade (highly anaplastic) astrocytoma are among the worst. In these cases, untreated survival usually amounts to only a few months, and survival with current radiation and chemotherapy treatments may extend that time from around a year to a year and a half, possibly two or more, depending on the patient's condition, immune function, treatments used, and the specific type of malignant brain neoplasm.
13.Cancer Biomarkers
A cancer biomarker is an element or procedure that indicates the presence of cancer in the body. A biomarker may be any molecule released by presence a tumor or a specific indication of the body to the presence of cancer. Cancer biomarkers are usually biological molecules found in blood, other body fluids, or tissues that are a sign of a normal or abnormal process, or of a condition or disease.
14.Novel Approaches Of Cancer Therapies
The Normal treatment modalities are associated with severe side effects and high toxicity which in turn lead to low quality of life. This review encompasses novel strategies for more effective chemotherapeutic delivery aiming to generate better prognosis. Currently, cancer treatment is a highly dynamic field and significant advances are being made in the development of novel cancer treatment strategies. In contrast to conventional cancer therapeutics, novel approaches such as ligand or receptor based targeting, intracellular drug targeting, gene delivery, cancer stem cell therapy, magnetic drug targeting and ultrasound-mediated drug delivery, have added new modalities for cancer treatment.
15.Precision Medicine And Cancer Therapy
Cancers that are closely linked to certain behaviours are the easiest to prevent. Many complementary health approaches are also there to combat the risks of cancers like—for example, herbal and other dietary supplements, acupuncture, massage, and yoga.
16. Stem Cell Transplant Therapy
Stem cell transplants do not usually work against cancer directly. In cancer treatment high doses of chemo therapy and radiations are given to kill cancer cells, but this also kills the bone marrow stem cells .To replenish stem cells this stem cell therapy is done which gives rise to healthy red blood cells.
17.Cancer Management And Prevention
Cancers that are closely linked to certain behaviours are the easiest to prevent. Many complementary health approaches are also there to combat the risks of cancers like—for example, herbal and other dietary supplements, acupuncture, massage, and yoga.
18.Cancer Screening
Screening of cancer refers to the detection of cancer before the symptoms appear. Screening procedure involves blood tests, urine tests, other tests, or medical imaging. People having higher risk of developing cancer, such as people with a family history of cancer are identified by selective screening.Mass screening involves screening everyone in a specific age group.
19. Alternative Medicine And Cancer
Alternative medicine or complementary medicine are practices claimed to have the healing effects of medicine but are disproven, unproven, impossible to prove, or only harmful Alternative medicine consists of a wide variety of practices, products, and therapies—ranging from those that are biologically plausible but not well tested, to those with known harmful and toxic effects. An even greater proportion of cancer patients use "complementary" therapies along with mainstream cancer treatment.
20. Cancer Research
Cancer research definesbasic researchin cancer which is used in identifying the causes of cancer and developing novel strategies and new therapeutics for prevention, diagnosis, treatment, and cure of cancer.Nowadays clinical cancer research has shifted towards therapies like cancer immunotherapy and gene therapy.
More Info
Worldwide Cancer HospitalsCancer Hospitals in USABBarnes-Jewish Hospital/Washington University, St LouisCCity of Hope, Duarte, CaliforniaDDana-Farber/Brigham and Women's Cancer Center, BostonHHospitals of the University of Pennsylvania-Penn Presbyterian, PhiladelphiaJJohns Hopkins Hospital, BaltimoreMMassachusetts General Hospital, Boston Mayo Clinic, Rochester, MinnesotaMemorial Sloan Kettering Cancer Center, New York CityMoffitt Cancer Center and Research Institute, Tampa, FloridaNNew York–Presbyterian University Hospital of Columbia and Cornell, New York CityNorthwestern Memorial Hospital, Chicago SSeattle Cancer Care Alliance/University of Washington Medical Center | Cleveland Clinic Stanford Health Care-Stanford Hospital, CaliforniaUUCLA Medical Center, Los AngelesUCSF Medical Center, San FranciscoUniversity of North Carolina Hospitals, Chapel Hill University of Texas MD Anderson Cancer Center, HoustonUSA Mitchell Cancer Institute Kilborn Clinic  USC Norris Cancer Hospital-Keck Medical Center of USC, Los AngelesWWake Forest Baptist Medical Center, Winston-Salem, North CarolinaCancer Hospitals in EuropeAAnadolu Medical Center, TurkeyBBritish Hospital Lisbon XXI, PortugalCChiro Hospital Group, SpainClinic Hirslanden & Klinik Im Park, SwitzerlandClinic of L'Alma, FranceCyberknife Center Hamburg, GermanyHHM Hospitals, Spain Hygeia Hospital, GreeceKKlinikum Stuttgart, GermanyKoc University Hospital, TurkeyMMedicana Healthcare Group TurkeyMedipol Mega University Hospital, TurkeyNNeolife Oncology Center, TurkeyRRuber International Hospital, Spain SSanitas Hospitals, Spain Sant Joan de Déu-Barcelona Children's Hospital, SpainTTeknon Medical Center, SpainUUniversity Hospital HM Montepríncipe, SpainUniversity Hospital HM Sanchinarro, SpainVVithas Xanit International Hospital, SpainCancer Hospitals in AsiaAApollo Hospital Chennai, India Assuta Hospital, IsraelBBangkok Hospital Pattaya, ThailandBNH Hospital, ThailandBumrungrad Hospital, ThailandGGleneagles Global Hospitals, India Gleneagles Medical Centre Penang, MalaysiaHHadassah University Medical Center, Israel Herzliya Medical Center, IsraelKKPJ Ampang Puteri Specialist Hospital, MalaysiaKPJ Damansara Specialist Hospital, MalaysiaMMahkota Medical Centre, MalaysiaMount Elizabeth Hospital, SingaporeNNational Cancer Centre, SingaporeRRaffles Hospital, SingaporeRambam Medical Center, IsraelSSheba Medical Center, IsraelSourasky Medical Center, IsraelSt. Luke's Medical Center, PhilippinesSunway Medical Centre, MalaysiaCancer Hospitals in AfricaAAfrican Cancer CenterAhmed Kathrada Private HospitalBBorder Oncology UnitCConstantiaberg Oncology HospitalDDavid Anderson HospitalHHummingbird Cancer Centre, Cape Town, South AfricaLLangenhoven Drive Oncology Centre Life Healthcare Hospital Group, South Africa Lowveld Oncology UnitNNutriTherapy, South AfricaOOuteniqua Oncology Unit PPaulRuff,Md, Johannesburg/Soweto, South AfricaRRondebosch Oncology CentreSSandton Oncology Centre, South AfricaSolway Oncology HospitalUUCT Private Academic Hospital, Cape Town, South AfricaVVergelegen Oncology HospitalVincent Pallotti Oncology Centre Worldwide Cancer SocietiesCancer Societies in USAAAmerican Brain Tumor AssociationAmerican Cancer SocietyAmerican Childhood Cancer Organization American Head and Neck SocietyAmerican Society for Radiation OncologyAmerican Society of Clinical OncologyAssociation of Community Cancer CentersCChildhood Brain Tumor Foundation Children's Tumor FoundationColon Cancer AllianceFFoundation for Women's Cancer LLung Cancer Foundation of AmericaLymphoma Research FoundationNNational Brain Tumor Society Cancer Societies in EuropeAAssociation of European Cancer LeaguesEESMO: European Society for Medical OncologyEuropean Academy of Cancer SciencesEuropean Association for Cancer ResearchEuropean Cancer Organisation: ECCOEuropean Organization for Research and Treatment of CancerEuropean Prostate Cancer CoalitionEuropean School of OncologyEuropean Society for Pediatric Oncology – SIOPEEuropean Society of Skin Cancer PreventionEuropean Society of Surgical OncologyFFederation of European Cancer SocietiesOOrganization of European Cancer InstituteCancer Societies in AsiaAAsian and Pacific Federation of Organizations for Cancer Research and ControlAsian Cancer FoundationAsian Clinical Oncology Society: ACOSAsian Fund for Cancer ResearchAsian Pacific Journal of Cancer PreventionAsian Society for Neuro-OncologyAsian Society of Gynecologic Oncology Australasian Lung Cancer Trials GroupBBlack Sea Countries Coalition on Breast and Cervical Cancer PreventionCCancer Therapeutics Research Group Cancer Societies in AfricaAAfrica Cancer FoundationAfrican Cancer Registry NetworkAfrican Cancer Registry NetworkAfrican Journal of Cancer | Mediterranean Oncology SocietyAfrican Organisation for Research and Training in CancerAfrican Women's Cancer Awareness AssociationAfrox - Improving Cancer Care in AfricaCCHOC Childhood Cancer Foundation South AfricaOOncology for Africa ONLUS – AfronWWorld Health Organisation - Africa RegionWorldwide Cancer InstitutesCancer Institutes in USADDuke University EEmory University: School of MedicineJJohns Hopkins School of MedicineSStanford UniversityStony Brook School of MedicineUUCSF School of MedicineUniversity of Cincinnati Academic Health CenterUniversity of Minnesota Medical SchoolUniversity of Wisconsin School of MedicineVermont College of MedicineWayne State School of MedicineCancer Institutes in EuropeBBukovinian State Medical UniversityEErasmus University RotterdamESO - European School of OncologyHHumboldt University of Berlin KKharkiv National Medical UniversityKU Leuven – University of Leuven, BelgiumLLeiden UniversityMMedical University – PlevenMedical University – PlovdivMedical University of ViennaRRWTH Aachen UniversityTTechnical University of MunichUUniversity of BarcelonaUniversity of CopenhagenUniversity of MilanCancer Institutes in AsiaAAsian Medical InstituteCChongjin Medical UniversityDDuke-NUS Medical SchoolIInternational Medical UniversityKKyoto UniversityNNanyang Technological UniversityNational Taiwan UniversityNational University of SingaporeOOsaka UniversityPPeking UniversitySSeoul UniversityTTsinghua UniversityUUniversity of Hong KongUniversity of TokyoCancer Institutes in AfricaCCairo UniversityEEgerton University Medical SchoolMMakerere UniversityOOrotta School of MedicineSStellenbosch UniversityUUniversity of BotswanaUniversity of Ghana At LegonUniversity of IbadanUniversity of NairobiUniversity of PretoriaUniversity of Witwatersand
Types Of Cancer
A
Adenoid Cystic CarcinomaAdrenal Gland TumorAmyloidosisAnal CancerAtaxia-TelangiectasiaAtypical Mole SyndromeBBeckwith Wiedemann SyndromeBile Duct CancerBirt Hogg Dube SyndromeBladder CancerBone CancerBrain TumorBreast CancerBreast Cancer in MenCCarcinoid TumorCarney ComplexCervical CancerColorectal CancerDDuctal CarcinomaEEndometrial CancerEsophageal CancerFFamilial-Adenomatous PolyposisGGastric CancerGastrontestinal Stromal Tumor - GISTHHER2-Positive Breast CancerHereditary Prostate CancerIIslet Cell TumorJJuvenile Polyposis SyndromeKKaposi's Sarcoma, HIV and AIDSKidney CancerLLaryngeal CancerLeukemia - Acute Lymphoblastic LeukemiaLeukemia - Acute Myeloid AMLLeukemia - AdultLeukemia - ChildhoodLeukemia - Chronic Lymphocytic - CLLLeukemia - Chronic Myeloid - CMLLeukemia- Acute Lymphocytic (ALL)Liver CancerLobular CarcinomaLung CancerLung Cancer - Small CellLymphoma - Hodgkin'sLymphoma - Non-Hodgkin'sLynch SyndromeMMalignant GliomaMastocytosisMelanomaMeningiomaMultiple Endocrine Neoplasia Type 1Multiple Endocrine Neoplasia Type 2Multiple MyelomaMyelodysplastic Syndrome (MDS)NNasopharyngeal CancerNeuroendocrine TumorNevoid Basal Cell Carcinoma SyndromeOOral CancerOsteosarcomaOvarian CancerPPancreatic CancerPancreatic Neuroendocrine TumorsParathyroid CancerPenile CancerPeritoneal CancerPeutz-Jeghers SyndromePituitary Gland TumorPleuropulmonary Blastoma (Childhood)Polycythemia VeraProstate CancerRRenal Cell CancerRetinoblastoma (Childhood)SSalivary Gland CancerSarcomaSarcoma - Alveolar Soft Part and CardiacSarcoma - KaposiSkin Cancer (Non-Melanoma)Small Bowel CancerSmall Intesine CancerSmall Intestine CancerStomach CancerTTesticular CancerThymomaThyroid CancerTurcot SyndromeUUterine (Endometrial) CancerVVaginal CancerVon-Hippel-Lindau SyndromeWilms' Tumor (Childhood)XXeroderma Pigmentosum
Worldwide Cancer Conferences
Cancer Conferences in USA
4th Gynecologic Oncology Conferences & Preventive Oncology Conferences July 18-19, 2021 Atlanta, USA
11th International Hematology Conferences & Hematological Oncology Conferences November 08-09, 2021 Las Vegas, Nevada, USA
7th World Breast Cancer Conferences November 1-2, 2021 Toronto, Canada
International Cancer Biology Conferences and Therapeutics Conferences October 23-24, 2021 Ontario, Canada
International Oncology Conferences and Cancer Therapeutics Conferences October 30 - November 01, 2021 Illinois, USA
Cancer Conferences in Europe
4th World Cancer conferences and Cancer Prevention Methods Conferences April 19-21, 2021 Valencia, Spain
NCRI Cancer Conferences November 05-08, 2021 Liverpool, UK
Global Cancer Therapy Conferences August 07-09, 2021 Frankfurt, Germany
In vivo model of Metastasis Conferences November 27-29, 2021 Berlin, Germany
Cancer Treatment Conferences February 1-3, 2021 Amsterdam, Netherlands.
Conferences on Cell Death Mechanism to Novel Cancer Treatment February 1-3, 2021 Amsterdam, Netherlands
25th World Cancer Conferences October 19-21, 2021 Rome, Italy
Cancer Conferences in Asia
18th Asia Pacific Prostate Conferences Aug 30 - Sep 02, 2021 Melbourne
26th World Cancer Conference November 27-28, 2021 Dubai, UAE
28th International Society Of Blood Transfusion Conference November 25-18, 2021 Guangzhou , China
32nd International Oncology Nursing Conferences and Cancer Care Conferences Sep 13-14, 2021 Singapore
Cancer Conferences in Africa
AORTIC International Cancer Conferences November 7-10, 2021 Kigali, Rwanda
ESMO Africa Cancer Conference February 14-16, 2021 Cape town, South Africa
SASCeTS & Clinical Haematology Society Cancer Conference November 4, 2021
SASCRO SASMO Cancer Conferences Sandton Convention Centre, South Africa
Worldwide Cancer JournalsAnnals of OncologyAnti-Cancer DrugsAnticancer ResearchBiochimica et Biophysica ActaBMC CancerBreast Cancer ResearchBreast Cancer Research and TreatmentBritish Journal of CancerCancerCancer CellCancer Epidemiology, Biomarkers & PreventionCancer Immunology, ImmunotherapyCancer InformaticsCancer LettersCancer MedicineCancer Prevention ResearchCancer ResearchCancer ScienceCellClinical Breast CancerClinical Cancer ResearchEndocrine-Related CancerEuropean Journal of CancerEuropean Journal of Cancer PreventionGenes, Chromosomes and CancerIndian Journal of CancerInternational Journal of CancerInternational Journal of OncologyInternational Journal of Radiation Oncology Biology PhysicsJournal of CancerJournal of Cancer Research and Clinical OncologyJournal of Clinical OncologyJournal of Experimental & Clinical Cancer ResearchJournal of Oncology PracticeJournal of Surgical OncologyJournal of the National Cancer InstituteJournal of Thoracic OncologyLeukemiaLung CancerMolecular Cancer ResearchNatureNature Reviews CancerNature Reviews Clinical OncologyNeuro-OncologyNutrition and CancerOncology ReportsPediatric Hematology and OncologySupportive Care in CancerThe LancetTumor biology
Worldwide Oncologists
Oncologists in USA
California California Cancer Center City Of Hope Hospital Duarte - Comprehensive Cancer Center Rebecca and John Moores UCSD Cancer CenterUCLA Jonsson Comprehensive Cancer Center UCSF Bakar Cancer Hospital Florida Children's Center for Cancer & Blood Diseases Florida Hospital Cancer Institute Regional Cancer Center UF Health Shands Hospital Winter Park Memorial Hospital Cancer Institute MarylandAlvin & Lois Lapidus Cancer Institute at Northwest Hospital Alvin and Lois Lapidus Cancer Institute At Sinai Hospital Center for Cancer and Blood Disorders Johns Hopkins Hospital Oncology The Institute for Cancer Care at Mercy New YorkMemorial Sloan Kettering Cancer Center New York Presbyterian Hospital Cancer Center New York Presbyterian Hospital Hem NYU Clinical Cancer Center Saint Luke's-Roosevelt Hospital:Hematology/Oncology WashingtonFred Hutchinson Cancer Research Center MultiCare Regional Cancer Center Olympic Medical Cancer Center Providence St. Mary Regional Cancer Center Spokane CyberKnife & Radiation Oncology Center
Oncologists in Europe
UKBeatson West of Scotland Cancer Centre Bristol Haematology and Oncology Centre  Cancer Centre London  Clatterbridge Cancer Centre NHS Foundation Trust  The Royal Marsden Hospital  GermanyGerman Cancer Research Center  UCCH Universitäres Cancer Center Hamburg, UKE  University Hospital Dresden  University Hospital Heidelberg  University Medical Center Hamburg-Eppendorf  FranceAmerican Hospital of Paris  Centre Léon Bérard  Centre Paul Strauss  Fairview Breast Center  Hôpital Institut Curie  SpainClinical and Provincial Hospital of Barcelona  Hospital Universitario HM Madrid  Institut Català d'Oncologia (ICO)  MD Anderson Cancer Center Madrid  Vall d'Hebron Institut d'Oncologia (VHIO)  Greece"Theagenio" Cancer Hospital of Thessaloniki  Agios Savvas General Hospital Hellenic Institute Against Cancer  Interbalkan Medical Center  Mediterraneo Hospital  Metaxa Cancer Hospital of Piraeus  
Oncologists in Asia
JapanAichi Cancer Center Chiba University Hospital National Cancer Center Hospital  Shizuoka Cancer Center  St. Luke's International Hospital  ChinaBeijing Cancer Hospital  China-Japan Friendship Hospital  Chinese Academy of Medical Sciences Cancer Hospital  Guangzhou Fuda Cancer Hospital  Modern Hospital Guangzhou  AustraliaAustin Hospital, Melbourne  Genesis Cancer Care Bunbury  Peter MacCallum Cancer Centre  St Vincent's Hospital, Sydney  The Kinghorn Cancer Centre  IndiaCachar Cancer Hospital and Research Centre  Central India Institute of Haematology & Oncology  Kidwai Memorial Institute of Oncology  Rajiv Gandhi Cancer Institute & Research Centre  Tata Memorial Centre  South KoreaAsan Medical Center  Gangnam Severance Hospital  International healthcare center, Seoul National University Hospital  Seoul National University Hospital  Severance Hospital  
Oncologists in Africa
NigeriaDivine Medical Center Ltd. Lakeshore Cancer Center Marie Stopes International Organisation Nigeria (MSION) National Hospital, Abuja Primus International Super Specialty Hospital South AfricaCancer Association of South Africa CANSA G V I Oncology Netcare Unitas Hospital Sandton Oncology EgyptChildren's Cancer Hospital Egypt Dar Al Fouad  Queens Hospital  Saudi German Hospital - Cairo  The Egyptian Hospital  AlgeriaBoufarik hospital  Clinique Mohamed El Mehdi  Hospital Ben Aknoun Boukhroufa Abdelkader  Hospital Center And University D'oran  Mustapha Pacha hospital MoroccoCenter Diagnostic Cancer Du Sein Center Oncology Ahmed Ben Zayd Center Oncology Hospital Cheikh Zaid Ibn Tofail University Hospital.
Please contact the event manager Marilyn (marilyn.b.turner(at)nyeventslist.com ) below for:
- Discounts for multiple participants.
- Require a price quotation.
- Require to pay by wire transfer or PayPal
- Invitation letter for visa applications

NO REFUNDS ALLOWED ON REGISTRATIONS
-----------------------------------------------------------------
This Event is Brought to You by:
Pulsus Group - NewYorkEventsList
http://www.NyEventsList.com
http://www.BostonEventsList.com
http://www.SFBayEventsList.com

MYL171010CEV
Event Categories
HEALTH AND MEDICINE CONFERENCES
,
Healthcare
,
Life Sciences, Biotechnology
,
SCIENCE AND TECHNOLOGY CONFERENCES
,
Technology
Keywords: fun, analysis, access , analyze, applications, audience, biology , business , Clinical , community
---
---
---
Comments
---
---
Newsletters
VIP Life Time Subscription to our Newsletters!

$399.99