New York Professional Events List
World Class Risk Mgt-What The Best Internat'l Stds Say About Risk-ISO 31000
---
Date
Dec 14, 2017 - 08:30 AM - Dec 15, 04:30 PM
Organizer
METRICSTREAM INC - NewYorkEventsList
Location
Salt Lake CitySalt Lake City, UTUnited States,
Salt Lake City,
UT ,
US,
ZIP: United States
Phone: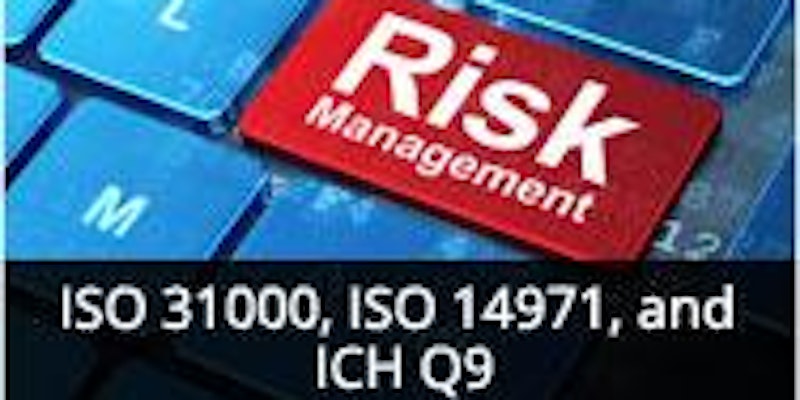 Description
Are you a Supervisor, Manager, or Director with risk management responsibilities? Do you have questions about what you are doing and why? If the answer is "yes,' then this is the right course for you!
Risk management is a defining attribute of the 21st century. Many companies and organizations are going through growing pains attempting to implement effective and sustainable business practices. While the concepts may seem to be simplistic, the implementation in an organization can be very daunting.
What is unique about this course?
First, this course is not a "cook book" approach. The course is meant to teaching "risk-based thinking" (as described in ISO 9001) which is being implemented throughout the world.

Second, this course is practical. There are many theorists that have parochial approaches. This course teaches the proven and broadly accepted strategies to manage risk.

Third, this course designed for a wide audience. The course is designed for personnel from all organizations and companies with no prior formal education in risk management required.
In this two-day workshop conference, you will learn strategies for success in your organization.
How should the corporate risk process be integrated into specialty areas such as Operations, Human Resources, Project Management, Strategic Planning, and Safety and Health?

How do we deal with non-linear issues such as those with low probability, yet catastrophic severities?

What tools are available to facilitate formal risk management in the organization and how to implement them?
Seminar Fee Includes:
Lunch
AM-PM Tea/Coffee
Seminar Material
USB with seminar presentation
Hard copy of presentation
Attendance Certificate
$100 Gift Cert for next seminar
Learning Objectives:
Upon completion of the course, the participants should:
Understand risk-based thinking and compliance risk

Understand what the global expectations of risk management are regardless of industry or organization.

Utilize a risk based approach to developing an effective and scientifically valid risk management system

Evaluate effectiveness, suitability and adaptability of the risk management system in a variety of applications and across multiple fields of study

Using good risk management principles to manage the supply chain, to enhance success with vendors and contract manufacturers.

Understand the difference between acceptable risk-based thinking and significant deviations from the accepted industry practice

Understand how risk management has been implemented in different industry sectors and in different countries around the world

Investigate methods to identify true root causes of problems and to evaluate and prioritize solutions

Implement formal methods for decision-making

Develop successful implementation plans

Perform risk assessments effectively

Communicate risk results both within and without the organization
Who will Benefit:
This course is designed for senior executives, directors, managers, and those tasked with developing, maintaining and/or improving risk management activities in their organization. Additionally, this may include individuals that have Quality Management Systems responsibilities as well as those whose roles may include Safety and Health. The following personnel will benefit from the course:
Auditors

Risk managers

Risk professionals

Safety and Health professionals

Project managers

Compliance managers

Operations personnel

Quality system personnel

R&D personnel

Human resource personnel
Agenda
---
AGENDA
DAY 01(8:30 AM - 4:30 PM)
Registration Process: 8:30 AM

Introduction to risk management

Defining the what, how and why we got to this point with risk management

Key concepts

Review of several risk management standards

What are the universal principles?

Where are they different and why?

Topical Review:

Decision-making in risk management

HACCP

HAZOP

FMEA

Fault Tree

Monte Carlo

Design of Experiment

Root case analysis

Frameworks for effective risk management

Common elements

Establishing the organizational framework

Designing the program

Fundamental considerations

Policies and procedures

Risk Management is the critical tool for the whole organization
DAY 02(8:30 AM - 4:30 PM)
Implementing the program

Common cause failure modes and how to avoid them

Dealing with organizational inertia

Establishment of a baseline risk assessment

How to assess the adequacy of the assessment

Do we know enough?

Evolving to a living risk management process

Risk as Opportunity

The concept of positive risk

Turning opportunities into strategy

Risk Treatment Strategies

Risk sharing

Controlling Risk

Effective monitoring

Tracking cost savings and cost avoidances

Integration of Health and Safety

Use of statistical cost of human life around the world

Sector-specific issues

Case Studies

Reports of successes

Significant failures

Auditing Risk

Separating the critical from the important

Communicating risk about risk management

How to change the system

Incremental changes versus the revolutionary change

Moving the prototype to full operation

When to change and when to leave as is
Speaker Details
---
Stan Mastrangelo
Technical Committee Member of working group on ISO 31000, ISO 14971, and ICH Q9 Standards
Stan Mastrangelo has over 30 years of professional work experience in Quality Assurance of medical devices, pharmaceuticals, and foods. Stan has held positions such as Senior Quality Engineer, Corporate Quality Assurance Auditor, Plant QA Manager, QA Director, and Consultant. Stan was a member of the ANSI Executive Standards Board. Stan has had extensive involvement in the development of International Risk Management Standards. Stan was a member of the ISO Joint Working Group for Risk Management of Medical Devices (that developed ISO/IEC14971). Stan was a committee liaison to the ISO Technical Management Board Joint Working Group on Risk Management that developed ISO 31000 which is the Risk Management Standard for all sectors. Stan was on the US PhRMA (Pharmaceutical Research and Manufacturers Association) Team that supported the development of ICH (International Conference for Harmonization) Standard Q9 titled Quality Risk Management for Pharmaceuticals. Stan also served on various IEC Standards Teams related to IEC 60601, IEC 80001 and Risk Management in the Software Lifecycle. Stan is an Adjunct Professor at Virginia Tech and was a co-developer of a Masters Degree Program in Medical Product Risk Management. Stan is on the Risk Management Committee for the IECEE.
Please contact the event manager Marilyn (marilyn.b.turner(at)nyeventslist.com ) below for:
- Discounts for multiple participants.
- Require a price quotation.
- Require to pay by wire transfer or PayPal
- Invitation letter for visa applications

NO REFUNDS ALLOWED ON REGISTRATIONS
-----------------------------------------------------------------
This Event is Brought to You by:
METRICSTREAM INC - NewYorkEventsList
http://www.NyEventsList.com
http://www.BostonEventsList.com
http://www.SFBayEventsList.com

MYL171012CEV
Event Categories
BUSINESS & MANAGEMENT CONFERENCES
,
Technology
Keywords: applications, assessment , audience, Book , business , class , conference , design , developing, Health
---
---
---
Comments
---
---