New York Professional Events List
Second International Conference on Real Time Intelligent Systems (RTIS 2017)
---
Date
Dec 08, 2017 - 09:00 AM - Dec 10, 05:00 PM
Organizer
New York Media Technologies LLC in association with Society for lnformation Organlzation.
Location
University of Hassan IICasablanca, MoroccoMorocco,
Morocco,
Morocco,
US,
ZIP: Morocco
Phone: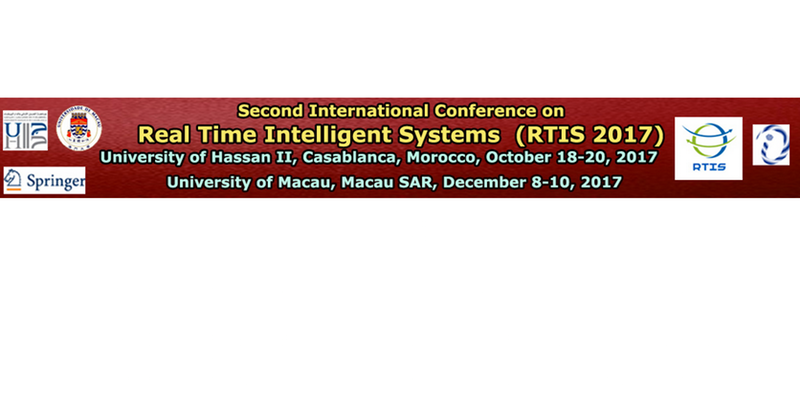 Description
About the Conference
Real-Time Computing covers a broad spectrum of the intensively developing area of low-latency priority-driven system responsiveness under certain time constrains to essential and decisive human-computer interactions with constantly incoming data stream. Research on real-time intelligent systems is of a multi-disciplinary nature, exploiting concepts from the areas as diverse as signal processing technologies, computational intelligence, location systems, data processing, digital document processing and embedded system design. To accomplish its real-time performance, systematic analysis is carried out when the systems are working.
Therefore, over the last few years real-time intelligent computing has radically transformed human life style. In the today's competitive and highly dynamic environment, analyzing data in real time is a must to understand in detail how the systems are processing the data and to reason the outputs and anticipate the trends in intelligent computing, has become critical.
To leverage the full potential of the opportunity build complex real time systems, intense research is required and this conference will serve as one such platform to manifest the ongoing research in the real time intelligence system.
The conference welcomes theoretically grounded, methodologically sound research papers from academia and industry that address variety of aspects and innovations related to real-time computing systems.
The scope of the conference includes, but is not limited to the following areas:
Streaming data, streaming engines

Big Data systems and applications for high-velocity data

Analysis in advanced domains such as energy, sensors, etc

Artificial Intelligence

Broadband Intelligence

Cloud Computing and Intelligence

Collaborative Intelligence

Crowdsourcing and crowd intelligence

Data capture in real-time

Intelligent Database Systems

Data mining

Intelligent Data Analysis

OLAP for real-time decision support

Data quality and cleansing

Intelligent Fuzzy Systems

Event-driven analytics

Visualizing real-time data and information

Intelligent Soft Computing

Privacy and security in Intelligence

Architectures for Intelligence

Internet of Things

Intelligent Robotic Systems

Smart Services and Platforms

Intelligent Transportation Systems

Mobile Smart Systems

Trace-based intelligent real-time services (eye-tracking, image tracking)

Real-time intelligent alert systems

Machine translation in real time

Multilingual information access

Multiagent Intelligent Systems

Intelligent Information Systems

Adaptive vision algorithms

Real-time Intelligent Network solutions

Real-time distributed coding

Real-time modelling user's information needs

Real-time noise removal systems

Real-time intelligent communication

Real-time remote access systems

Decision support systems in real time

Real-time multiprocessor systems
Important Dates
Paper Submission: July 25, 2017/August 10, 2017(Macau) Paper Notification: August 25, 2017/September 05, 2017 (Macau) Camera ready: September 30, 2017/October 15, 2017 (Macau) Registration:October 05, 2017/October 31, 2017 (Macau) Conference Dates: October 18-20, 2017/December 08-10, 2017 (Macau)
Program Committees
Honorary General Chair
Idriss Mansouri, President Hassan II University, Casablanca, Morocco
Jolanta Mizera-Pietraszko, Opole University, Poland
General Chair
Abderrahim Sekkaki, University Hassan II, Morocco
Simon Fong, University of Macau, Macau
Program Chairs
Pit Pichappan, Digital Information Research Lab., India
Mohamed Lahby UH2C, Casablanca, Morocco
Organizing Committee
Mohamed Lahby, ENS, University Hassan II, Casablanca Morocco
RAOUYANE Brahim FSAC, University Hassan II, Casablanca, Morocco
Said Jai Andaloussi, FSAC, UH2C, Casablanca, Morocco
Noreddine Gherabi, ENSA of Khouribga, Hassan 1st University, Morocco
KHALID Jebari, Faculty Chouaid Doukkali, University El Jadida, Morocco
Taoufik Rachad, ENSIAS, UM5, Rabat, Morocco
International Program Committee
Abdallah Shami, University of Western Ontario, Canada
Ahmed Ali COMSATS Institute of Information Technology, Pakistan
Abdelwahab NAJI, ENSET Mohammadia, UH2C, Casablanca, Morocco
Ahmed Karmouch University of Ottawa, Canada
Alain Richard Ndjiongue University of Johannesburg, South Africa
Ali SHAUKAT, Simula Research Lab, Norway
Amr Ali-Eldin Leiden University, The Netherlands
Benchaïba Mahfoud University of Science and Technology Houari Boum., Algeria
Brahim RAOUYANE, FSAC, UH2C, Casablanca, Morocco
Cherkaoui LEGHRIS FST Mohammadia, UH2C, Casablanca, Morocco
Essaid SABIR, ENSEM, UH2C, Casablanca, Morocco
Idy Diop Cheikh Anta Diop University, Senegal
Jerzy JÓZEFCZYK, Politechnika Wrocławska, Poland
Jun LIU, University of Ulster, U.K
Kanae Matsui Tokyo Denki University, Japan
Katarzyna GDOWSKA, AGH University of Science and Technology, Poland
Khalid JEBARI, Faculty Chouaid Doukkali, University El Jadida, Morocco
Leila FETJAH, FSAC, University Hassan II, Casablanca Morocco
Mahmoud A. Doughan Lebanese University, Lebanon
Mansoor Ahmed COMSATS Institute of Information Technology, Pakistan
Markos PAPAGEORGIOU, TECHNICAL UNIVERSITY OF CRETE, Greece
Michele OTTOMANELLI, TECHNICAL UNIVERSITY OF BARI, Italy
Mohamed AL-SAREM, University Taibah-Medina, Saudi Arabia
Mohamed Amine ERRIAS, FSAC, UH2C, Casablanca, Morocco
Mohamed EL KHAILI, ENSET Mohammadia, UH2C, Casablanca, Morocco
Mohamed KISSI, FST Mohammadia, UH2C, Casablanca, Morocco
Mohamed LAHBY, ENS, UH2C, Casablanca, Morocco
Mohamed Reda CHBIHI LOUHDI, FSAC, UH2C, Casablanca, Morocco
Mohammed Moujjabir FST Mohammadia, UH2C, Casablanca, Morocco
Noreddine GHERABI, ENSA of Khouribga, Hassan 1st University, Morocco
Paolo DELLE SITE, University Niccolò Cusano – Rome, Italy
Pascal LORENZ, University of Haute Alsace, France
Roberta DI PACE, University of Salerno, Italy
Ronald R YAGER, Machine Intelligence Institute, Iona College, USA
Saeed Ghazi Maghrebi Islamic Azad University, Iran
Said Jai ANDALOUSSI, FSAC, UH2C, Casablanca, Morocco
Saïd NOUH, UH2C, Casablanca, Morocco
Schahram DUSTDAR, TU Wien, Austria
Shaukat Ali, Simula Research Lab, Norway
Suat Ozdemir Gazi University, Turkey
Taoufik RACHAD, ENSIAS, UM5, Rabat, Morocco
Tarek BEJAOUI, University of Carthage, Tunisia
Youssef BADDI, UCD, El Jadida, Morocco
Zbigniew, Koszalin University, Poland
Zbigniew Banaszak, POLITECHNIKA WARSZAWSKA, Poland
Madjed Bencheikh Lehocine Constantine 2 University, Algeria;
BELLAFKIH Mostafa INPT, RABAT, Morocco
BELLAFKIH Mostafa INPT-Rabat, Morocco
BELMEKKI Abdelhamid INPT-Rabat, Morocco
KHOUKHI Fadoul FST-Mohammedia, Morocco
SABBAR Wafae FSJES-Casablanca, Morocco
Morocco SADDOUNE Mohammed FST-Mohammedia , Morocco
Faiq GMIRA FSJESAS Hassan II University, Casablanca – Morocco
Students Committee
Youness Abakarim, ENS, UH2C, Casablanca, Morocco
ElMehdi Belbacha, ENS, UH2C, Casablanca, Morocco
Khalid Elfahssi FSAC, UH2C, Casablanca, Morocco
Karim Benzidane, FSAC, UH2C, Casablanca, Morocco
JAMAL MAWAN, FST Mohammadia, UH2C, Casablanca, Morocco
Keynote Speakers
Keynote Speakers
Gloria Bordogna
IREA CNR, Milano, Italy

Multisource big geo data for Earth Observation: challenges and open issues
Geo data are heterogeneous by nature comprising both georeferenced images acquired by remote sensing and their derived products (think at down-stream services of remote sensing images such as those provided by the major international organizations for Earth Observation, namely the ESA Earth Online catalogues for Sentinel data products, and the NASA catalogue for MODIS data products) and cartographic maps published as open data by public and private organizations.
Furthermore, thanks to the Web 2.0 revolution and wide spread diffusion of IoT and smart devices equipped with GNSS sensors, the availability of new and real-time sources of geo data is rapidly increasing. Let us think of Volunteered Geographic Information (VGI) created by citizens eager to participate in citizen science initiatives, such as Open Street Map project, GNSS tracks, and passive crowdsourced geotagged posts created within social networks, or a variety of low-cost sensors data.
The huge amount of this heterogeneous multi source geo data constitutes a challenge for the future data economy, although to convert data into value, we need to face some open issues related to the discovery of the relevant geo data among huge repositories, the control and assessment of Geo data questionable quality, and finally the cross-analysis of geo data from multiple sources. All such tasks involve the management of the imprecision and uncertainty of both geo data and the user needs.
The talk will analyze some applications of multi source geo data management focusing on the roles of both standard Web services as the technological basis for enabling multi sources geo data sharing, and fuzzy approaches to model the representation, discovery, quality assessment and Geo temporal cross analysis of geo data tolerating imprecision and uncertainty.
Biography
Gloria Bordogna research concerns the representation and management of imprecision and uncertainty within information retrieval systems (IRSs) and database management systems (DBMSs). She applied soft computing methods to model flexible IRSs and query languages for IRSs, DBMSs and GISs. Her current research concerns flexible content-based querying of catalogue services, fuzzy ontologies for Volunteered Geographic Information creation and querying, fuzzy quality assessment and spatiotemporal analytics of crowdsourced geotagged information.
Gloria Bordogna is a senior researcher of IREA CNR – Institute for the Electromagnetic Sensing of the Environment of the Italian National Research Council. In 1984 she received the Laurea degree in Physics from "Università degli Studi di Milano", Italy, and since 1986 she was with different research institutes of CNR. From 2003 to 2010, she was adjunct professor of Information Systems at Bergamo University. In 2013 she obtained the Italian national scientific qualification of full professor for the information systems area. She participated in many funded projects implying the definition of methods for information retrieval and geo data management. She participated to the organization of several scientific events, and since 2008 co-organizes the special track on "Information Access and Retrieval" at ACM SAC.
Professor Sabah Mohammed, PhD, ISP, IEEE Senior Member, PEng
Lakehead University Ontario-CANADA
Title of the Keynote: Research Trends on Machine Learning for Healthcare
Healthcare and biomedical data are becoming increasingly complex with the advancement of pervasive monitoring devices, the genomic sequencing technologies, the availability of interlinked open medical big data and the high adoption of electronic health records. For this reason, health care is continuously expanding the knowledge forefront as new methods of acquiring data are becoming available. However getting the value out of such data need to rely on the ability to best interpret available data that may originate from a number of sources, including healthcare professionals, patients, and medical devices. Machine learning/deep learning and AI are transforming the healthcare industry, improving outcomes, and changing the way doctors think about providing care. It is improving diagnostics, predicting outcomes, and just beginning to scratch the surface of personalized care. This keynote talk provides the roadmap and the research trends for using Machine Learning in health data analytics to accelerate discoveries.
Biography
Dr. Sabah Mohammed research interest is in intelligent systems that have to operate in large, nondeterministic, cooperative, survivable, adaptive or partially known domains. His research is inspired by his PhD work back in 1986 (Brunel University, UK) on the employment of some Brain Activity Structures based techniques for decision making (planning and learning) that enable processes (e.g. agents, mobile objects) and collaborative processes to act intelligently in their environments to timely achieve the required goals.
Dr. Mohammed is a full professor of Computer Science at Lakehead University, Ontario, Canada since 2001 and Adjunct Research Professor at the University of Western Ontario since 2009. He is the Editor-in-Chief of the international journal of Ubiquitous Multimedia (IJMUE) since 2005. Dr. Mohammed research touches many areas including Web Intelligence, Big Data, Health Informatics, and Security of CloudBased EHRs among others.
Workshops
RTIS Workshop Proposals
We cordially invite you to submit your proposals for our workshops in conjunction with he RTIS 2017 conference. RTIS workshops provide a platform for presenting the research projects more related to a specific area, so it is a great opportunity to exchange your ideas with the research community working exactly in your field of research. The work can be widely discussed in an interactive, supportive and friendly environment.
The RTIS organizers expect the workshops to be possibly both dynamic and interactive hopefully to create a community in the area of real-time intelligent systems which will contribute with some innovative concepts widely cited then in literature.
We invite the researchers to submit theory workshop proposals for review. The organisers of approved workshops are expected to define the focus of the workshop, create the workshop website, to distribute the CFP, to peer-review the submissions, and to recommend the Best Workshop Paper Award to the RTIS PC for final decision. The organisers are also free to decide on publication of the workshop proceedings.
Submission Guidelines
Proposals should be maximum 6 pages long and contain the following information:
Title and abstract of the workshop;

Background, motivation, and relevance to RTIS;

Workshop objectives with the expected outcomes;

a tentative schedule of events;

Intended audience, the selection process for participants, whether it will be a full day or half day workshop, and the resources required;

The brief bios of the workshop organisers;

PC list, Invited Talk and any other activities proposed
Submission Instructions
The workshop proposals should be submitted in PDF format via RTIS submission system.
All the workshop submissions will be reviewed by the Workshop Chairs and the RTIS PC. The organisers of the accepted workshop proposals will be invited to submit a brief description of the workshop for inclusion in the RTIS 2017 conference proceedings.
Please contact the event manager Marilyn below for the following:
- Discounts for registering 5 or more participants.
- If you company requires a price quotation.
Event Manager Contact: marilyn.b.turner(at)nyeventslist.com
You can also contact us if you require a visa invitation letter, after ticket purchase.
We can also provide a certificate of completion for this event if required.

NO REFUNDS ALLOWED ON REGISTRATIONS
-----------------------------------------------------------------
This Event Listing is Promoted by
New York Media Technologies LLC in association
with Society for lnformation Organlzation.
http://www.NyEventsList.com
http://www.BostonEventsList.com
http://www.SFBayEventsList.com
-----------------------------------------------------------------
MYL170829CEV MAR170926UPT
Event Categories
COMPUTERS AND INTERNET CONFERENCES
,
Technology
Keywords: fun, analysis, access , analyze, applications, architecture , architectures, assessment , audience, communication
---
---
---
Comments
---
---