New York Professional Events List
Sclerotherapy for Physicians & Nurses
---
Date
Apr 28, 2017 - 08:30 AM - 05:45 PM
Organizer
empiremedicaltraining
Location
Westin New York,
New York,
NY,
USA,
ZIP: 10036
Phone: 866-366-1576

We Provide the Most Comprehensive Sclerotherapy Training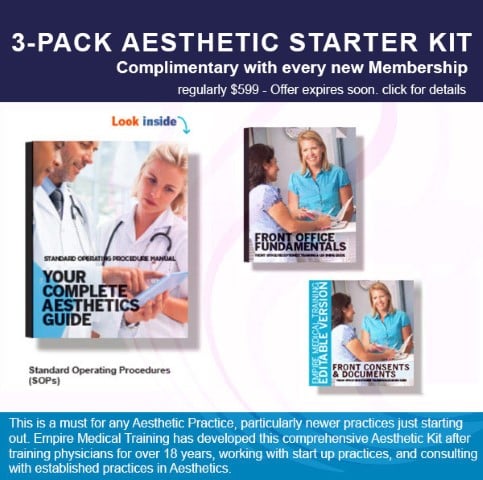 Improved techniques, new, safer sclerosing agents, and high patient demand for in-office aesthetic procedures makes Sclerotherapy Training for nurses and physicians a must for any physician practice wishing to expand their services. Over 80 million Americans suffer with unsightly venous disease and the vast majority (75%) of these is cosmetic in nature which you will understand and be able to treat after completing our training. Visible veins give the impression of age and poor health and though many people wish to receive treatment, they are unaware of the safety, effectiveness, and lack of discomfort associated with newer sclerotherapy methods. Sclerotherapy by injection uses small amounts of detergent solutions to irritate the vein walls and achieve ultimate closure of the unwanted vein. Cosmetic laser centers and vein clinics perform these procedures not only because they are lucrative and simple to perform, but also because their patients receive impressive results using both laser vein therapies and traditional sclerotherapy using FDA approved detergent sclerosants. Our comprehensive sclerotherapy training will take you from the prospective patient through the consultation process as well as teach you the latest techniques and protocols used today.

During our Sclerotherapy training program we spend quite a bit of time teaching you the "Pearls" of Sclerotherapy. Learning to perfect your techniques in sclerotherapy requires more than just a thorough understanding of how to perform these techniques but also hands-on training. A significant portion of the training involves practicing injection techniques on "live patients" so that you feel comfortable when leaving the program. These "Pearls" are also part of our video series demonstrating the procedures and are the result of years of experience in aesthetics and providing this information to you which is imperative to your sclerotherapy training.

Instruction for Injection Techniques, Laser Solutions and More
Attendees will receive thorough instruction in all areas of sclerotherapy and includes the latest and most common injection techniques, medical protocols, and sclerosing detergents (i.e. Asclera, STS, Chromated Glycerin). Additionally, you will receive a complete presentation of the latest laser solutions to common vein problems. Learn how to evaluate the patient from both a medical and an aesthetic perspective learning how to safely administer sclerotherapy to patients. Venous anatomy and pathophysiology, techniques, complications, contraindications, as well as developed standard of care are covered in detail throughout. There will be Hands-On procedures with patient demonstrations and small group sizes are common to help facilitate the learning process.
By attending the Sclerotherapy & Laser Solutions Training you will learn to effectively integrate and safely administer sclerotherapy into your medical practice, which will benefit patients from both a medical and cosmetic perspective. Learning to perform sclerotherapy provides an effective way to help patients, while adding another significant income to your practice through these cash basis procedures. These procedures can be conducted by yourself or other trained healthcare professionals (i.e. nurse, nurse practitioner) within your office setting and allow for new aesthetic services to offer to your patients.

Sclerotherapy remains the gold standard of treatment for spider veins and reticular (blue feeder) veins. Attendees of our sclerotherapy training course will participate and perform hands-on procedures and demonstrations. The course materials you receive include written protocols, medical lists of supplies and solutions needed, along with detailed illustrations describing the techniques you learn. All intake forms, medical questionaires, and treatment forms are supplied to allow for a seamless integration to your present services offered.
Objectives for Sclerotherapy Workshop
Learn to thoroughly evaluate the potential patient with aesthetic and/or medical requests
Understand the FDA Approved medicines for the sclerosing of both reticular veins and telangiectasias.
Become proficient in aesthetic Sclerotherapy techniques- needle and laser light solutions available.
Gain the technical skills to perform the various Sclerotherapy procedures through Hands On training.
Learn the medical protocols to treat reflux in leg veins using injection sclerotherapy, and the various laser options and/or intense pulsed light therapies used for facial veins and leg veins.
Understand when to perform specific diagnostic studies and the importance of ultrasound, vein mapping, and other non-invasive studies as it relates to patients indicated with venous insufficiency or incompetence.
Learn the importance of post treatment compression for the destruction of reticular veins as well as patient comfort.
Learn to implement specific strategies for marketing and practice growth through patient referrals, website marketing opportunities, and marketing to your present patient base.
Agenda
---
Sclerotherapy Training - Agenda
8:30am–9:00am • Registration
9:00am--9:15am • Introduction to Cosmetic Sclerotherapy
9:15am–10:30am • Venous Anatomy & Pathophysiology, Patient Selection and Evaluation. Examination of Lower Extremeties, Patient Assessment for medical and/or aesthetic considerations. Identification of symptomatic and asymptomatic veins for therapy.
10:30am–10:45am • Break.
10:45am–12:30pm • Review of Sclerosing Agents (Asclera-POL, STS, Glycerin), Sclerotherapy Injection Techniques (Telangiectasias and Reticular Veins), Post Procedure Protocols, Complications. The role of laser light energies in the treatment of facial and leg veins.
12:30pm–1:30pm • Lunch
1:30pm–2:45pm • Introduction to ultrasound and large vein treatment, Case Studies, Diagnostic Considerations. Introduction to Aesthetic Lasers in the treatment of facial and leg veins. Evidenced based nutrition supplements.
2:45pm–3:00pm • Break
3:00pm–5:30pm • Workshop: Hands-On Sclerotherapy by injection, and laser light energy treatments for facial and leg veins (if applicable/availability).
5:30pm–5:45pm • Questions and Answers
Event Categories
HEALTH AND MEDICINE CONFERENCES
,
Healthcare
,
Technology
Keywords: Health , HealthCare , implement, learn, Learning , opportunities , opportunities, professional, program , protocol
---
---
---
Comments
---
---
Newsletters
VIP Life Time Subscription to our Newsletters!

$399.99