New York Professional Events List
Nu-Lift® - Thread Lift Training (meet the experts)
---
Date
Apr 23, 2017 - 08:00 AM - 09:00 PM
Organizer
empiremedicaltraining
Location
Westin New York,
New York,
NY,
USA,
ZIP: 10036
Phone: 866-366-1576

Providing Advanced Hands-On Suture Thread Training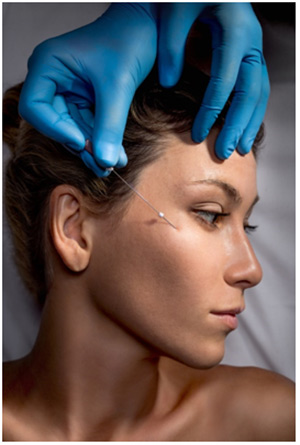 Empire Medical Training is the authorized training organization for NovaThreads™ and authorized trainer for the FDA Cleared Nu-Lift® PDO barbed thread suture. In contrast to the Nu-Mesh® training this hands on training will be limited class sizes as demanded by the manufacturer and the FDA Clearance to purchase and use this device as it requires greater understanding and is technique dependent. This hands on "Meet the Expert" training will certify you to acquire and perform the Nu-Lift® PDO Thread Lift procedure which requires specific training authorized by the manufacturer. Average price per procedure is $1,000-$3,000 depending upon body areas and complexities though is still considered to be a non-invasive surgical procedure.
Nu-Lift® PDO sutures as compared with the Nu-Mesh® PDO sutures allow for greater pullback of tissues in mobile areas of the face and other body part areas.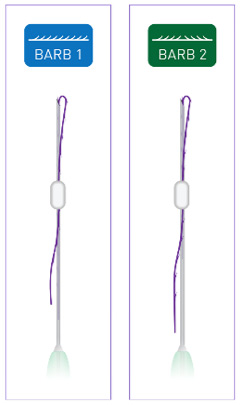 The materials used in Nu-Lift® barbed sutures are consistent in that they are made of PDO (polydioxanone) material that will dissolve over time and will stimulate collagen at the attachment to the skin., PDO barbed sutures will continuously stimulate collagen synthesis under skin and will be reabsorbed within 4-6 months while suspending tissues for 15-24 months after placement of the barbed sutures. The combination of using Nu-Lift and Nu-Mesh can transform the youthfulness of the face and tighten other body part areas.
The training is designed to go over specific protocols associated with proper placement into fascial tissues as well as selection of the various sizes and dimensions of the sutures. This minimally invasive surgical procedure is very safe but does demand greater intervention and understanding of neural, venous, and muscular anatomy. The advantage of the Empire Medical Nu-Lift® Training is that it is one on one hands-on training with live patients.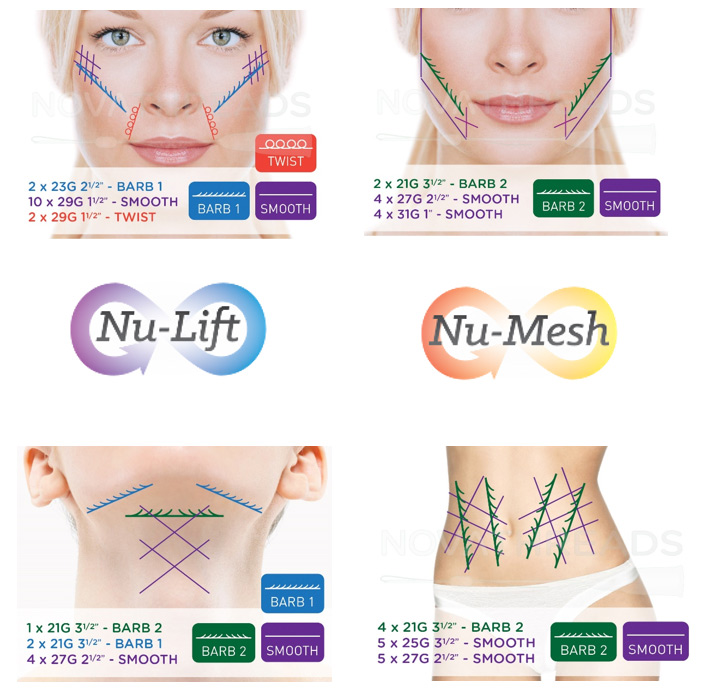 Other advantages of incorporating the Nu-Lift® and Nu-Mesh® PDO sutures to your aesthetic procedures for patients include:
No incision, No tieback of sutures and little or no downtime to patients.
Safe procedure and safety profile with only 30 minutes of local anesthesia needed if at all.
Very little or no edema or bruising associated with the procedures.
Proper placement ensures no scarring & quick recovery time.
Semi-permanent effect, FDA Approved PDO sutures are resorbable and patients will see immediate and post treatment results for facial, neck, and other body indications for treatment.
Neocollagenesis and retraction of skin tissues where placed is immediate and continues to improve post treatment and last for up to 24 months.
Placement of PDO threads can be reversed through light energies (RF & IPL Light Energies).
The training is structure differently from other Empire Medical Training courses in regards that there are pre-requisites to the training. The Nu-Lift barbed thread lift training demands prior experience with the procedure and the class sizes will be limited to (10) attendees. This is also a premium course as part of Empire's "Meet the Expert Series" and is not part of the membership of classes that can be attended by members as a considerable amount of the tuition is for the materials used in the training. The requirements to attend the training are as follows:
Prior completion of the Nu-Mesh® Thread Lift Training (free to members) or show prior experience using APTOS® or Contour® Style Sutures.
Physician or Nurse Practitioner needs to bring his or her volunteer for the training. Empire Medical Training will not supply volunteers for the program.
The training is structured so that each attendee will be able to completely finish one patient (approximately 30 minutes) as part of their hands-on portion.
PDO Thread Face Lifting has been regarded by Plastic and Cosmetic Surgeons as a significant advancement in the correction for patients not requiring plastic surgery or would like to enhance or correct minor aesthetic contrasts. The technique itself is ideal for the aesthetic practitioner (check applicable state laws) because of the reduced learning curve in learning the technique, patient safety considerations, and the additional revenue the procedure provides.
Ideal Patient Benefits: PDO Thread Face Lifting is ideally suited for patients in their 30's to 50's who are experiencing the traditional signs of aging such as sagging skin and loss of volume in the face and other body areas. Thread Lifting can create a dramatic improvement to any area of the face or body which needs a lifting effect: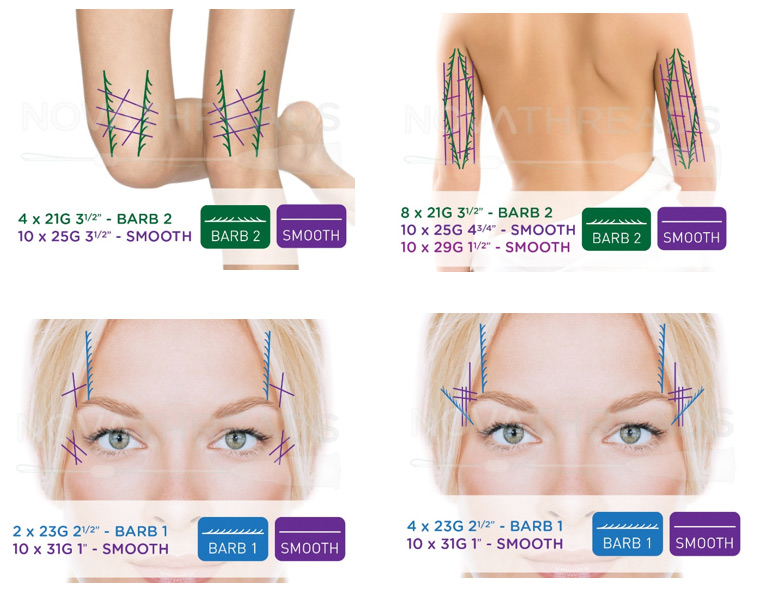 Benefits to Training: Learn a new, highly profitable, non-surgical technique that creates dramatic results for your aesthetic patient and be able to charge a premium. Most medical spas and aesthetic offices do NOT have the skill set to perform the technique giving you an opportunity to differentiate yourself. PDO Thread Lift Face Lifting typically costs upwards of $1,800 per area and may be used in conjunction with Botox and Dermal Fillers to further enhance the appearance and, enable you to charge more.
Can be used in appropriate candidates who do not want surgery
Results are rated as highly satisfactory for patients and clinicians
Procedure takes 30 minutes or less to perform
Side effects are mild and recovery time is short
Longer lasting benefits from neocollagenesis
The Training: This training program is comprehensive and designed to enable the practitioner to integrate thread face lifting into their practice immediately upon completion. You will learn the theory involved in the technique, followed by a complete discussion and tutorial on the technique itself including suture options and materials used. As with all training programs at Empire Medical Training, Vendors to Aesthetics and more specifically for the new FDA Approved Thread Lift Sutures, will be onsite to answer specific questions concerning the various thread options, their associated costs, as well as other materials and supplies to get you started.
Empire-Wow-Guarantee™- We are so confident that you will thoroughly enjoy our courses that we NOW offer the only industry-wide, unmatched 100% money back guarantee and travel refund! With over 18 years and 45,000 successful graduates, our record speaks for itself. Empire-Wow-Guarantee™, read more…
The didactic presentations: The didactic presentation builds upon the prerequisite studies needed to take this course and demands that you have experience with the mesh type of sutures thereby allowing us to expand the hands on training for the afternoon sessions.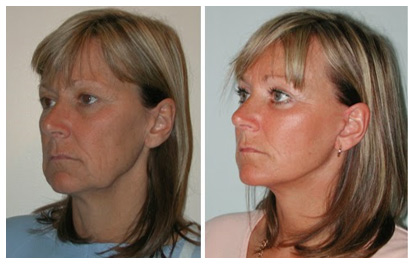 You will receive training in the anatomy covering the entry points, anchoring points, landmarks, danger zones, and relevant structures that will be integral in the technique. You will learn specific protocols and a step by step method for the indicated anatomical areas to safely perform this technique. Using Empire Medical Training's proprietary method of training, Rapid-Retain-Repeat®, you will receive your own computer Tablet to use during the training and participate in the most effective method of training available.
Morning Session: This training will cover technique, protocols, patient selection criteria, indications, contraindications, how to prevent side effects, complications, how to treat complications, performing a focused history and physical exam, cosmetic consultation, photography, all materials and supplies needed, purchasing decisions and all information needed to incorporate these procedures.
Afternoon Session: Students will learn "Nu-Lift®" techniques and perform hands on training using live patients. In addition to the dedicated one on one hands sessions, you will be able to watch and learn including a pre-operative assessment of other patients. This is more than just the "see one, do one, teach one", you will leave this class with sufficient practice and hands on exposure to gain a good level of confidence. Attendees will practice the techniques and acquire a strong comfort level performing the Nu-Lift® technique itself. This course is intensive and designed to thoroughly prepare the practitioner to integrate the techniques into their practice and is required to acquire the product.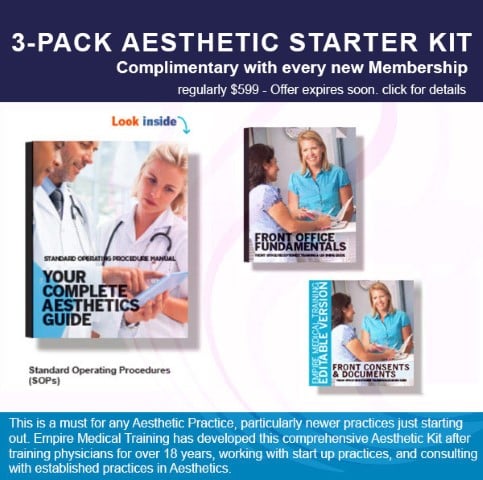 Course Completion/ Certification: After completion of the course, attendees will thoroughly understand how to perform the thread lift technique through complete didactic course presentations given by two highly skilled and trained board certified surgeons and through comprehensive hands on training on real patients. Attendees will receive a completion certificate and procedure certification. Attendees may pursue an additional board certification through the American Academy of Procedural Medicine if so desired. Contact the AAOPM for additional information. Call 888-998-1297 FREE.
Your Instructor: A qualified, board certified Surgeon or other board certified physicians specializing in the procedures will be giving the lecture and supervise your training. Not only credentialed and experienced, Dr. Avelin is the lead instructor for the training and remains a favorite to our physicians due to his dynamic teaching style and desire to help others learn. At Empire Medical Training, we adhere to the belief that your training is only as good as your instructor's credentials and skills.
How does the Nu-Lift® PDO Thread Lift Work? Nu-Lift® barbed sutures are FDA approved for pullback of tissues in various mobile areas of the face and body and are semi-permanent in that the results can last over (2) years.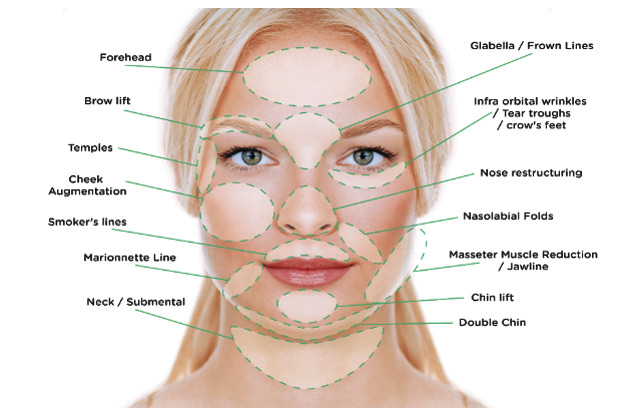 PDO (polydioxanone) is the material used in many resorbable surgical sutures that will absorb within tissues in 4-6 months. When PDO threads are introduced into the skin, it acts not only as a "scaffold" for the skin but will attach to the sub-cutaneous layers of skin and will allow the tissues to retract based upon the tension determined. Nu-Lift® sutures will "hold" the skin against the effects of skin laxity and in laxity of facial ligaments due to gravity and the aging process. In combination with the Nu-Mesh® sutures a complete transformation of various facial and body areas can be achieved immediately and post treatment for 2-3 years after the procedure.
The procedure itself is considered to be a minimally invasive surgical procedure with a small incision footprint to the skin. Small serial puncture points are made into the areas where the invisible threads will be inserted. The procedure itself takes approximately 20-30 minutes depending on how many areas of the face or body will be treated during the procedure.
What areas of the body and face can be treated with Nu-Lift® PDO Thread Lift Sutures?
Indications for use:
Forehead Lines (vertical/horizontal)
Cheeks
Corner Commisure (marionette)
Skin Furrows/wrinkles (neck and cheek)
Jowls, Double Chin
Other Body Part Areas (arms, buttocks, abdomen, and thighs)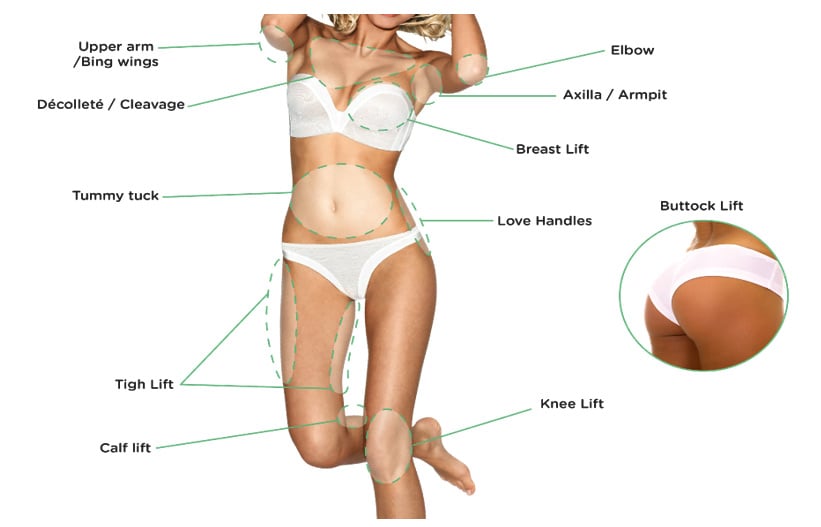 Event Categories
HEALTH AND MEDICINE CONFERENCES
,
Healthcare
,
Technology
Keywords: fun, assessment , class , design , dynamic, Fun , history , history, industry , jo
---
---
---
Comments
---
---
Newsletters
VIP Life Time Subscription to our Newsletters!

$399.99