New York Professional Events List
Mersin 12th International Agriculture & Horticulture (cnr)
---
Date
Jan 22, 2018 - 10:00 AM - Jan 28, 06:00 PM
Organizer
CNR Holdings A.S. - NewYorkEventsList
Location
CNR ExpoCnr Ekspo Fuar MerkeziBakırköy, İstanbul 34149Turkey,
İstanbul ,
34149 ,
US,
ZIP: Turkey
Phone: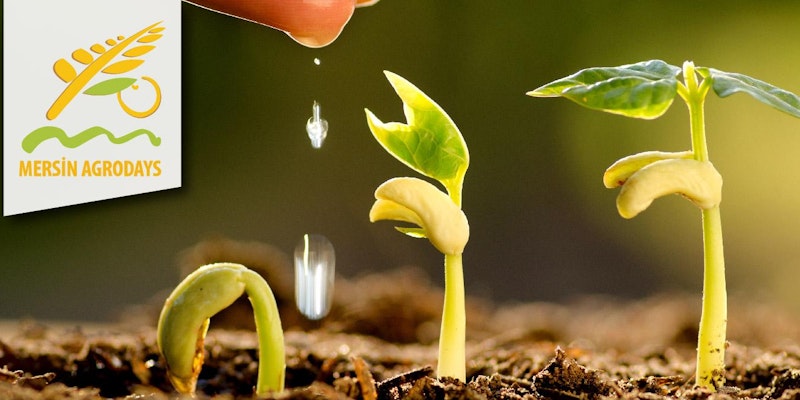 Description
Mersin – an Opening Door to the World for the Agriculture Sector of Southeastern Anatolian Project and Middle East
CNR Holding affiliate company Pozitif Fuarcılık, by means of International Agriculture & Horticulture Fair is getting ready to bring together all the sector at Mersin City, which is an important center of Turkey's agriculture production and export.
Mersin International Agriculture and Horticulture Fair continues to be one of the most important agriculture exhibitions in Turkey and provides substantial participation of professional spheres every year. Agriculture sector investments grow and number of participants and visitors rises up every passing year in Mersin, where agricultural production increases up to 50% annually.
Mersin's economy is oriented on the agriculture, trade, industry, university and local tourism. An international airport, fast land transport opportunity due to highway, a port and developed "Free Zone" activities have brought Mersin into the position of an opening door to the world for one of the leading regional development projects GAP (the Southeastern Anatolia Project).
Exhibitors Profile
Why should you exhibit?
- 40% of Agricultural export of the country is made through Mersin,
- Due to good climate conditions big variety of products, ability to grow such subtropical fruits as bananas and citruses,
- Developed vegetable and greenhouse cultivation,
- Soil condition available for good agriculture and organic agriculture,
- Manufacturers who are open to innovations and transferring into practice new developments,
- Due to strategic location, free zone and port there is a wide range of transportation possibilities and access to local and foreign markets,
- Advantageous potential for creating gardens oriented to export in field agriculture,
- Rich underground and aboveground water sources,
- Wide range of agricultural products,
- Industry based on postharvest agriculture.
Exhibitor Profile
Greenhouses and equipments,
Agricultural Products,
Agriculture Machinery,
Packaging Machineries,
Equipment and Tools,
Drip Irregation Systems,
Fertilizers and Plant Protection,
Livestock Farming & Poultry,
Feed, Food, Seed,
Organic Agriculture,
Animal Health & Veterinarian Services,
Fishery Equipments,
Horticulture,
Cut flower, Gardening
=============================
15 sq meter​ DESIGN BOOTH & SPACE
=============================
- Wooden custom design
- 2 x Glass Tables
- 8 x Chairs
- 1 x LCD TV

- Counter & Stool
- Room with door
- Lighting

================================
Other Included Amenities
================================
- Hotel Accommodation: 5 nights for 2 person in nearby 5 star Hotel
5 min away from Exhibition Center (Wyndham, Radisson Blu)
- Airport transfer to Hotel
- WiFi for 2 person
- Catalogue Registration
- Email marketing activities to 400K visitor database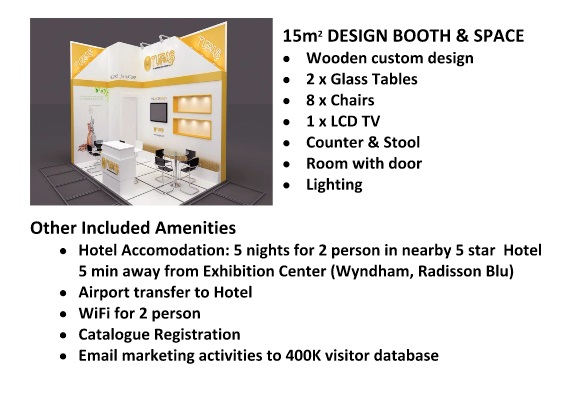 Please contact the event manager Marilyn (marilyn.b.turner(at)nyeventslist.com ) below for:
- Discounts for multiple participants.
- Require a price quotation.
- Require to pay by wire transfer or PayPal
- Invitation letter for visa applications

NO REFUNDS ALLOWED ON REGISTRATIONS
Service fees included in this listing.
-----------------------------------------------------------------
This Event is Brought to You by:
CNR Holdings A.S. - NewYorkEventsList
http://www.NyEventsList.com
http://www.BostonEventsList.com
http://www.SFBayEventsList.com
-----------------------------------------------------------------

MYL171101CEV
Event Categories
ENVIRONMENT CONFERENCES
,
BUSINESS & MANAGEMENT CONFERENCES
,
ENERGY AND INDUSTRY CONFERENCES
,
Technology
Keywords: fun, access , Agriculture, applications, climate, culture, design , development , Eating, Econom
---
---
---
Comments
---
---
Newsletters
VIP Life Time Subscription to our Newsletters!

$399.99