New York Professional Events List
International Heart Conference (PGR)S
---
Date
Dec 04, 2017 - 09:00 AM - Dec 05, 05:00 PM
Organizer
New York Media Technologies LLC in association with Pulsus Group
Location
Embassy Suites by Hilton Dallas Park Central Area 13131 North Central Expressway Dallas, TX 75243 United States,
Dallas,
TX ,
US,
ZIP: 75243
Phone: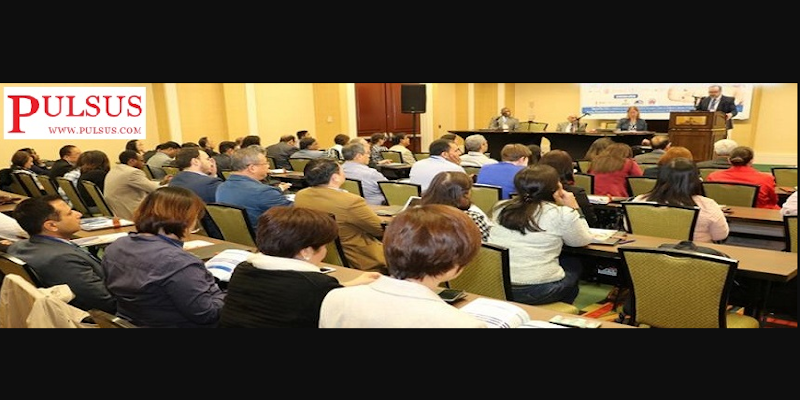 Description
About Conference
International Heart Conference will witness an amalgamation of peerless speakers who enlighten the crowd with their knowledge and confabulate on various new-fangled topics related to the field of Heart. Heart 2017 event is a scientific occasion intended for International Cardiologists and research experts to encourage the dispersal and use of exploration discoveries identified with well-being the collaborations in the middle of cardiovascular societies. Heart 2017 is going to be held in December 04-05, 2017 at Dallas, USA.
The gathering welcomes members from every driving university, clinical examination foundations and symptomatic organizations to share their exploration encounters on all parts of this quickly extending field and subsequently, giving a showcase of the most recent Heart surgeries and techniques.
The heart is a muscular organ in humans and other animals, which pumps blood through the blood vessels of the circulatory. Blood provides the body with oxygen and nutrients; as well as assists in the removal of metabolic wastes. The heart is located in the middle compartment of the chest.
Target Audience:
· Cardiology Students, Scientists and Researchers
· Cardiology Faculty and Cardiologists
· Universities and Research labs
· Cardiology Associations and Societies
· Business Entrepreneurs
· Manufacturing Medical Devices Companies
Pulsus Group. is an internationally renowned peer-review publisher in scientific, technical, and medical journals established in the year 1984 with offices in Ontario, Canada and Hyderabad, India has acquired Andrew John Publishing and openaccessjournals.com to expand its Open Access Publishing through its 50+ journals in association with 20+ International medical and scientific societies.
Pulsus through its cmesociety.com is been very instrumental to provide an invaluable channel for scientists and researchers to exchange ideas and research by creating a forum for discussing the possibilities of future collaborations between universities, institutions, research bodies and organizations from different countries through international CME/CPD accredited conferences and meetings.
Major Cardiology associations/societies around the world are: American College of Cardiology, American Society of Echocardiography, American Society of Hypertension, American Society of Nuclear Cardiology, American Stroke Association, Brazilian Society of Cardiology, British Cardiac Society, British Heart Foundation, Canadian Cardiovascular Society, European Society for Cardio-Vascular Surgery, European Society of Cardiology, French Society of Cardiology, Italian Society of Cardiology, Heart Failure Society of America, International Society for Heart Research, Mexican Society of Cardiology, Russian Cardiac Society, Society of Invasive Cardiovascular Professionals, The American Heart Association and many more.
Major Cardiology society conferences around the world are : American Society of Echocardiography 27th Annual Echo Hawaii 2017 January 23, 2017 - January 27, 2017 United States, 27th European Days of the French Society of Cardiology 2017 January 11, 2017 - January 14, 2017 France, Society for Cardiovascular Magnetic Resonance 2017 February 1, 2017 - February 4, 2017 United States, Belgian Society of Cardiology 36th Annual Scientific Meeting 2017 February 9, 2017 - February 10, 2017 Belgium, Indian Society of Electrocardiology Conference 2017 February 11, 2017 - February 12, 2017 India, Egyptian Society of Cardiology 44th Annual Conference 2017 February 20, 2017 - February 23, 2017 Egypt, Heart Valve Society 3rd Scientific Meeting 2017 March 2, 2017 - March 4, 2017 Monaco, European Cardiac Arrhythmia Society 13th Annual Scientific Congress 2017 April 2, 2017 - April 4, 2017 Italy, 84th European Atherosclerosis Society Congress 2017 April 23, 2017 - April 26, 2017 Czech Republic, Israel Heart Society And Israel Society Of Cardiothoracic Surgery Joint Congress 2017 April 25, 2017 - April 27, Israel
Session and Tracks
Heart Regeneration
Heart Regeneration mainly aims at repair and regeneration of Heart tissues and muscles. In this process we try to cure various heart diseases such as ischemic heart disease, coronary heart disease, heart failure etc. Various researches are going on to develop heart regenerative medicine so that the heart diseases can be cured easily.
Heart Diagnosis
The diagnosis of the heart can be made by various methods such as imaging techniques, surgeries, electrophysiology, angiography, radiography, etc. Medical care is very essential once heart disease is diagnosed. The goals of treatment are stabilizing the condition, controlling long-term symptoms, and providing healing if possible. Stress reduction, diet and lifestyle changes are key factors in the management of heart disease, but the main care is medications and surgery.
Heart Devices
Heart devices are those devices which are been used for Heart care. Some of the devices helps heart to work properly such as the pacemakers helps the heart on maintaining regular rhythms whereas the defibrillator tracks the heartbeats. Some of the heart devices are left ventricular assist device, pacemakers, implantable cardioverter defibrillator and many more.
Pediatric Cardiology
Pediatric Cardiology is the branch of medicine that deals with the study of Heart defects, acquired heart disease and system abnormalities pulmonary circulations in the fetus, newborn, child and young adult. When a paediatrician suspects a heart problem, they consult the Pediatric cardiologist to investigate further. Common causes for a referral to the paediatric cardiologist include heart murmurs, hypertension, dizzy spell etc. Initial evaluations may result in the patient and his/her parents being reassured that there is nothing to worry about.
Cardiac nursing
Cardiac nursing itself suggest that the care of the patients suffering from heart disease. It involves the advance cardiovascular care for patients such as the surgical tests, stress tests, cardiac monitoring and heath assessments. It plays vital role in the evaluation of heart status towards various cardiovascular diseases.
Cardiac Pharmacology
The heart is a muscular organ; this is the size of a closed fist. The responsibility of the heart is the pumping of blood through the blood vessels through recurrent rhythmic contractions. The heart consists of cardiac muscle, involuntary muscle tissue. The term "cardiac" means "heart-related", that is, a four-chamber double pump and is located in the thoracic cavity between the lungs, with the heart muscle being a conduction system of its own, which contrasts with Skeletal muscle Needs conscious or reflexive nervous stimuli. Rhythmic contractions of the heart occur instinctively, although the heart rhythm may be altered by nervous or hormonal influence such as exercise or perception of danger.
Cardio-oncology
Cardio-oncology is helping the patients who are going through cancer treatment. In this the cardiologists evaluates the risk on Heart due to various surgeries, cancer drugs, or radiation treatment. It involves various treatments such as trans-esophageal echo, Exercise and pharmacologic stress echo, Exercise and pharmacologic SPECT and PET, Stress cardiac MRI, Cardiac CT angiography, Coronary calcium score, Carotid IMT, comprehensive preventive strategies for optimal heart health, Nutrition counselling and many more.
Heart Health
Across the globe more people die from cardiovascular disease than any other cause. So to keep our heart healthy many heart disease treatments and preventive cardiovascular medicines has been discovered. Various cardiovascular programs have been introduced to make people aware of Heart health.
Interventional Cardiology
Interventional cardiology refers to diagnostic and non-surgical treatments of the heart. Cardiac procedures are used to diagnose and treat many types of heart disease. Stanford's interventional cardiology is a world leader in percutaneous coronary revascularization, which restores blood flow to the heart when its vessels are damaged or blocked. Each year, the staffs of the Invasive and Interventional Cardiology Section see thousands of patients with almost all types of heart disease. Our workers treat people of all ages who suffer from severe, sometimes fatal, heart disease.
Congenital Heart Defects
Congenital heart disease (congenital heart defects) is an abnormality in the structure of your heart that you are born with. Although congenital heart disease is often considered a condition of childhood, advances in surgical treatment mean that most babies who have died from congenital heart disease survive well into adulthood.


Please contact the event manager Marilyn below for the following:
- Discounts for registering 5 or more participants.
- If you company requires a price quotation.
Event Manager Contact: marilyn.b.turner(at)nyeventslist.com
You can also contact us if you require a visa invitation letter, after ticket purchase.
We can also provide a certificate of completion for this event if required.

NO REFUNDS OR TRANSFER ALLOWED ON REGISTRATIONS
-----------------------------------------------------------------
This Event Listing is Promoted by
New York Media Technologies LLC in association
with Pulsus Group.
http://www.NyEventsList.com
http://www.BostonEventsList.com
http://www.SFBayEventsList.com
-----------------------------------------------------------------
SHU170809CEV
Event Categories
HEALTH AND MEDICINE CONFERENCES
,
Healthcare
,
Life Sciences, Biotechnology
,
SCIENCE AND TECHNOLOGY CONFERENCES
,
Technology
Keywords: fun, access , arts, assessment , audience, business , Clinical , conference , Eating, Fun
---
---
---
Comments
---
---