New York Professional Events List
International Conference on Tourism & Marketing (gvc)
---
Date
Jan 19, 2018 - 08:30 AM - Jan 20, 05:00 PM
Organizer
New York Media Technologies LLC in association with Greater Vision Conferences and Seminars Organizing
Location
Best Western Grand Hotel23 Austin Avenue23 Austin AvenueKowloon, KowloonHong Kong,
Hong Kong,
Hong Kong,
US,
ZIP: Hong Kong
Phone: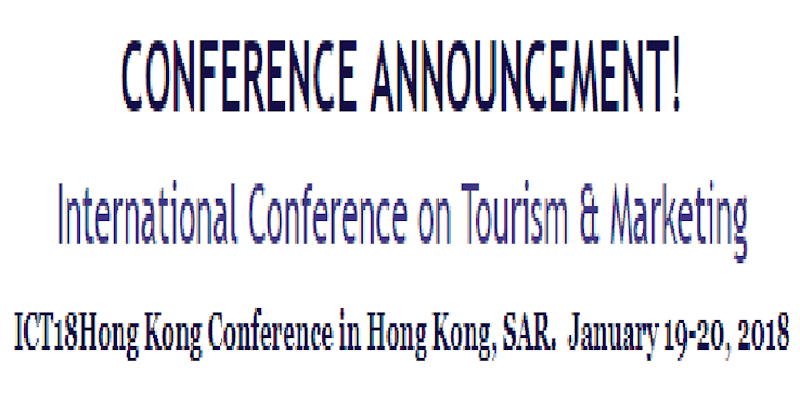 Description
Conference Objectives!
Tourism in a Transforming World!
Globally, a lot of changes and transformations are taking place, particularly, in social, economic, technological and environment-related aspects. While the giant-sized developed economies have the resources to attract huge crowds to their nations and tourist-destinations, small economies find it quite challenging not only to channelize huge investments on tourism ventures and projects.
Investments on Tourism Projects! A Key to Success!
Tourism warrants huge investments. Attracting investments on large-scale depends upon ensuring attractive returns. Otherwise, investors, banks and financial institutions may not like to invest. Also, a collaboration among private, public and other stakeholders is a must to ensure long-term success in tourism.
This is quite necessary as the world is transforming faster thanks to technological and demographic changes happening across many continents.
Also, politics, competition, climate change and riskiness pose challenges to this sector.
Global Transformations!
Research indicates that global tourism industry would also undergo significant changes and transformations owing to the above developments. Tourism, of course, helps a country to employ people on a large-scale. So, this sector should be developed faster with clear-cut policies, cooperation and support from one all.
Against this back, this upcoming conference will be held in one of the best tourist-attractions in the world, Hong Kong-SAR.
All are cordially invited to attend!
Publication Opportunities!
You have publication opportunities in one of our journals based on your preference.
OUR PRINCIPAL ACADEMIC PARTNER:
Shri Dharmasthala Manjunatheshwara Institute for Management Development (SDMIMD) Mysore, Karnataka
Shri Dharmasthala Manjunatheshwara Institute for Management Development (SDMIMD), ranked among the top Business Schools in India, is located at the foot of Chamundi Hills in the heritage city of Mysore, Karnataka. The campus has won many architectural and landscape awards and provides a great environment for learning and germination of managerial intellect. The institute has been conferred A** Rating at National Level by CRISIL.
The institute is promoted by the Shri Dharmasthala Manjunatheswara Educational Trust - a premier non-profit educational organisation functioning under the aegis of Shree Kshetra Dharmasthala, which is known for its unique embodiment of Dharma. Today, SDME Trust has more than 40 recognised educational institutions under its wings, imparting quality education from the primary level to the postgraduate level. Trust is known for the professional institutions in Medical, Dental, Engineering, Naturopathy, Ayurveda, Law, Business Management and Physiotherapy. The trust and all the associate institutions benefit from the visionary leadership of our Chairman, Padma Bhushan Dr. D. Veerendra Heggade, Dharmadhikari of Dharmasthala.
SDMIMD's AICTE approved PGDM programme, accredited by NBA, runs for six terms over two years with an impeccable track record of academic rigor. SDMIMD also has Student Exchange Programs with the MAYS School of Business, Texas A&M University, USA; Global Management Institute of Shanghai University, China; and British University in Dubai, Dubai. These student exchange programmes enable students to understand each other's cultures, business practices and traditions. This gives students an edge when it comes to international opportunities.
The SDMIMD's research unit - SDM Research Centre for Management Studies' (SDM RCSM), publications 'Cases in Management', 'Contemporary Research in Management', 'Excerpts of Select Summer Internship Reports', have come in for praise from the world of academics. The institute's journal 'SDMIMD Journal of Management' indexed in EBSCO and iScholar has evolved as a prestigious publication well known for the quality of the papers, therein.
Topics!
Tourism!
Agri-Tourism, Birth Tourism, Culinary Tourism, Cultural Tourism, Extreme Tourism, Geo-Tourism, Ghetto Tourism, Heritage Tourism, Medical Tourism, Nautical Tourism, Pop-Culture Tourism, Religious Tourism, Pleasure Tourism, Slum Tourism, Virtual Tourism, War Tourism, Wellness Tourism, Wildlife Tourism
Marketing!
Advertising, Brands & Brand Equity, B2B Marketing, Buyer Behavior, B2C marketing, Competition, Consumer Behavior, Customer Relationships & Experiences, Direct Marketing, Distribution Channels/Retailing, Digital Marketing, E-Business, Global Marketing, Innovation, Integrated Marketing, Internet Marketing, Market Segmentation, Marketing Communications, Marketing Decision Support, Marketing Planning & Forecasting, Markets and Marketing Strategy, Mega Marketing, New Product Development, Organizational Buying Behavior, Organizational Processes, Pricing and Promotions, Product and Service Management, Product Promotion, Relationship Marketing, Research Methods & Tools in Marketing, Role of Marketing/Market Orientation, Services Marketing, Social Networks, Supply Chain/Logistics, Technology-enabled Marketing.
Agenda
---
ICT18Hong Kong Conference
Program Outline
Friday, 19 January, 2018
08.30 - 09.30 Registration
09.30 - 10.30 Inaugural Session/Keynote address
10.30 - 11.00 Coffee Break
11.00 - 12.45 Technical sessions - Paper Presentations
12.45 - 13.30 Lunch Break
13.30 - 14.00 Panel Discussion
14.00 - 15.45 Technical Sessions – Paper Presentations
15.45 - 16.00 Coffee Break
16.00 - 17.45Technical sessions – Paper PresentationsPresentation Rooms
Meeting Room 1 & Meeting Room 2
19.00 – 21.30 Conference Dinner
Saturday, 20 January, 2018
09.00 - 10.30 Technical sessions – Paper Presentations

10.30 - 11.00 Coffee Break

11.00 - 11.30 Invited Lecture Sessions – All Delegates

11.30 - 13.00 Technical Sessions– Paper Presentations

13.00 - 14.00 Lunch Break

14.00 - 15.00 Invited Lecture Session – All Delegates

15.00 - 15.30 Coffee break

15.30 – 17.00 Technical Sessions– Paper PresentationsPresentation Rooms

Meeting Room 1 & Meeting Room 2

Editorial and Advisory Review Board
Dr. Abdelkarim Kitana, City University College of Ajman, UAE
Dr. Chu Chun Fai Carlin, The Open University of Hong Kong, Hong Kong
Dr. Cristina Teresa N. Lim, De La Salle University, Philippines
Dr. Daegene Song, Chungbuk National University, Korea
Prof. Davide Vannoni, University of Torino, Italy
Prof. Eun-Soo Choi, Soongsil University, South Korea
Dr. Hachmi Ben Ameur, INSEEC Business School, France
Prof. Jacques Picard, University of Quebec in Montreal, Canada
Prof. Jeong Hwan Bae, Chonnam National University, South Korea
Prof. Lothar Auchter, University of Applied Sciences Kaiserslautern Germany, Germany
Dr. Mahmoud Dehghan Nayeri, Tarbiat Modares University, Iran
Dr. Melanie Viloria- Briones, Bulacan State University, Philippines
Dr. Ranti Fauza Mayana Tanwir, Universitas Padjadjaran, Indonesia
Dr. Ronaldo Frufonga, West Visayas State University-Janiuay Campus, Philippines
Dr. Samantha Bietsch, American Public University, USA
Dr. A.M.M. Shahiduzzaman Quoreshi, Blekinge Institute of Technology, Sweden
Dr. Tien-Yu Lin, Overseas Chinese University, Taiwan
Dr. WANG Xiandong, Southeast University, China
Dr. Yaovarate Chaovanapoonphol, Chiangmai University, Thailand
Please contact the event manager Marilyn below for the following:
- Discounts for registering 5 or more participants.
- If you company requires a price quotation.
Event Manager Contact: marilyn.b.turner(at)nyeventslist.com
You can also contact us if you require a visa invitation letter, after ticket purchase.
We can also provide a certificate of completion for this event if required.

NO REFUNDS ALLOWED ON REGISTRATIONS
-----------------------------------------------------------------
This Event Listing is Promoted by
New York Media Technologies LLC in association
with Greater Vision Conferences and Seminars Organizing
http://www.NyEventsList.com
http://www.BostonEventsList.com
http://www.SFBayEventsList.com
-----------------------------------------------------------------
MYL170828CEV MAR170926UPT
Event Categories
BUSINESS & MANAGEMENT CONFERENCES
,
Technology
Keywords: fun, business , climate, communication , conference , culture, development , Economic , Educational, Engineering
---
---
---
Comments
---
---
Newsletters
VIP Life Time Subscription to our Newsletters!

$399.99