New York Professional Events List
IMOB Mersin Furniture Fair (cnr)
---
Date
May 08, 2018 - 10:00 AM - May 14, 06:00 PM
Organizer
CNR Holdings A.S.
Location
CNR Expo İstanbul, İstanbul 34149 Turkey,
İstanbul,
Turkey,
US,
ZIP: 34149
Phone:

IMOB MERSIN will boost with the success of IMOB Istanbul Furniture Fair!
Mersin Furniture Fair that will be held in Mersin by CNR Holding affiliate company Istanbul Fuarcılık A.Ş., is getting ready to bring together leading furniture companies from all over the Turkey and other countries.
Furniture is the only commodity that takes place in every part of daily life, provides comfort for individual or society, serves to social and cultural needs, directly affects people's standards of living, used and needed by everyone. Urban transformation projects, population growth, increasing living standards and rising of sector's export value leads to increase in demand for furniture day by day and directly impacts furniture sector.
Furniture industry due to its entrepreneurial structure that contains continuously exploring of new markets, has come up to 13th place in world's ranking by means of export attack made in last 10 years. According to Istanbul Chamber of Industry's Furniture Manufacturing Sector Report, 715 million dollars export of furniture sector in 2005 has raised to 2,2 billion dollars in 2013; the part of the sector in total export has raised to 1.47 percentage.
In accordance with the sectors targets focused on entering the first 5 biggest exporter countries of furniture in World ranking, we speed up our marketing activities in Middle East, Europe, the Balkans, America and Africa regions. Our main goal is to bring together Turkish furniture and potential buyers coming from these regions.
Lets come and meet all together at this global showcase of furniture sector.
Exhibition Info
Exhibition : CNR Imob Mersin – Mersin Furniture Fair
Organizer : Istanbul Fuarcılık A.Ş.
Dates : 08-14 May 2017
Venue : CNREXPO Yenisehir Mersin Fairground/MERSIN
Visiting Hours : 08-13 May 2017 – 10.00 – 20.00 / 14 May 2017 – 10.00 – 18.00
Exhibitors Profile
Why should you exhibit?
Opportunity to meet national and international buyers.
Chance to see hundreds of furniture, accessories, bed, bath&kitchen furniture, decoration materials at one place.
Furniture sector aiming to reach 10 billion dollar export in 2023.
Fast growth of sector's market due to the rise in income level and number of small/medium scale offices parallel to urbanization and growth of middle class.
Exhibitors Profile
Modern & Avangarde Furniture
• Living Room Furniture
• Bed Room
• Dining Room
• Other Modern Designs
• Accessories and Decoration Items
• Wall Units
• Table and Chair Sets
Modular Furniture
• Living Room Furniture
• Bed Room
• Dining Room
• Other Modern Designs
• Accessories and Decoration Products
• Wall Units
• Table and Chair Sets
Classic & Neo-Classic Furniture
• Living Room Furniture
• Bed Room
• Dining Room
• Other Modern Designs
• Accessories and Decoration Items
• Wall Units
• Table and Chair Sets
Sofa Groups
• Sofas
• Couches
• Sofa Beds
• Classic Groups
• Special Design Items
• Chairs and Varieties
• Upholstery Materials
• Other Sofa Groups
Office Furniture
• Modular Office Furniture
• Work Room Furniture Groups
• Sofa Groups
• Meeting Hall Furniture Groups
Baby, Kid and Young Furniture
• Baby, Kid and Young Rooms
• Beds
• Chairs
• Working Units
• Play Sets
Bed Room
• Bed Room Sets
• Bed Bases
• Accessories
Beds
• Standard, One and Double Sized Beds
• Twin, Single and Double Beds
• Orthopedic Beds
• Special Design
• Bed Accessories
• Other Bed Items
Stand Alone Furniture and Accessories
• Classic Items
• Storage Units
• Wall Systems
• TV Units
• Table and Coffee Tables
• Lightening
• Hand Made Items
• Other Decoration Items
=============================
15 sq meter? DESIGN BOOTH & SPACE
=============================
- Wooden custom design
- 2 x Glass Tables
- 8 x Chairs
- 1 x LCD TV
- Counter & Stool
- Room with door
- Lighting
================================
Other Included Amenities
================================
- Hotel Accommodation: 5 nights for 2 person in nearby 5 star Hotel
5 min away from Exhibition Center (Wyndham, Radisson Blu)
- Airport transfer to Hotel
- WiFi for 2 person
- Catalogue Registration
- Email marketing activities to 400K visitor database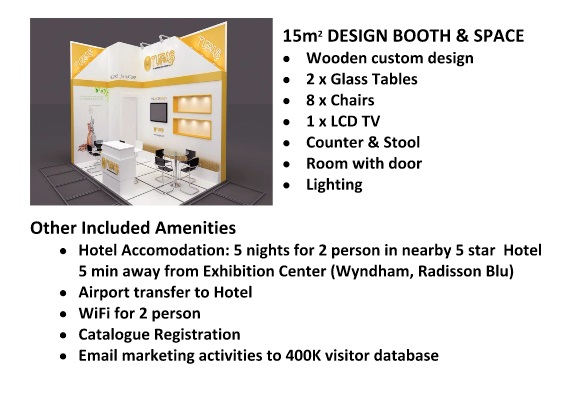 Please contact the event manager Marilyn (marilyn.b.turner(at)nyeventslist.com ) below for:
- Discounts for multiple participants.
- Require a price quotation.
- Require to pay by wire transfer or PayPal
- Invitation letter for visa applications

NO REFUNDS ALLOWED ON REGISTRATIONS
Service fees included in this listing.
-----------------------------------------------------------------
This Event is Brought to You by:
CNR Holdings A.S. - NewYorkEventsList
http://www.NyEventsList.com
http://www.BostonEventsList.com
http://www.SFBayEventsList.com
-----------------------------------------------------------------
MYL171103CEV
Event Categories
BUSINESS & MANAGEMENT CONFERENCES
Keywords: fun, access , accessories, applications, class , design , exhibition , Fun , industry , opportunit
---
---
---
Comments
---
---