New York Professional Events List
ICS-2018 Istanbul Constructıon Materials and Technologies Fair (cnr)
---
Date
May 08, 2018 - 10:00 AM - May 12, 06:00 PM
Organizer
CNR Holdings A.S.
Location
CNR Expo İstanbul, İstanbul 34149 Turkey,
İstanbul,
Turkey,
US,
ZIP: 34149
Phone:

THE FUTURE OF THE STRUCTURE HAS STARTED HERE!
We look forward to the CNR Expo to expand your business network, increase your trade volume and be aware of the latest developments in the building sector. ICS-2018 Istanbul Construction Show is opening its doors at Turkey's export center CNR Expo Yesilkoy between 8-12 May 2018 .
ICS-2018 will be organized with the aim of becoming one of the biggest organizations in its field, with the expertise gained from CNR Holding 's UNICERA , NATURAL STONE , CNR REAL ESTATEand CNR EUROPEAN ELEVATOR FAIRSorganized by the Turkish construction and construction sectors with the aim of making more export .
It is envisaged that the construction sector, where 2 million people are employed in the construction sector, which is the locomotive of Turkey's growth, will grow by 5 percent with the projects continuing in 2017. Exports of building materials are expected to increase to between 16-16.5 billion dollars. CNR Holding invites you to become a partner in the future of the building industry with its accumulated experience and more than 250.000 domestic and foreign professional data through its business development agencies in more than 30 countries with its target of exportation.
INNOVATIVE APPROACH TO CONSTRUCTION SECTOR!
The sector representatives in the field of interactive application and training will be able to give presentations to the visitors with demos of their products, and will also be able to give trainings about application areas and correct usage of FUARD products. ICS 2018 and creative projects will be exhibited at competitions that will be organized by young industry talents to be organized under the leadership of industrial building leaders.
ICS 2018, which is organized to make a difference in the Turkish building sector, will meet you at CNR Expo Yesilkoy, Turkey's export center on 8-12 May 2018.
Fair World
Fair
ICS-2018 Istanbul Constructıon Show- Istanbul Building Show, Construction, Building Materials, Technologies and Decoration Fair
---
Organizer
Pozitif Fuarcılık A.Ş.
---
Cooperation
---
Supporters
---
Date
08-12 May 2018
---
Location
CNR EXPO Yeşilköy
---
Targeted Exhibitor
300
---
Targeted Visitors
60,000 professionals
---
Fair Area
5 halls 50.000 square meters
---
Visiting Times
08-11 May 2018 /10.00 - 19.00
12 May 2018 /10.00 - 18.00
Exhibitor Profile
Exhibitor Profile
INSULATION, CONSTRUCTION CHEMICALS, PAINT, ROOF
• Link-Fasteners
• Paint-Varnish
• Wall Cladding
• Roofing
• Ready Mortar and Plaster
• Water Treatment Systems
• Heat, Water, Sound and Fire Insulation
• Ceiling Systems and Accessories
• Construction Chemicals, Adhesives, Binders
---
RUDE BUILDING, ENVIRONMENT, INSTALLATION, LIFT
• Transports (y stairs, elevator)
• Concrete-fitting and Equipment
• Pipeline and Asst. Equipment
• Landscaping - Landscaping
• Wall Blocks and Elements
• Electricity
• Energy
• Heating-Ventilation-Air Conditioning
• Scaffold-Mold and Equipment
• Installation Equipment
---
JOINERY (DOOR - WINDOW), FACADE, AUTOMATIC DOOR LOCKING SYSTEMS, SHADE
• Glass and Transparent Elements / Glass and Transparent Elements
• Facade Coatings (Metal based) / Facade Coverings (Metal based)
• Roof Coatings (Metal based) / Roof Coverings (Metal based)
• Sun Protection Systems
• Railing and Banister Systems Railing-Banisters Systems and Accessories
• Automatic Door / Transition Systems and Accessories Automatic Doors / Gates and Accessories
• Shutters, Blinds and Shutters / Shutters, Bilinds and Shades
• Profiles and Equipment (for Door and Window Systems) / Profiles and Equipment (For Door & Window Systems)
---
FINE BUILDING, WALL AND FLOORING FLOORS, BATHROOM- KITCHEN EQUIPMENT, DOORS AND ACCESSORIES, ELECTRIC, LIGHTING, AUTOMATION, SOFTWARE
• Treatment Systems
• Suspended Ceiling Systems and Accessories
• Bathroom-kitchen fittings
• Computer Software
• In-Building Hardware, Furniture, Doors and Accessories
• Finishing Elements
• Partition Walls
• Floor Coatings and Equipment
• Wall Coatings and Equipment
• Lighting
• Security System. and Building Automation
• Internal Routing System. and Display Elements
• Stairs
• Saunas and Swimming Pools
• Design Services
---
BUSINESS MACHINES AND HAND TOOLS, NALBURY, SERVICES
• Services
• Business Machines and Hand Tools
• Contracting Services / Real Estate Marketing
• Contracting Services
• Hardware
---
STRUCTURAL STEEL, PREFABRICATED BUILDINGS, CONSTRUCTION SYSTEMS
• Parking Systems
• Prefabricated Elements and Accessories
• Recreation Areas and Equipment
• Structural Steel Elements and Accessories
• Construction Systems
=============================
15 sq meter​ DESIGN BOOTH & SPACE
=============================
- Wooden custom design
- 2 x Glass Tables
- 8 x Chairs
- 1 x LCD TV
- Counter & Stool
- Room with door
- Lighting
================================
Other Included Amenities
================================
- Hotel Accommodation: 5 nights for 2 person in nearby 5 star Hotel
5 min away from Exhibition Center (Wyndham, Radisson Blu)
- Airport transfer to Hotel
- WiFi for 2 person
- Catalogue Registration
- Email marketing activities to 400K visitor database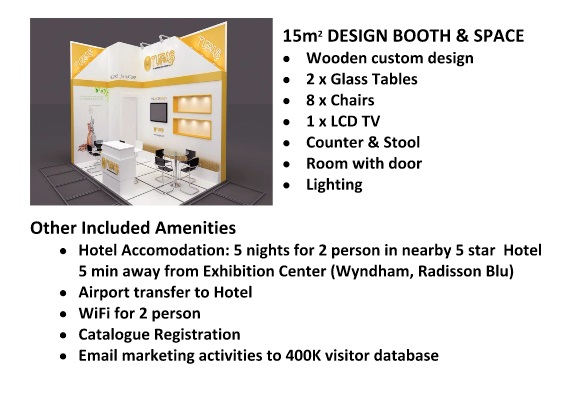 Please contact the event manager Marilyn (marilyn.b.turner(at)nyeventslist.com ) below for:
- Discounts for multiple participants.
- Require a price quotation.
- Require to pay by wire transfer or PayPal
- Invitation letter for visa applications

NO REFUNDS ALLOWED ON REGISTRATIONS
Service fees included in this listing.
-----------------------------------------------------------------
This Event is Brought to You by:
CNR Holdings A.S. - NewYorkEventsList
http://www.NyEventsList.com
http://www.BostonEventsList.com
http://www.SFBayEventsList.com
-----------------------------------------------------------------
MYL171106CEV
Event Categories
BUSINESS & MANAGEMENT CONFERENCES
Keywords: fun, access , accessories, applications, business , design , development , Eating, environment, exhibition
---
---
---
Comments
---
---