New York Professional Events List
I-9 Compliance and Immigration Enforcement Update: Texas (blr)
---
Date
Dec 06, 2017 - 07:00 AM - 04:30 PM
Organizer
New York Media Technologies LLC in association with BUSINESS & LEGAL RESOURCE
Location
DoubleTree by Hilton Hotel San Antonio Downtown502 West César E Chávez BoulevardSan Antonio, TX 78207United States,
San Antonio,
TX ,
US,
ZIP: 78207
Phone: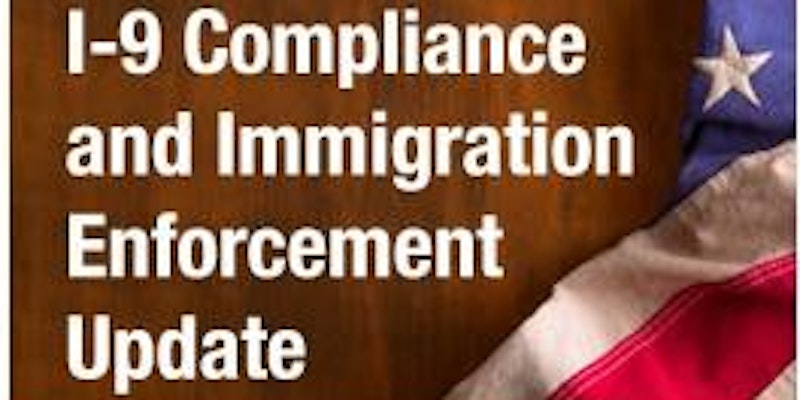 Description
I-9 Compliance and Immigration Enforcement Update: Tactical Strategies for Completing Documentation, Surviving ICE Inspections, and Avoiding Costly Penalties
On-Site Seminar:
San Antonio | Wednesday, December 6, 2017
Citizenship and Immigration Services (USCIS) has released yet another revision to the Form I-9 for employment eligibility verification effective September 18, 2017. Additionally, the Equal Employment Opportunity Commission (EEOC) continues to focus enforcement efforts on national origin and religious discrimination under Title VII of the Civil Rights Act of 1964 (Title VII).
Add to the mix, there is a great deal of uncertainty over how far the Trump Administration will go with deportation efforts and travel bans.
Now, more than ever, employers must get a handle on complex reporting requirements for immigrant employees and protections for employees based on citizenship and immigration status, and understand their company's legal obligations and rights concerning language-restrictive policies, language fluency requirements, , and what is required to accommodate national origin and religious traditions or practices.
During this one-day comprehensive training, leading employment attorneys will answer your critical questions and show you:
How to manage Form I-9 practices, including recordkeeping, employment verification, document destruction, and more

How to self audit your workplace's employment verification documentation practices and Form I-9 completion methods to ensure that you're not at risk for costly fines and penalties

What to do in the event of an ICE inspection or, worse, a raid

How to manage employees' and their families' concerns about Form I-9 audits, ICE investigations, and more

How to train supervisors and managers on what not to say or do, so you can minimize the risk of national origin, religious, or citizenship-based discrimination claims under Title VII and IRCA

And much more
Please contact the event manager Marilyn below for the following:
- Discounts for registering 5 or more participants.
- If you company requires a price quotation.
Event Manager Contact: marilyn.b.turner(at)nyeventslist.com
You can also contact us if you require a visa invitation letter, after ticket purchase.
We can also provide a certificate of completion for this event if required.

NO REFUNDS ALLOWED ON REGISTRATIONS
-----------------------------------------------------------------
This Event Listing is Promoted by
New York Media Technologies LLC in association
with BUSINESS & LEGAL RESOURCE
http://www.NyEventsList.com
http://www.BostonEventsList.com
http://www.SFBayEventsList.com
-----------------------------------------------------------------
MYL170913CEV MAR170926UPT
Agenda
---
Master Class Agenda
Registration and Breakfast
7:00 a.m. – 8:00 a.m.
Acing Your Form I-9 Completion Obligations for New Employees and Rehires
8:00 a.m. – 9:15 a.m.
U.S. Citizenship and Immigration Services (USCIS) has released yet another revision to the Form I-9 for employment eligibility verification. Employers must use this revised Form I-9 no later than September 18, 2017.How does this Form I-9 differ from the "Smart Form I-9" that became effective in January 2017? And, how can you ensure accurate completion and re-verification using this new Form I-9?
We kick off the day with answers to these questions and much more. Attorneys with extensive experience consulting with companies on how to ensure accurate I-9 recordkeeping practices, including Form I-9 completion and verification/re-verification of employee documentation, will cover:
What's changed on the new Form I-9 and what's stayed the same

The smart Form I-9's error-checking features

Best practices for ensuring compliant I-9 recordkeeping when using the editable PDF Form I-9

Answers to common, but tricky, Form I-9 questions such as:

If the SSN entered into E-Verify is incorrect, what steps should you take?

If an employee moves out of state and his/her driver's license says it's not valid for federal ID purposes, can you accept the license as a List B document?

Can you accept a temporary green card? What if it's about to expire?

What do you do when a proffered document just looks kind of "off" to you?

Best practices for filling out the I-9 and legally acceptable ways to verify worker documentation—including answers to questions such as whether it's acceptable to look at remote hires' documents via Skype or FaceTime

Form I-9 re-verification requirements for non-U.S. citizens and non-permanent residents

How to complete I-9s for new employees using automatically extended employment authorization documents (EADs)

I-9 Recordkeeping Self-Audits: How to Evaluate Documentation, Correct Errors and Omissions, and Avoid Discrimination Claims
9:25 a.m. – 10:40 a.m.
Given that there's a new Form I-9 and there's a push at the federal level to focus on immigration reform, this is prime time for performing a self-audit of your organization's process for collecting employment verification and eligibility documentation and completing and storing I-9s—especially since you're required to have a completed I-9 on file for every single employee, which means there is a lot of room for error.
Your organization could face steep penalties if proper practices aren't followed for collecting "acceptable documents" necessary for employment eligibility verification. Also, errors or omissions when completing Sections 1, 2, or 3 of Form I-9 can leave your company vulnerable to costly fines in the event of an ICE audit or a workplace raid.
During this session, you'll learn:
How to perform a comprehensive Form I-9 self-audit

How to go about correcting errors and omissions you uncover during the I-9 audit

What to do if you don't have an I-9 on file for a given employee

What to look for when reviewing the Form I-9 (in effect as of September 18, 2017) and past versions of Forms I-9 on file for your workforce

Best practices for informing employees about an internal Form I-9 audit

Form I-9 error and omission correction procedures for Sections 1, 2, and 3—including who should deal only with Section 1 and who should handle Sections 2 and 3

What to do if you discover workers who don't appear to have an I-9 on file

Examples of documentation identifying errors or omissions and indicating corrective action taken to bring your Form I-9s into compliance

What not to do with an eraser or whiteout—and the recommended way to display changes made to the Form I-9

How to tell if the version of Form I-9 you have on file is acceptable under applicable rules

How to tell if supplied Section 2 documentation is sufficient if that documentation isn't on the list of acceptable documents under the current Form I-9

What to do if you question the legitimacy of the documentation an employee has supplied—and why immediate termination is not a good idea

Best practices for copying and storing I-9s, from supporting documentation to paper I-9s and electronic records

When it's safe to destroy old I-9s

Recordkeeping errors that attract ICE scrutiny and hefty fines

The checklist to review to avoid hiring or employing anyone not authorized to work in the United States

Refreshments & Networking Break
10:40 a.m. – 11:10 a.m.
Surviving an ICE Raid or Audit: What You Must Do, What You May Refuse to Do, and How to Effectively and Humanely Manage Workers
11:10 a.m. – 12:25 p.m.
The likelihood of workplace raids by Immigration and Customs Enforcement (ICE) is growing. By executive order, President Trump has ordered the hiring of 10,000 new immigration officers to crack down on illegal immigration. Plus, recent changes in U.S. immigration regulations regarding the extension of some foreign workers' employment authorization documents affect how employers must re-verify their work authorization on Form I-9.
This session will teach you the action plans to follow when you're faced with a surprise visit by ICE—be it for an audit or a raid. You'll learn:
The difference between an ICE audit and raid—and what to expect generally in either instance

The roles and responsibilities of key team members at various levels of your organization

Tips for communicating with workers about ICE's activities—when to fill them in and how—and what—to share

5 things you should be prepared to do in the event of an ICE audit—and what you should never do

5 things to expect in the event of an ICE raid

How to handle calls from the media or concerned workers' family members about what's going on in the event that a worker is removed from the worksite and detained during a raid

Networking Lunch
12:25 p.m. – 1:25 p.m.
H-1B Visa Applications: Tactics to Successfully Navigate Tricky, Competitive Turf
1:25 p.m. – 2:40 p.m.
In a recent survey, more than half of the companies Harris Poll reached said they intend to hire more foreign workers, Forbes reported recently. That's an increase of more than 20 percent over 2016 levels, the news outlet noted.
At a time when political debate about tightening U.S. borders is rampant, new federal legislation has been introduced to double the minimum salary of H1-B visa holders to $130,000. Add in the suspension of the fast-track process for H-1B worker visas, and HR leaders in tech, financial services, health care, academia, and other industries need to think about how they're going to balance the business needs of hiring and developing global talent amid a potentially shrinking pool of options to obtain authorizations for foreigners to enter the workforce in the United States. They also need to know best practices for avoiding legal tripwires in the H1-B visa filing process.
During this session, you'll learn:
The current status of President Trump's controversial travel ban, on which the Supreme Court will soon hear arguments

The effect the U.S.-based immigration system may have on hiring and retention strategies of the future

How the High-Skilled Integrity and Fairness Act of 2017 would revamp the H-1B visa program and the practical impact this or similarly introduced legislation could have on business growth strategies for U.S.-based employers

The potential costs and benefits of hiring global talent vs. American workers (and vice versa)

How to evaluate whether hiring foreign nationals will be important to your company's talent acquisition strategy for the short-term and the long haul

Whether moving business operations to Canada may make sense, given Prime Minister Justin Trudeau's commitment to "open" borders

Which jobs generally qualify for the H1-B visa and how to tell which of your current or future workers will need one

The latest on the upcoming H1-B filing cap for 2018—and which organizations might be exempt

Documents you need to keep after filing an H1-B petition

The top legal mistakes to avoid during the H1-B visa filing process, particularly concerning delays in employment start dates, job duty changes, and regional transfers

How to handle a situation in which an H1-B worker is terminated or quits

Break
2:40 p.m. – 3:00 p.m.
National Origin and Citizenship-Based Discrimination Claims: What HR—and Your Supervisors and Managers—Need to Know to Minimize Legal Risks
3:00 p.m. – 4:15 p.m.
Where do you come from? What language is that you're speaking? Are you a U.S. citizen? Questions and comments like these could land your company in legal hot water.
To minimize the risk of discrimination claims under Title VII of the Civil Rights Act of 1964, the Immigration Reform and Control Act (IRCA), or other laws alleging adverse treatment on the basis of one's citizenship or national origin—both protected traits—it's important to train supervisors and managers on what they should and shouldn't say to job candidates and employees. Also, it's important to foster a culture of inclusiveness and acceptance. If someone is being excluded from work assignments because there's a language barrier and speaking in English (or another language) isn't required for the job, legal claims could arise. Also, if coworkers or managers treat someone in a hostile or harassing manner because of his or her citizenship, the organization could be held liable under IRCA.
This comprehensive event concludes with a look at the latest employer goofs that have resulted in costly litigation and settlements concerning the hiring and management of employees who alleged national origin or citizenship-based discrimination.
You'll learn:
The top 10 things supervisors and managers should never say or do during the recruitment or hiring process

The fine line between when English-only policies may be enforceable and when a judge or jury is likely to find they're violating workers' Title VII rights

Examples of hostile or harassing conduct that could spark national origin discrimination claims

The types of evidence that support a claim that discipline or other adverse employment action is linked to one's protected status

What to do if you must terminate someone because you've learned employment verification documentation wasn't authentic or acceptable under applicable rules

And more!

Final Q&A
4:15 p.m. – 4:30 p.m.
Get your last-minute questions answered by our expert panel.
Speaker Details
---
About Your Presenters: Jacob Monty, Esq.
Founding and Managing Partner
Monty & Ramirez LLP
Jacob M. Monty is the founding and managing partner of Monty & Ramirez LLP and is Board Certified in Labor and Employment by the Texas Board of Legal Specialization. His distinguished career involves the representation of employers in litigation matters in Texas and California and his expertise in handling labor issues in Hispanic workforces. He represents employers in federal and state courts in civil cases and in investigations and audits conducted by the National Labor Relations Board (NLRB), Department of Labor (DOL), Department of Homeland Security-Citizenship and Immigration Service (DHS-CIS), Occupational Safety and Health Administration (OSHA) and Equal Employment Opportunity Commission (EEOC). In these cases, Mr. Monty specializes in employee allegations of wage and hour violations, invasion of privacy, wrongful discharge and discrimination based on age, race, sex, national origin, disability, and other protected classes, as well as traditional labor matters including collective bargaining agreements and executive employment contracts.
Mr. Monty also advises clients on all aspects of immigration compliance by providing counsel on Form I-9 issues, the use of E-verify, identity theft indicators, and changes in the law regarding federal and state identification documentation. His broad industry experience extends to clients in the restaurant, manufacturing, health, retail, food and entertainment industries, private and public education systems, and government entities. He also offers a comprehensive selection of manager training courses and is an editor of the Texas Employment Law Letter. Elaine C. Young, Esq.
Shareholder
Kirton McConkie
Elaine Young currently serves as International practice group chair at Kirton McConkie. She manages work visa processes for clients, including large multinationals and small businesses. Elaine's practice includes securing visas in nonimmigrant classifications like the H-1B, and immigrant visas, including employment-based green cards in a wide range of industries. Elaine speaks frequently on topics related to hiring foreign workers, addressing visa issues and the unique payroll tax issues that employers face when hiring foreign workers. She also helps employers with global migration needs, including coordination of the overall visa process for outbound employees. Elaine writes the monthly immigration columns for the Federal Employment Law Newsletter and Utah Employment Law Newsletter, and edits the Immigration chapter of BLR's HR Guide to Employment Law.
Event Categories
SOCIAL SCIENCES CONFERENCES
,
SOCIETY CONFERENCES
,
Technology
Keywords: fun, administration , business , Fun , opportunity, purchase, show, tradition , training , administratio
---
---
---
Comments
---
---