New York Professional Events List
CNR Imob - 14th International Istanbul Furniture Fair (cnr)
---
Date
Jan 23, 2018 - 10:00 AM - Jan 28, 06:00 PM
Organizer
New York Media Technologies LLC in association with CNR Holding
Location
CNR EXPO Yeşilköy İstanbul TurkeyCNR ExpoCNR Expoİstanbul, İstanbul 34149Turkey,
İstanbul ,
34149 ,
US,
ZIP: Turkey
Phone: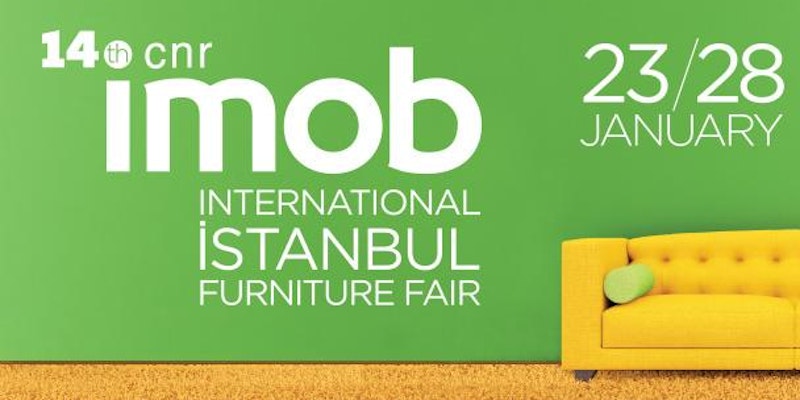 Description
World Furniture Industry Gathers at CNR Expo İstanbul
IMOB is the junction for global buyers and sellers of the furniture industry. The fair supports furniture business to enlarge its trade volume worldwide.
14th IMOB Istanbul 2018 which is known as world's third biggest furniture fair, attracts a great attention from the furniture industry professionals. IMOB will host once again the finest home furnishings, interior designs and global furniture trends between 23-28 January 2018 cooperation with MOSFED (Turkish Furniture Industrialists Federation).
IMOB gives unique opportunity to furniture companies to meet with professionals from different countries and increase their business volume for many years.
Let's discover the World's most important furnishing market in Istanbul!
Exhibitors Profile
Why should you exhibit?
CNR IMOB Istanbul Fair where modern furniture, classical furniture, modular furniture, office furniture, sofa sets, baby, kid, teen furniture, beds to accessories will be exhibited opens its door for the 13th times between 23-28 January 2018 at CNR EXPO Yeşilkoy.
CNR IMOB which contributes to furniture trade volumes directly organized by Istanbul Fuarcılık A.Ş. affiliate of CNR Holding with the support of MOSFED (Turkish Furniture Industrialists Federation), Turkish Republic Economy Ministry and KOSGEB (Small and Medium Industry Development Organization )
CNR IMOB will be held in 11 Halls in 150.000 sqm area with participation of more than 500 exhibitors, 1000 brands, and 150.000 visitors in CNR Expo. Istanbul Furniture Fair expect to exceed its trade volume which has reached to $ 1 billion last year.
Exhibitors Profile
Modern & Avantgarde Furniture
• Living Room Suite
• Bedroom
• Dining Room
• Other Modern Designs
• Accessories and Complementary Units
• Wall Units
• Dining Table Sets
Modular Furniture
• Living Room Suite
• Bedroom
• Dining Room
• Other Modular Furniture
• Accessories and Complementary Units
• Wall Units
• Dining Table Set
Classical & Neo – Classical Furniture
• Livingroom Suits
• Bedroom
• Dining Room
• Other Classical Furniture
Accessories and Complementary Units
• Wall Units
• Dining Table Sets
• Sofa Groups
• Sofas
• Coaches
• Hide-a-Bed-Sofas
• Classical Groups
• Special Design Products
• Chair and kinds
• Upholstery Fabric
• Other Sofa Groups
Office Furniture
• Modular Office Furniture
• Study Groups
• Sofa Set
• Meeting Groups
Baby, Kids and Teen Furniture
• Baby, Kids and Teen Rooms
• Beds
• Chairs
• Study Units
• Play Sets
Bedroom
• Bedroom Sets
• Bed Base
• Accessories
• Beds
• Standard, Single and Double
• Twin, Single and Double
• Orthopedic
• Special Design
• Bed Accessories
• Other Bed Products
Single used Furnitures and Accessories
• Classical Products
• Storage Units
• Wall Systems
• TV Units
• Tables and Coffee Tables
• Lightning
• Handmade Products
• Other Complementary Products
Other
• Designers' Products
• Sectoral Publications
• Associations
• Academic Institutions
============================
15 sq meter? DESIGN BOOTH & SPACE
=============================
- Wooden custom design
- 2 x Glass Tables
- 8 x Chairs
- 1 x LCD TV
- Counter & Stool
- Room with door
- Lighting
================================
Other Included Amenities
================================
- Hotel Accommodation: 5 nights for 2 person in nearby 5 star Hotel
5 min away from Exhibition Center (Wyndham, Radisson Blu)
- Airport transfer to Hotel
- WiFi for 2 person
- Catalogue Registration
- Email marketing activities to 400K visitor database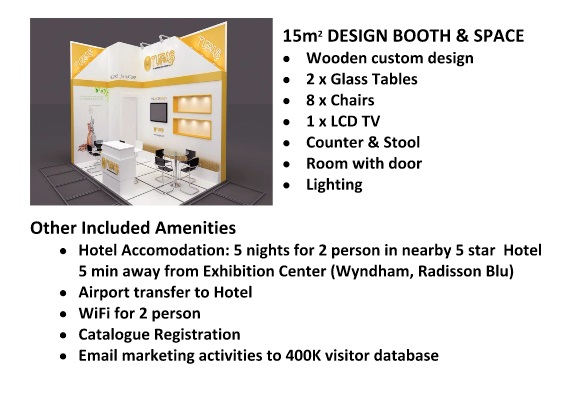 Please contact the event manager Marilyn below for the following:
- Discounts for registering 5 or more participants.
- If you company requires a price quotation.
Event Manager Contact: marilyn.b.turner(at)nyeventslist.com
You can also contact us if you require a visa invitation letter, after ticket purchase.
We can also provide a certificate of completion for this event if required.

NO REFUNDS ALLOWED ON REGISTRATIONS
-----------------------------------------------------------------
This Event Listing is Promoted by
New York Media Technologies LLC in association
with CNR Holding
http://www.NyEventsList.com
http://www.BostonEventsList.com
http://www.SFBayEventsList.com
-----------------------------------------------------------------
MYL170725CEV
Event Categories
BUSINESS & MANAGEMENT CONFERENCES
,
Technology
Keywords: fun, access , accessories, business , class , design , Designer, development , Economy, exhibition
---
---
---
Comments
---
---
Newsletters
VIP Life Time Subscription to our Newsletters!

$399.99