New York Professional Events List
CNR Eurasia Boat Show - 14th International Boat Marine Equipment and Access...
---
Date
Feb 10, 2018 - 07:00 PM - Feb 18, 10:00 PM
Organizer
New York Media Technologies LLC in association with CNR Holding
Location
CNR Expo Yeşilköy Istanbul – TurkeyCNR Expoİstanbul 34149Turkey,
Turkey,
Turkey,
US,
ZIP: Turkey
Phone: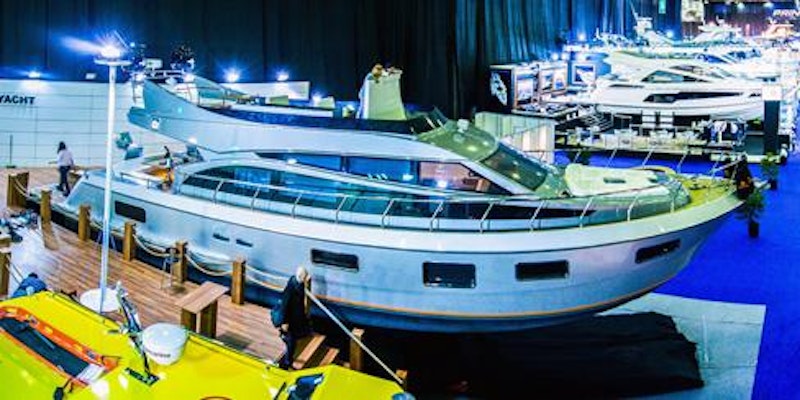 Description
Turkey the country with the longest coastline in the Mediterranean Sea has taken great steps in marine business in recent years ...
Dear Sea Lovers,
Turkey, the country with the longest coastline in the Mediterranean Sea, has taken great steps in marine business in recent years. The rise in the number of marinas, facilitation of transition from foreign flag to Turkish flag, importance attached to water sports, water festivals increasing day by day are some of the major steps we took towards becoming a marine country…
In our country surrounded by the sea on its three sides, increasing interest in boat, yacht and water sports not only by the residents of the cities on the coastline but also the other people residing interior regions is a source of pride and pleasure for the industry.
CNR Eurasia Boat Show organized with the aim of bringing our citizens to a well-deserved status in maritime, spreading use of boats and yachts and contributing to Turkish economy has gained an international status and become one of the best worldwide. This is an outcome of common efforts by CNR and DENTUR (Turkish Marine Industry Association).
The 14th of CNR Eurasia Boat Show will take place at CNR EXPO and hosts more than 1,000 brands. Small, medium and mega class boats, yachts, motor boats and sailboats will be meeting its fans.
More than a total of 100 thousand visitors are expected to visit the fair, including the foreigners invited within the scope of purchase committee program in coordination with T.R. Ministry of Finance. The objective of the fair is to introduce Turkish marine business which ranks the third in manufacture of mega yachts to the markets of Turkic Republics, the Middle East, Gulf Region and Arabian Spring. Many industry professionals from Italy, the Netherlands, England and France will witness the innovations and launches in the business for the first time at CNR Eurasia Boat Show.
Installed by a giant team of more than 2,000 people employed in logistics, technical, support and booth services, CNR Eurasia Boat Show adds a value of 1 billion dollars to the marine industry.
Exhibitors Profile
Why should you exhibit?
The exhibition provides the chance to be in the heart of maritime industry which will lead new and lucrative business partnerships. Various marine vehicles appealing to all levels of luxury and taste may be tested and observed.
CNR Eurasia Boat Show- 11th International Boat, Marine Equipment and Accessories Show will present a pleasant event including exclusive lunches, activities and chill out lounges both to exhibitors and visitors.
Exhibitors Profile
Motor Yachts & Power Equipment

Motorboats & Sailing Boats

Speed Boats & Cruisers

Marinas & Equipment

Boat Accessories & Construction Materials

Deck Equipment & Hardware

Diving Equipment & Accessories

Water Sports Equipment

Sails, Masts & Rigging

Sea Wear & Accessories

Navigation & Sanitation

Safety, Security & Emergency Equipment

Engines, Drives, Parts & Control

Sea Tourism & Charter Firms

Alternative Sports

Related Associations

Related Media Organizations
=============================
15 sq meter? DESIGN BOOTH & SPACE
=============================
- Wooden custom design
- 2 x Glass Tables
- 8 x Chairs
- 1 x LCD TV
- Counter & Stool
- Room with door
- Lighting
================================
Other Included Amenities
================================
- Hotel Accommodation: 5 nights for 2 person in nearby 5 star Hotel
5 min away from Exhibition Center (Wyndham, Radisson Blu)
- Airport transfer to Hotel
- WiFi for 2 person
- Catalogue Registration
- Email marketing activities to 400K visitor database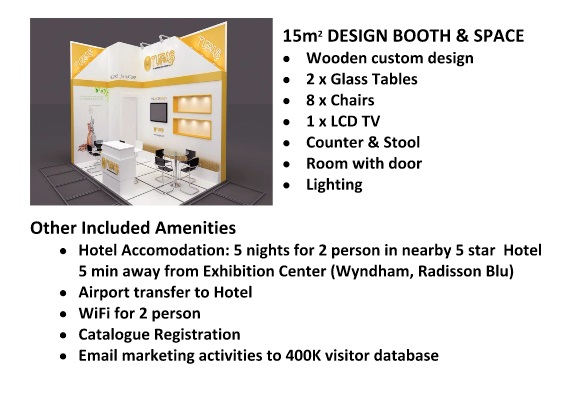 Please contact the event manager Marilyn below for the following:
- Discounts for registering 5 or more participants.
- If you company requires a price quotation.
Event Manager Contact: marilyn.b.turner(at)nyeventslist.com
You can also contact us if you require a visa invitation letter, after ticket purchase.
We can also provide a certificate of completion for this event if required.

NO REFUNDS ALLOWED ON REGISTRATIONS
-----------------------------------------------------------------
This Event Listing is Promoted by
New York Media Technologies LLC in association
with CNR Holding
http://www.NyEventsList.com
http://www.BostonEventsList.com
http://www.SFBayEventsList.com
-----------------------------------------------------------------
MYL170725CEV
Keywords: fun, access , accessories, arts, business , class , design , Economy, exhibition , Festival
---
---
---
Comments
---
---
Newsletters
VIP Life Time Subscription to our Newsletters!

$399.99