New York Professional Events List
CA&PA for Medical Devices (com) A
---
Date
Dec 07, 2017 - 08:30 AM - Dec 08, 04:30 PM
Organizer
New York Media Technologies LLC in association with METRICSTREAM INC.
Location
TampaTampa, FLUnited States,
Tampa,
FL ,
US,
ZIP: United States
Phone: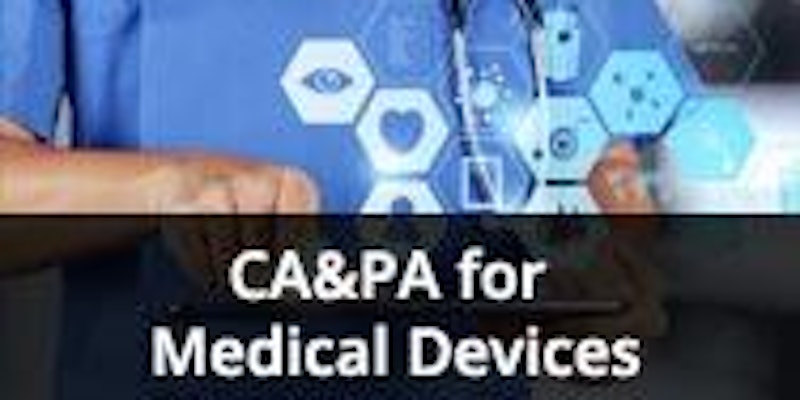 Description
Implementing an effective system for corrective action and preventive action can be a major challenge. FDA illustrates the point in device Warning Letters. Since 2008, CA&PA has been the most frequently cited QSR section; about 70% of all Warning Letters includes a citation to §820.100. When expanded to the larger system in which the FDA includes nonconforming material, corrective and preventive action, and complaints, the situation gets worse.
This interactive two-day course provides the tools you need to develop and implement an effective medical device CA&PA system. In addition to FDA QSR, the course covers the corresponding requirements in ISO 13485:2016, linkage to risk management in ISO 14971:2007, and MDSAP Audit Tasks. Corrective action requirements can extend beyond the QMS to include field actions, so the course includes adverse event reporting, Corrections & Removals, Field Safety Corrective Actions, and Field Safety Notices.
CA&PA does not stand alone; it is most effective when it is an integral part of the Quality Management System and influences all of the other subsystems. The overarching objective of the course helps the participants develop the tools and methods. The course utilizes a broad variety of available material including Global Harmonization Task Force (GHTF) guidance documents, ISO guidance documents, and European Union medical device guidance documents (MEDDEV).
Seminar Fee Includes:
Lunch
AM-PM Tea/Coffee
Seminar Material
USB with seminar presentation
Hard copy of presentation
Attendance Certificate
$100 Gift Cert for next seminar
Learning Objectives:
Develop the tools and methods to create an integrated CA&PA system.

Explain the difference between correction, corrective action, and preventive action and understand why they are different.

Gain knowledge of the medical device CA&PA regulatory requirements including FDA QSR and ISO 13485:2016.

Evaluate common problem solving and improvement methodologies, explain the quality tools, and apply them to the CA&PA system.

Understand "appropriate statistical methodology" to analyze data and identify existing and potential causes of quality problems.

Identify the linkages between complaints, corrective action, and risk management.

Understand the regulatory requirements for corrective actions in the field for both the US and the EU.
Who will Benefit:
While the course is specific for medical device companies, any company can benefit from an effective CAPA system. It is ideal for:
Quality Managers

Quality Engineers

Regulatory professionals

Operations Managers

Manufacturing Engineers

Risk Managers

Complaint system team members

CAPA team members

Dan O'Leary
President at Ombu Enterprises, LLC
Dan O'Leary has more than 30 years of experience in quality, operations, and program management in regulated industries including aviation, defense, medical devices, and clinical labs. Mr. O'Leary has a Masters Degree in Mathematics, focusing on logic and number theory. His professional experience relates to quality, regulatory, reliability, and operations management.

He is a regular speaker at international conferences including ASQ, ISM, and RAMS. Dan teaches courses in reliability methods, medical device regulations and practices, statistical methods, management systems (ISO 9001, FDA QSR, & ISO 13485), and project management. He is an ASQ Certified Biomedical Auditor, Quality Auditor, Quality Engineer, Reliability Engineer, and Six Sigma Black Belt; he holds an APICS certification in Resource Management.
Please contact the event manager Marilyn below for the following:
- Discounts for registering 5 or more participants.
- If you company requires a price quotation.
Event Manager Contact: marilyn.b.turner(at)nyeventslist.com
You can also contact us if you require a visa invitation letter, after ticket purchase.
We can also provide a certificate of completion for this event if required.

NO REFUNDS ALLOWED ON REGISTRATIONS
-----------------------------------------------------------------
This Event Listing is Promoted by
New York Media Technologies LLC in association
with Metricstream Inc.
http://www.NyEventsList.com
http://www.BostonEventsList.com
http://www.SFBayEventsList.com
-----------------------------------------------------------------
MYL170825CEV MAR170926UPT
Agenda
---
DAY 01(8:30 AM - 4:30 PM)
08.30 AM - 09.00 AM: Registration

09.00 AM: Session Start

Lecture 1 – Understanding Correction, Corrective Action, and Preventive Action

The Problem

Definitions

Laying Out the Language

Effect on the QMS

Lecture 2 – Quality System Regulation

§820.90 Nonconforming product

§820.100 Corrective and preventive action

§820.198 Complaint files

Lecture 3 – ISO 13485:2016

8.2.2 Complaint handling

8.3 Control of nonconforming product

8.5.2 Corrective action

8.5.3 Preventive action

Lecture 4 – The GHTF Guidance

Planning

Measurement and Analysis – Data Sources

Improvement

Input to Management

Lecture 5 – Implementing the CA&PA Requirements

Determining the Cause

Determining the Action to Take

Implementing the Action

Potential Adverse Effects

Checking Effectiveness

Lecture 6 – Auditing CA&PA
DAY 02(8:30 AM - 4:30 PM)
Lecture 7 – Quality Tools

Flowcharts

Cause and effect diagrams

5 Why Analysis

Check Sheets

Pareto charts

Is/Is Not Analysis

Lecture 8 – Statistical Tools

Descriptive Statistics

Sampling

Hypothesis testing

Time series analysis

Statistical Process Control

Process Capability Analysis

Regression analysis

Lecture 9 – Complaints and CA

Defining a Complaint

Investigating a Complaint

Taking Corrective Action

Updating the Risk Management File

Lecture 10 – Adverse Event Reporting and Field Actions

US – MDRs

US – Corrections and Removals

EU – Vigilance

EU – FSCA & FSN
Event Categories
HEALTH AND MEDICINE CONFERENCES
,
Healthcare
,
Life Sciences, Biotechnology
,
SCIENCE AND TECHNOLOGY CONFERENCES
,
Technology
Keywords: fun, analyze, Clinical , conference , Fun , implement, learn, Learning , Management , methodolog
---
---
---
Comments
---
---
Newsletters
VIP Life Time Subscription to our Newsletters!

$399.99