New York Professional Events List
BIOSIGNALS 2018 - 11th International Conference on Bio-Inspired Systems and...
---
Date
Jan 19, 2018 - 08:00 AM - Jan 21, 05:00 PM
Organizer
New York Media Technologies LLC in association with INSTICC
Location
Hotel Vila Galé Santa CruzRua São Fernando, 59100-173 Santa CruzPortugal,
Portugal,
Portugal,
US,
ZIP: Portugal
Phone: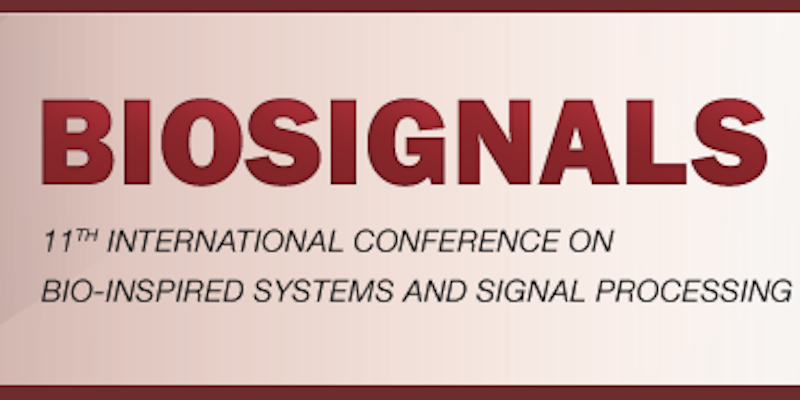 Description
BIOSIGNALS is part of BIOSTEC, the 11th International Joint Conference on Biomedical Engineering Systems and Technologies.
Registration to BIOSIGNALS allows free access to all other BIOSTEC conferences.
UPCOMING DEADLINES
Regular Paper Submission Extension: September 5, 2017
Regular Paper Authors Notification: October 16, 2017
Regular Paper Camera Ready and Registration: October 30, 2017
The purpose of the International Conference on Bio-inspired Systems and Signal Processing is to bring together researchers and practitioners from multiple areas of knowledge, including biology, medicine, engineering and other physical sciences, interested in studying and using models and techniques inspired from or applied to biological systems. A diversity of signal types can be found in this area, including image, audio and other biological sources of information. The analysis and use of these signals is a multidisciplinary area including signal processing, pattern recognition and computational intelligence techniques, amongst others.
CONFERENCE CO-CHAIRS
Hugo Gamboa, LIBPHYS-UNL / FCT - New University of Lisbon, Portugal
Ana Fred, Instituto de Telecomunicações / IST, Portugal
Sergi Bermudez i Badia, Madeira Interactive Technologies Institute/Universidade da Madeira, Portugal
PROGRAM CHAIR
Giovanni Saggio, University of Tor Vergata, Rome, Italy
KEYNOTE SPEAKERS
Anatole Lécuyer, Inria Rennes/IRISA, Hybrid Research Team, France
Corina Sas, Lancaster University, United Kingdom
Dinesh Kumar, RMIT University, Australia
Maximiliano Romero, Università Iuav di Venezia, Italy
WORKSHOPS
Artificial Intelligence for Health - AI4Health (BIOSTEC)
Chairs: Giovanna Sannino and Ivanoe De Falco
Submission: November 7, 2017
SPECIAL SESSIONS
Outlier Detection for Biomedical Applications - ODEBIO
Chairs: Agnieszka Duraj and Piotr Szczepaniak
Submission: November 7, 2017
DOCTORAL CONSORTIUM
Chair: Jan Schier
Submission: November 9, 2017
OPEN COMMUNICATIONS
Submission: November 9, 2017
Important Dates
Conference
Regular Papers
Paper Submission: September 5, 2017 (extended)
Authors Notification: October 16, 2017
Camera Ready and Registration: October 30, 2017
Position Papers
Paper Submission: September 29, 2017
Authors Notification: November 7, 2017
Camera Ready and Registration: November 20, 2017
Workshops
Workshop Proposal: August 31, 2017
Doctoral Consortium
Paper Submission: November 9, 2017
Authors Notification: November 22, 2017
Camera Ready and Registration: December 5, 2017
Special Sessions
Special Session Proposal: August 31, 2017
Paper Submission: November 7, 2017
Authors Notification: November 21, 2017
Camera Ready and Registration: November 29, 2017
Tutorials
Tutorial Proposal: November 24, 2017
Demos
Demo Proposal: November 24, 2017
Panels
Panel Proposal: November 24, 2017
Keynote Lecture

Anatole Lécuyer
Inria Rennes/IRISA, Hybrid Research Team
France
Brief Bio
Anatole Lécuyer is senior researcher and head of Hybrid team at Inria (Rennes, France), the French National Institute for Research in Computer Science and Control, that he joined in 2002. His main research interests are in the field of Virtual Reality, and more specifically on 3D User Interfaces, Haptic Feedback, 3D Visual Displays, and Brain-Computer Interfaces (BCI). He has been involved often as coordinator or principal investigator in various National or International research projects such as in OpenViBE software for Brain-Computer Interfaces, French ANR projects "OpenViBE1" (05-09) and "OpenViBE2" (09-12) on Brain-Computer Interfaces and Virtual reality, European Strep project "NIW" (08-11) on Augmented Walking, and the European Network of Excellence "INTUITION" (05-08) on Virtual Reality. He regularly serves as expert in Virtual Reality and BCI for public bodies such as European Commission (EC) or French National Research Agency (ANR). He is involved in program committees of major conferences of his field (IEEE VR, IEEE 3DUI, Eurohaptics, Eurographics, etc) and was notably program co-chair of IEEE VR 2015, and IEEE 3DUI 2013. He is an associate editor of Frontiers in Virtual Environments and Presence, and formerly of ACM Transactions on Applied Perception (ACM TAP) and International Journal of Human-Computer Studies (IJHCS).
nesh has received over $4 million in research funds over the past 12 years in research funding. He has published over 400 papers and authored 3 books, and has been cited about 4400 times. He is Associate editor for IEEE Transactions for neural systems and rehabilitation engineering.

Abstract
There has been significant progress in medical technology that provides early stage and detailed diagnosis of many diseases. This has enhanced the longevity and quality of life and we are now living longer and healthier, and significantly more independent. We are also able to perform relevant functional activities for significant period. However, many of these diagnostics can be performed only in major hospitals and require significant infrastructure such as qualified personnel, buildings, and electricity. This greatly limits the benefits of the technologies to be located in large urban centres.

Dinesh has been working towards changing the above paradigm and works for the development of diagnostic devices that are suitable for being used in remote regions by untrained healthcare personnel. Such devices provide automation of recording and analysis of the data, thereby do not require large buildings, and are suitable for the target audience. The success of such diagnostic devices is based on the development of advanced image and signal processing techniques that makes these devices noise tolerant and provide good quality diagnostics without high quality infrastructure.
Keynote Lecture

Maximiliano Romero
Università Iuav di Venezia
Italy



Please contact the event manager Marilyn below for the following:
- Discounts for registering 5 or more participants.
- If you company requires a price quotation.
Event Manager Contact: marilyn.b.turner(at)nyeventslist.com
You can also contact us if you require a visa invitation letter, after ticket purchase.
We can also provide a certificate of completion for this event if required.

NO REFUNDS ALLOWED ON REGISTRATIONS
-----------------------------------------------------------------
This Event Listing is Promoted by
New York Media Technologies LLC in association
with INSTICC
http://www.NyEventsList.com
http://www.BostonEventsList.com
http://www.SFBayEventsList.com
-----------------------------------------------------------------
MYL170817CEV MAR170926UPT
Event Categories
HEALTH AND MEDICINE CONFERENCES
,
Healthcare
,
Life Sciences, Biotechnology
,
SCIENCE AND TECHNOLOGY CONFERENCES
,
Technology
Keywords: fun, analysis, access , applications, audience, biology , Book , communication , conference , development
---
---
---
Comments
---
---