New York Professional Events List
BIODEVICES 2018 11th International Conference on Biomedical Electronics and...
---
Date
Jan 19, 2018 - 09:00 AM - Jan 21, 06:00 PM
Organizer
New York Media Technologies LLC in association with INSTICC
Location
Hotel Vila Galé Santa CruzRua São Fernando, 59100-173 Santa CruzPortugal,
Santa Cruz,
Santa Cruz,
US,
ZIP: Portugal
Phone: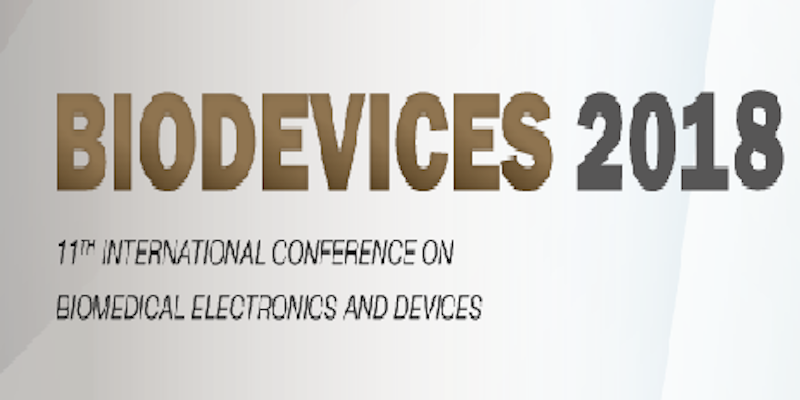 Description
BIODEVICES is sponsored by INSTICC – Institute for Systems and Technologies of Information, Control and Communication
SCOPE
The purpose of the International Conference on Bio-Devices is to bring together researchers and practitioners from electronics, mechanical engineering, physics and related areas who are interested in developing, studying and using innovative materials, devices and systems inspired by biological systems and/or addressing biomedical requirements. Monitoring and diagnostics devices, sensors and instrumentation systems, biorobotics and prosthetics, micro-nanotechnologies including microfluidics systems and biomaterials are some of the technologies addressed at this conference. The fabrication and evaluation of biodevices, including wearable and implantable devices is also addressed.

BIODEVICES encourages authors to submit papers to one of the main topics indicated below, describing original work, including methods, techniques, advanced prototypes, applications, systems, tools or general survey papers, reporting research results and/or indicating future directions. Accepted papers will be presented at the conference by one of the authors and published in the proceedings. Acceptance will be based on quality, relevance and originality. There will be both oral and poster sessions.
The proceedings will be indexed by several major international indexers.
Special sessions are also welcome. Please contact the secretariat for further information on how to propose a special session.
CONFERENCE TOPICS
Emerging Technologies

Biomedical Instrumentation

Biomedical Equipment

Biomedical Sensors

Biomedical Metrology

Health Monitoring Devices

Low-power Design

Electrical Bio-impedance

Bio-electromagnetism

Biorobotics

Implantable Electronics

Wireless Systems and Biotelemetry

Biomaterials

MEMS

Nanotechnologies

Biomechanical Devices

Prosthetics

Technologies Evaluation

Electrocardiography and Heart Monitoring

Brain-computer Interfaces

Spectroscopic Applications

Imaging and Visualization Devices

Rehabilitation Technology

Lab on a Chip and Microfluidic Devices

Wearable and Mobile Devices

Diagnostic devices

Radio/Photo therapy devices

Biodevice fabrication

Energy Harvesting for biodevices
BIOSTEC KEYNOTE SPEAKERS
Anatole Lécuyer, Inria Rennes/IRISA, Hybrid Research Team, France
Corina Sas, Lancaster University, United Kingdom
Dinesh Kumar, RMIT University, Australia
Maximiliano Romero, Università Iuav di Venezia, Italy
PAPER SUBMISSION
Authors should submit a paper in English, carefully checked for correct grammar and spelling, addressing one or several of the conference areas or topics. Each paper should clearly indicate the nature of its technical/scientific contribution, and the problems, domains or environments to which it is applicable. To facilitate the double-blind paper evaluation method, authors are kindly requested to produce and provide the paper WITHOUT any reference to any of the authors, including the authors' personal details, the acknowledgments section of the paper and any other reference that may disclose the authors' identity.
Only original papers should be submitted. Authors are advised to read INSTICC's ethical norms regarding plagiarism and self-plagiarismthoroughly before submitting and must make sure that their submissions do not substantially overlap work which has been published elsewhere or simultaneously submitted to a journal or another conference with proceedings. Papers that contain any form of plagiarism will be rejected without reviews.
Authors can submit their work in the form of a Regular Paper, representing completed and validated research, or as a Position Paper, portraying a short report of work in progress or an arguable opinion about an issue discussing ideas, facts, situations, methods, procedures or results of scientific research focused on one of the conference topic areas. All papers must be submitted through the online submission platform PRIMORIS and should follow the instructions and templates that can be found under Guidelines and Templates. After the paper submission has been successfully completed, authors will receive an automatic confirmation e-mail.

PUBLICATIONS
All accepted papers will be published in the conference proceedings, under an ISBN reference, on paper and on CD-ROM support.
SCITEPRESS is a member of CrossRef and every paper on our digital library is given a DOI (Digital Object Identifier).
All papers presented at the conference venue will be available at the SCITEPRESS Digital Library.
It is planned to publish a short list of revised and extended versions of presented papers with Springer in a CCIS Series book (final approval pending).
The proceedings will be submitted for indexation by Thomson Reuters Conference Proceedings Citation Index (CPCI/ISI), INSPEC, DBLP, EI (Elsevier Engineering Village Index) and Scopus.
IMPORTANT DATES
Conference Date: 19 - 21 January, 2018
Regular Papers
Paper Submission: September 5, 2017 (extended)
Authors Notification: October 16, 2017
Camera Ready and Registration: October 30, 2017
Position Papers
Paper Submission: September 29, 2017
Authors Notification: November 7, 2017
Camera Ready and Registration: November 20, 2017
Workshops
Workshop Proposal: August 31, 2017
Doctoral Consortium
Paper Submission: November 9, 2017
Authors Notification: November 22, 2017
Camera Ready and Registration: December 5, 2017
Special Sessions
Special Session Proposal: August 31, 2017
Paper Submission: November 7, 2017
Authors Notification: November 21, 2017
Camera Ready and Registration: November 29, 2017
Tutorials
Tutorial Proposal: November 24, 2017
Demos
Demo Proposal: November 24, 2017
Panels
Panel Proposal: November 24, 2017
SECRETARIAT
BIODEVICES Secretariat
Address: Av. D. Manuel I, 27A, 2º esq.
2910-595 Setúbal - Portugal
Tel.: +351 265 100 033
Fax: +351 265 520 186
e-mail: [email protected]
VENUE
.
BIOSTEC CONFERENCE CO-CHAIRS
Hugo Gamboa, LIBPHYS-UNL / FCT - New University of Lisbon, Portugal
Ana Fred, Instituto de Telecomunicações / IST, Portugal
Sergi Bermudez i Badia, Madeira Interactive Technologies Institute/Universidade da Madeira, Portugal
PROGRAM CHAIR
Alberto Cliquet Jr., University of São Paulo & University of Campinas, Brazil
PROGRAM COMMITTEE MEMBERS
Dharma Agrawal, University of Cincinnati, United States
Mohammed Al-Azawy, The University of Manchester, United Kingdom
Azam Ali, University of Otago, New Zealand
Manish Arora, Indian Institute of Science, India
N. Sertac Artan, New York Institute of Technology, United States
Mohammed Bakr, CCIT-AASTMT, Egypt
Alcimar Barbosa Soares, Universidade Federal de Uberlândia, Brazil
Steve Beeby, University of Southampton, United Kingdom
Hadar Ben-Yoav, Ben-Gurion University of the Negev, Israel
Dinesh Bhatia, North Eastern Hill University, India
Luciano Boquete, Alcala University, Spain
Jan Cabri, Norwegian School of Sport Sciences, Norway
Carlo Capelli, Norwegian School of Sport Sciences, Norway
Vítor Carvalho, IPCA & Algoritmi Research Centre, UM, Portugal
Hamid Charkhkar, Case Western Reserve University, United States
Wenxi Chen, The University of Aizu, Japan
Youngjae Chun, University of Pittsburgh, United States
James M. Conrad, University of North Carolina at Charlotte, United States
Vladimir Devyatkov, Bauman Moscow State Technical University, Russian Federation
Ye Duan, University of Missouri, United States
George S. Dulikravich, Florida International University, United States
Abdulmotaleb El Saddik, University of Ottawa, Canada
Maria Evelina Fantacci, University of Pisa and INFN, Italy
Elisabetta Farella, Fondazione Bruno Kessler, Italy
Mireya Fernández Chimeno, Universitat Politècnica de Catalunya, Spain
Mohamad Forouzanfar, Stanford University, United States
Paddy French, Delft University of Technology, Netherlands
Joaquim Gabriel, Faculty of Engineering, University of Porto, Portugal
Bruno Gago, University of Aveiro, Portugal
Juan Carlos Garcia, University of Alcala, Spain
Miguel Angel García Gonzalez, Universitat Politècnica de Catalunya, Spain
Javier Garcia-Casado, Universitat Politècnica de València, Spain
Michinao Hashimoto, Singapore University of Technology and Design, Singapore
Leonid Hrebien, Drexel University, United States
Ernesto Iadanza, Università degli Studi di Firenze, Italy
Dong Ik Shin, Asan Medical Center, Korea, Republic of
Sandeep K. Jha, Indian Institute of Technology Delhi, India
Kourosh Kalantar-Zadeh, RMIT University, Australia
Bozena Kaminska, Simon Fraser University, Canada
Eyal Katz, Afeka Tel Aviv Academic College of Engineering, NJIT, Tel Aviv University, Israel
Michael Kraft, University of Liege, Belgium
Ondrej Krejcar, University of Hradec Kralove, Czech Republic
Vladimir Kublanov, Ural Federal University, Russian Federation
Steven L. Percival, University of Liverpool, United Kingdom
Egon L. van den Broek, Utrecht University, Netherlands
Jung Chan Lee, Seoul National University, Korea, Republic of
John K-J. Li, Rutgers University, United States
Anita Lloyd Spetz, Linköpings Universitet, Sweden
Paul LUKowicz, DFKI and University of Kaiserslautern, Germany
Mai S. Mabrouk, Misr University for Science and Technology, Egypt
Carlos Maciel, University of São Paulo, Brazil
Jordi Madrenas, Universitat Politècnica de Catalunya, Spain
Jarmo Malinen, Aalto University, Finland
Dan Mandru, Technical University of Cluj Napoca, Romania
Diego Mantovani, Laval University Lab. for Biomaterials and Bioengineering, Canada
Dumitru Mazilu, National Institutes of Health and Human Services, United States
Saibal Mitra, Missouri State University, United States
Joseph Mizrahi, Technion, Israel Institute of Technology, Israel
Mazher Mohammed, Deakin University, Australia
Ana Moita, IN+ - Instituto Superior Tecnico, Portugal
Jorge E. Monzon, Universidad Nacional del Nordeste, Argentina
Raimes Moraes, Universidade Federal de Santa Catarina, Brazil
Umberto Morbiducci, Politecnico di Torino, Italy
Alexandru Morega, University Politehnica of Bucharest, Romania
Antoni Nowakowski, Gdansk University of Technology, Poland
Eoin O'Cearbhaill, University College Dublin, Ireland
Mónica Oliveira, University of Strathclyde, United Kingdom
Abraham Otero, Universidad San Pablo CEU, Spain
Gonzalo Pajares, Universidad Complutense de Madrid, Spain
Krzysztof Pancerz, University of Rzeszow, Poland
Sofia Panteliou, University of Patras, Greece
Lionel Pazart, CHU, France
Nathalia Peixoto, Neural Engineering Lab, George Mason University, United States
Marek Penhaker, VŠB - Technical University of Ostrava, Czech Republic
Shubhajit Roy Chowdhury, IIT Mandi, India
Wim L. C. Rutten, University of Twente, Netherlands
Seonghan Ryu, Hannam University, Korea, Republic of
Jose M. Sabater, Miguel Hernandez University, Spain
Emilio Sacristan Rock, UAM-Iztapalapa, Mexico
V. V. Raghavendra Sai, IIT Madras, India
Michael J. Schöning, FH Aachen, Germany
Mauro Serpelloni, University of Brescia, Italy
Kulwinder Singh, University of South Florida, United States
Filomena Soares, Algoritmi Research Centre, UM, Portugal
Akihiro Takeuchi, Kitasato University School of Medicine, Japan
Marco Tatullo, Tecnologica Research Institute, Italy
Gil Travish, Adaptix Ltd., United Kingdom
John Tudor, University of Southampton, United Kingdom
Renato Varoto, University of Campinas, Brazil
Valentina Vassilenko, Faculdade de Ciências e Tecnologia, Universidade Nova de Lisboa, Portugal
Pedro Vieira, Faculdade de Ciências e Tecnologia, Universidade Nova de Lisboa, Portugal
Bruno Wacogne, FEMTO-ST, France
Hakan Yavuz, Çukurova Üniversity, Turkey
Alberto Yufera, Instituto de MIcroelectronica de Sevilla / Universidad de Sevilla, Spain
Xian-En Zhang, Institute of Biophysics, Chinese Academy of Sciences, China
Keynote Lecture

Anatole Lécuyer
Inria Rennes/IRISA, Hybrid Research Team
France
Brief Bio
Anatole Lécuyer is senior researcher and head of Hybrid team at Inria (Rennes, France), the French National Institute for Research in Computer Science and Control, that he joined in 2002. His main research interests are in the field of Virtual Reality, and more specifically on 3D User Interfaces, Haptic Feedback, 3D Visual Displays, and Brain-Computer Interfaces (BCI). He has been involved often as coordinator or principal investigator in various National or International research projects such as in OpenViBE software for Brain-Computer Interfaces, French ANR projects "OpenViBE1" (05-09) and "OpenViBE2" (09-12) on Brain-Computer Interfaces and Virtual reality, European Strep project "NIW" (08-11) on Augmented Walking, and the European Network of Excellence "INTUITION" (05-08) on Virtual Reality. He regularly serves as expert in Virtual Reality and BCI for public bodies such as European Commission (EC) or French National Research Agency (ANR). He is involved in program committees of major conferences of his field (IEEE VR, IEEE 3DUI, Eurohaptics, Eurographics, etc) and was notably program co-chair of IEEE VR 2015, and IEEE 3DUI 2013. He is an associate editor of Frontiers in Virtual Environments and Presence, and formerly of ACM Transactions on Applied Perception (ACM TAP) and International Journal of Human-Computer Studies (IJHCS).
Keynote Lecture

Corina Sas
Lancaster University
United Kingdom
Brief Bio
Dr Sas builds on extensive expertise is Human Computer Interaction and user experience to design technologies for wellbeing and health, including those for self-monitoring, self-awareness and self-regulation. She has been Associate Chair for the top ACM Computer Human Interaction and Designing Interactive Systems conferences, Chair of British Human Computer Interaction conference, and served in Programme Committees in over 20 conferences. Her work has received extensive media covers including The Times, The New Scientist, Daily Mail, CBS, NBC, Medical Daily, Science Daily, News medical, and Health Medicine Network, as well as San Francisco radio, BBC 5 live radio, and BBC Hereford and Worcester radio. For her work on technologies for mindfulness she was mentioned in the TransTech200 (2016): an annual list of key innovators developing science-based research that significantly increases mental and emotional wellbeing. She has over 80 peer-reviewed publications, and has been an investigator on grants totalling over £10.5 million.
Keynote Lecture

Dinesh Kumar
RMIT University
Australia
Brief Bio
Dinesh research interests are related to medical applications of signals and image processing and the use of machine learning to classify medical signals. He is a member of the expert panel for prosthetic hand control (EU supported committee) and member on Therapeutic Goods Administration the advisory panel to ministry of health for medical devices. Dinesh has also extensive experience in technology translation and been successful with two technology start-up ventures.

Dinesh has received over $4 million in research funds over the past 12 years in research funding. He has published over 400 papers and authored 3 books, and has been cited about 4400 times. He is Associate editor for IEEE Transactions for neural systems and rehabilitation engineering.

Abstract
There has been significant progress in medical technology that provides early stage and detailed diagnosis of many diseases. This has enhanced the longevity and quality of life and we are now living longer and healthier, and significantly more independent. We are also able to perform relevant functional activities for significant period. However, many of these diagnostics can be performed only in major hospitals and require significant infrastructure such as qualified personnel, buildings, and electricity. This greatly limits the benefits of the technologies to be located in large urban centres.

Dinesh has been working towards changing the above paradigm and works for the development of diagnostic devices that are suitable for being used in remote regions by untrained healthcare personnel. Such devices provide automation of recording and analysis of the data, thereby do not require large buildings, and are suitable for the target audience. The success of such diagnostic devices is based on the development of advanced image and signal processing techniques that makes these devices noise tolerant and provide good quality diagnostics without high quality infrastructure.

This seminar, Dinesh will discuss the process and provide examples of such technologies.
Keynote Lecture

Maximiliano Romero
Università Iuav di Venezia
Italy
Please contact the event manager Marilyn below for the following:
- Discounts for registering 5 or more participants.
- If you company requires a price quotation.
Event Manager Contact: marilyn.b.turner(at)nyeventslist.com
You can also contact us if you require a visa invitation letter, after ticket purchase.
We can also provide a certificate of completion for this event if required.

NO REFUNDS ALLOWED ON REGISTRATIONS
-----------------------------------------------------------------
This Event Listing is Promoted by
New York Media Technologies LLC in association
with INSTICC
http://www.NyEventsList.com
http://www.BostonEventsList.com
http://www.SFBayEventsList.com
-----------------------------------------------------------------
MYL170815CEV MAR170926UPT
Event Categories
BUSINESS & MANAGEMENT CONFERENCES
,
Technology
Keywords: fun, analysis, administration , applications, audience, Book , class , communication , conference , design
---
---
---
Comments
---
---