New York Professional Events List
Advanced Botox and Dermal Fillers (Level II)
---
Date
Apr 24, 2017 - 08:00 AM - 05:30 PM
Organizer
empiremedicaltraining
Location
Westin New York,
New York,
NY,
USA,
ZIP: 10036
Phone: 866-366-1576

For serious aesthetic practitioners, physicians, nurses, dentists, and others, Empire has created this advanced course in order to help you learn to masterfully perform techniques that will compliment your skill set already acquired from our level one , complete Botox training, and to provide you with comprehensive training on special techniques your patients will be hoping you can perform.
This program is designed to deliver education on the latest and most advanced injection techniques for Xeomin©, Botox Cosmetic©and Dysport© and the most important Dermal Fillers.
Learn and become proficient in the use of these injectable products for other types of facial shaping, lifting and wrinkle treatment. This course emphasizes the use of longer lasting Dermal Fillers such as Radiesse©, Sculptra©, and other common fillers you will need to learn and offer in your practice.
Botulinum toxin (Xeomin© , Botox Cosmetic©
and Dysport©) Training
Through this advanced training, practitioners will understand how to decide on and perform any injectable procedure for your patient, going beyond just offering the basic HA products for naso-labial Folds, lip augmentation, and marionette lines. As you start to offer Aesthetics in your office, patients will ask for more and in order to expand your practice, you will need to master these additional techniques. For example, learning how to restore volume and dramatically enhance the contour and appearance of your aging patient is essentially the focus of these course. Using products like Radiesse© in the upper, lateral zygomatic area is a more effective method for treating the unwanted appearance of deep naso-labial folds, yet most aesthetic practitioners will focus only on injecting the naso-labial fold directly. The reason for this is their lack of training and experience. This course is intended to help you develop a thriving aesthetic practice by helping you learn all the necessary procedures and skills to provide your patients.
In addition, training will provided to learn how to correctly perform "tear trough" fillers under the eyes with Restylane© , as well as the newer HA products as well, and the "11" wrinkle lines that develop between the eyes. Understand how Radiesse©, as well as other highly viscous products, can treat naso-labial folds with an advanced technique of injecting around the lateral zygomatic arch and peri-orbital bone. Though these longer-term fillers are non-permanent they still offer patients results that can last four times longer than shorter duration fillers.
With our advanced course, you will learn techniques to inject the mid level face and understand how to perform anon surgical face lift which is a technique in high demand. Empire Medical Training has developed a proprietary method for performing the non surgical face lift which you will learn in addition to the other advanced techniques for performing this procedure.
Your Hands Don't Lie! Training on Radiesse© for Cosmetic Hand Rejuvenation!
Your hands reveal the truth about your age. Even if your face and body look youthful, your age can easily be known based on the appearance of your hands.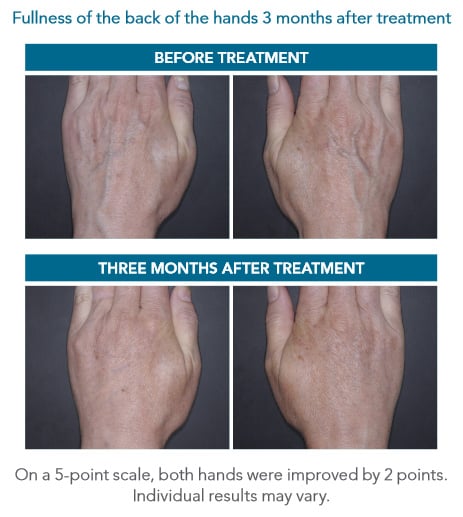 Radiesse© for Cosmetic Hand Rejuvenation: There is actually a treatment which is FDA approved and is the only approved treatment for treating volume loss in the hands.Finally a treatment which can reverse the appearance of having unsightly "sunken" or "old" looking hands. Patients love the results and there is certainly a plethora of potential candidates you can help. The product, known as Radiesse©, enhances and rejuvenates volume to the hands creating a very smooth, natural appearing end result. Not only do patients love the results, the procedure itself is very simple to perform and the national average fee ranges from $900 on the low end to $1,500. Learn to perform a technique which can serve as your secret arsenal to having a unique practice with special age restoring methods.
You will learn to perform and treat volume loss in hands using this specific technique. You will first need to learn using Hyulronic Acid based products such as with Juvederm© or Restylane© prior to using Radiesse©. Merz requires that all practitioners receive training by them prior to purchasing the product. Merz will actually send their trainer to your office with free samples of Radiesse© for you to learn on and inject patients with. The service is actually very thorough and gives you an opportunity to generate additional revenue during the training. The training they provide is very specific to the one procedure and takes about 30-45 minutes, however; is not designed to replace a formal Aesthetic workshop.
Marketing Support: After the completion of the Merz office visit, you will be permitted to use all their marketing materials from their website and they provide significant amount of marketing support as well.
Financial Impact and Income Potential: There are NOT many practitioners who offer this technique due to the additional, but few, requirements needed for start up. This creates a significant opportunity for you to offer this technique in your own aesthetic or medical practice.
Hands On Training, Complete Manual/ Materials: During the Dermal Filler workshop you will learn everything you need to understand how to perform this technique correctly. This will be accomplished through extensive didactic training as well as through hands on training.
You will not inject Radiesse© during the training as this is not permitted by Merz, but you will learn the technique using other products. The afternoon session of the Dermal Filler training is devoted exclusively to practicing injection techniques on LIVE PATIENTS! You will also be given extensive information on how to market this technique, which includes specific methods on how to trademark your own proprietary technique for treating hands. Naturally you will learn the pricing and packaging pertaining to the technique. Create a unique aspect to your aesthetic practice and learn the number one treatment for creating beautiful hands for all your patients!
From a medical perspective, over one in ten Americans 12 years and older suffer from migraine headaches, Over 23 million people could be helped by preventative measures to thwart the onset of these migraine and neurological symptoms associated with these attacks. Botox Cosmetic© has been approved for the treatment of Migraine Headaches as well as Hemifacial Spasm, TMJ, Bruxism, and Blepharospasm as a medical treatment for these conditions. Learn the latest treatments and protocols relating to this advancement in the use of Botulinum Toxin - A (Xeomin© , Botox Cosmetic© and Dysport©) as well as invaluable "pearls" relating to the use of botulinum toxin (Xeomin© , Botox Cosmetic© and Dysport© ) in regards to the traditional use in the treatment of facial and expression wrinkles.
This course is specifically designed for Practitioners who wish to expand their skills and services to include non-traditional areas for facial contouring by the use of injectables. Physicians will also gain a full understanding of the other most popular medical uses for botulinum toxin (Xeomin© , Botox Cosmetic© and Dysport©) including protocols for patient selection, diagnosis, insurance reimbursement, modalities of treatments, and specific injection techniques and dosages for the treatment of Migraine Headaches, Hemifacial Spasm and Blepharospasm.
Botulinum Toxin / Dermal Filler Training (Level II) Objectives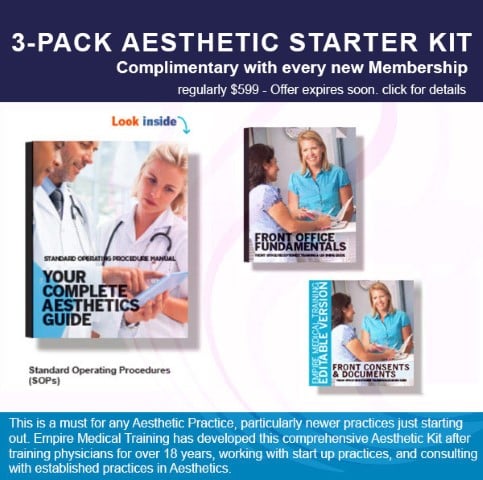 All attendees will gain an expertise in using different types of injectable products that will enable the physician to offer non-surgical facial rejuvenation and facial sculpting through the use of botulinum toxin (Xeomin© , Botox Cosmetic© and Dysport©) and various dermal filler products. Upon completion of this course the attendees will have the ability to artfully assess the cosmetic needs of patients and determine which products and techniques should be used to achieve the best results for their patients.
Thoroughly understand and become proficient in the following areas:
Facial Re-Shaping (Sculpting) using advanced combinations of Botox Cosmetic and various Dermal Fillers – the "liquid facelift".
Proper safe method to filling "11" lines between the eyes using soft fillers such as Restylane©, Juvederm XC©, or Belotero Balance©.
"Off-Label" uses for various Dermal Fillers and Botulinum Toxin - A (Xeomin©, Botox Cosmetic©© and Dysport©) for line and wrinkle reduction in non-traditional areas. Dermal Filler advance techniques include tear trough injections, jaw redefinition (pre-jowl sulcus), cheek augmentation techniques, fern techniques (extended commissure lines), sub-malar hollow, and philtrum reconstruction.
Administer safely such products as Radiesse and Sculptra for various more difficult wrinkles outside the Naso Labial Fold area as well as non-traditional areas of the body including the hands where unwanted veins pertrude on patients.
Learn to identify, diagnose, and treat Migraine Headaches and Bruxism as well as other medical conditions through the administration of Botulinum Toxin - A.
Receive protocols and understand using Botulinum Toxin -A products for jaw reduction, nasal flare, nasal tip, mid-arch eyebrow shaping, lower eyelid injections and decolette areas.
Understand the possibility for insurance reimbursement for the medical use of Botulinum Toxin products and the long-term strategy and follow-up for patients' to alleviate or eliminate these disorders.
Evaluate the aging face, understand gender differences and create realistic expectations for the patients.
Understand all contraindications for safety, off-label use, and proper use administration of these materials.
Agenda
---
Advanced Botox & Dermal Filler Training - Level II - Agenda
8:00am–8:30am • Registration.
8:30am–9:00am •  Instructor Introduction, Overview, mechanisms of action, current applications and newest advancements, federal and state regulations, FDA Approved and Off-Label Applications.
9:00am-10:30am • Orofacial Applications using Botulinum Toxin; Tension Migraine Headaches, Bruxism, and Temporomandibular Joint Disorder (TMD/TMJ) - communicating expected results of Botulinum Toxin Treatments. Learn which techniques that will satisfy your patient's goals and concerns and properly mark facial zones. Proper diagnosis, storage, reconstitution, and administrative concerns, record keeping, and patient charting.
10:30am–10:45pm • Break.
10:45am–12:00pm • Dosing schedules and suggested injection patterns: Mid-Arch Brow Lift, Lower Eyelid, Nasal Flare, Nasal Tip, Hypertrophic Platysmal Bands, and Décolleté injections using standard of care protocols, guidelines, understanding the medical model, safety, techniques and indications.
12:00pm–12:30pm • Lunch.
12:30pm—2:45pm •. Advanced injections FDA Approved and "off-label" applications of HA and Non-HA dermal fillers for hands, cheek augmentation (apex, apple, and hollows), tear trough (eye hollows), lip augmentation (vermillion border and plumping) and pre-jowl sulcus.
2:45pm–3:00pm • Break.
3:00pm–5:30pm • Advanced off-label injections for ear lobe correction, stubborn glabellar lines, fern technique (extended skin expression) and other facial areas. Anesthesia options including the application of facial blocks as well as photography considerations followed by group breakout sessions with live demonstrations on volunteer patients.
Event Categories
HEALTH AND MEDICINE CONFERENCES
,
Healthcare
,
Technology
Keywords: administration , design , Eating, Financial , learn, Learning , opportunity, performing , pop , program
---
---
---
Comments
---
---
Newsletters
VIP Life Time Subscription to our Newsletters!

$399.99