New York Professional Events List
9th KOL/ Thought Leader Engagement and Advisory Boards Summit (exl) AS
---
Date
Jun 18, 2018 - 08:00 AM - Jun 19, 05:00 PM
Organizer
New York Media Technologies LLC in association with EXL Events Inc
Location
PhiladelphiaPhiladelphia, PAUnited States,
Philadelphia,
PA ,
US,
ZIP: United States
Phone: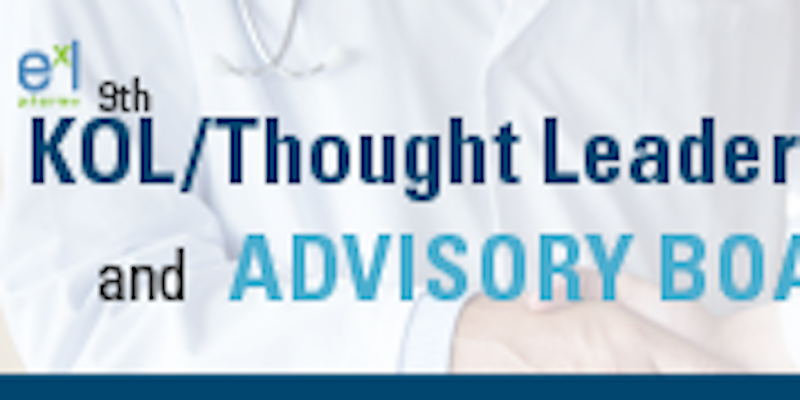 Description
9th KOL/Thought Leader Engagement and Advisory Boards Summit
The growing biotech industry has led to an increasingly competitive and saturated marketplace, and with it, greater competition for face time with premier thought leaders. Coupled with the scrutiny associated with industry partnerships and the challenges of managing KOL relationships in a post-Sunshine Act world, it is imperative for life science organizations to differentiate themselves from their competitors in the marketplace while aligning company objectives across their internal organization.
The 9th KOL/Thought Leader Engagement and Advisory Boards Summit will provide attendees with valuable insights into engaging traditional and non-traditional KOLs and discuss the priorities and motivating factors for patient groups, payers and managed care organizations. Join our esteemed faculty as they share disruptive techniques for attracting external stakeholders in meaningful ways and discuss strategies for commercial and medical groups to work together while maintaining compliance.
Top Five Reasons to Attend
Redefine the idea of thought leaders to include key stakeholders that truly represent the current healthcare landscape

Develop clearly defined objectives that are aligned across internal and external groups to ensure the success of an advisory board

Adapt traditional collaboration with KOLs to fit into the digital pharma world

Examine how new stakeholders — including payers, IDN networks, and healthcare quality leaders — are acquiring more influence over treatment decision-making

Craft compliant processes to collect and evaluate data in order to determine regional and international fair market value rates
Who Should Attend
This conference is designed for professionals from pharmaceutical companies with responsibilities in the following areas:
KOL Relationship Management/Development

Opinion/Thought Leader Relations

Medical Science Liaison

Brand/Product Management

Medical and Professional Affairs

Medical and Professional Education

Scientific/Medical Communication, Relations and Affairs

Advisory Board Management

Speaker Bureau Training/Management

Speaker Programs

Professional Education/Programs
Global Relations

Compliance, Legal and Regulations

Business Development

CRM Systems

Sales and Marketing

Professional Relations

External Affairs

Stakeholder Relations/Outreach

Medical Publications

Physician Education/Outreach

Promotional Regulatory Affairs
This conference is also of interest to:
KOL Management, Social Network Analysis (SNA) and KOL Identifiers

KOL Technology/Software Providers

KOL Identification and Mapping Services

Digital Advisory Board Service Providers
Conferencing Software Providers

Communication and Public Speaking Bureaus

Law Firms

Aggregate Spend Professionals
Topics under consideration for this program include:
Elements of how to develop a KOL/Ad Board engagement strategy

Best practices in development, as well as effectively running and managing Ad Boards

KOL identification in rare disease and other therapeutic areas

Cash pay for service strategies of KOLs and Ad Boards

Engaging new thought leaders

The role of MSLs in KOL interaction and support

Enhancing a field medical teams' ability to capture and utilize KOL insights while remaining compliant
Please contact the event manager Marilyn below for the following:
- Discounts for registering 5 or more participants.
- If you company requires a price quotation.
Event Manager Contact: marilyn.b.turner(at)nyeventslist.com
You can also contact us if you require a visa invitation letter, after ticket purchase.
We can also provide a certificate of completion for this event if required.

NO REFUNDS ALLOWED ON REGISTRATIONS
-----------------------------------------------------------------
This Event Listing is Promoted by
New York Media Technologies LLC in association
with EXL Events Inc
http://www.NyEventsList.com
http://www.BostonEventsList.com
http://www.SFBayEventsList.com
-----------------------------------------------------------------
MYL171002CEV
Event Categories
BUSINESS & MANAGEMENT CONFERENCES
,
Technology
Keywords: fun, analysis, business , communication , conference , craft, design , development , Fun , Health
---
---
---
Comments
---
---
Newsletters
VIP Life Time Subscription to our Newsletters!

$399.99