New York Professional Events List
4th Rx-to-OTC Switch Summit (EXL)
---
Date
Dec 06, 2017 - 08:00 AM - Dec 07, 05:30 PM
Organizer
New York Media Technologies LLC in association with EXL Events Inc.
Location
Sonesta Philadelphia Downtown Rittenhouse Square1800 Market StreetPhiladelphia, PA 19103United States,
Philadelphia,
PA ,
US,
ZIP: 19103
Phone: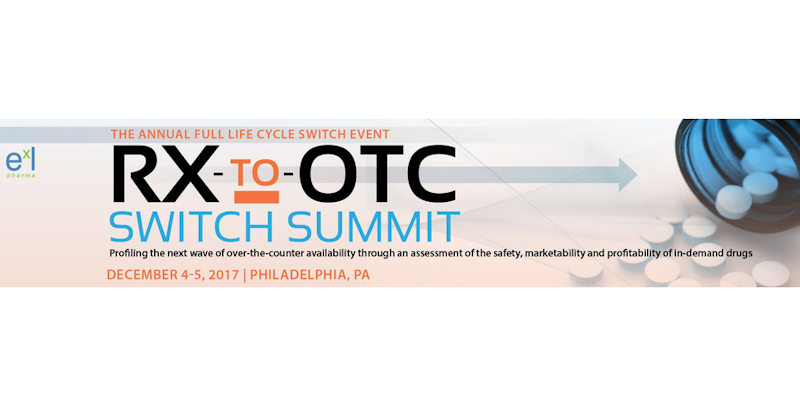 Description
4th Rx-to-OTC Switch Summit
Switching drugs from prescription (Rx) to over-the-counter (OTC) status is a commercial strategy that has been growing in popularity. More than 20 products have been switched over to OTC during the past decade — and there has been a plethora of high-profile switch failures and disappointing results. Successful switches are as much an art as a science, and it has become increasingly apparent that switch teams must revise their best practices in strategy, marketing, sales, clinical research, regulatory affairs, medical writing, labeling and packaging if they are to effectively collaborate and lead an Rx product through the switch to OTC.
Now in its fourth consecutive year, ExL's Rx-to-OTC Switch Summit is the most advanced thought leadership event experts can attend to discuss all aspects of a switch, from the NDA process to the final over-the-counter product; analyze current trends; and prepare for future switches. Whether you are exploring your chances of tapping into the very lucrative OTC marketplace or are an expert in the field, this conference will provide detailed presentations, intensive case studies and collaborative panel discussions relevant to your interests, maximizing the learning experience for overcoming the shared challenges of the industry. In addition, designated lunches and networking breaks will enhance the exchange of knowledge and foster future business partnerships.
Top Five Reasons to Attend
Explore current trends and business models, and identify how to lead your Rx drug through the OTC switch journey

Review the latest switches and learn from examples of successful and failed switches, as well as what caused their outcomes

Hear how industry stakeholders can work together with key stakeholders — such as the FDA, retailers and government agencies — on the switch process and discuss the latest regulatory challenges and initiatives, including NSURE

Understand the future of Rx-to-OTC switches and stay up to date with commercial strategies

Network with leading industry professionals to exchange best practices for ensuring a seamless Rx-to-OTC switch, and brainstorm new marketing and branding strategies
Who Should Attend
This conference is designed for professionals from pharmaceutical companies with responsibilities in the following areas:
Rx-to-OTC Switches

Consumer Healthcare Products

Marketing/Brand Management/Product Management

Regulatory Affairs/Regulatory Processes

Clinical Development

Legal Affairs/Counsel/Regulatory Counsel

Medical/Scientific Affairs
Clinical Trials

Research and Development

Business Strategy

Labeling/Packaging

Drug Delivery Technology

Product Development

Corporate Development
This event is also of interest to:
Strategy and Marketing Consultants

Clinical Research Labs

CROs/CMOs

Drug After-Market Manufacturers/Suppliers
Legal/Regulatory Advisors

Statistical Service Providers

Marketing Organizations
Event Partners
---
MEDtube
MEDtube is an innovative video education platform for health professionals. It allows sharing videos and other materials with a community of more than 110,000 users worldwide, as well as building e-learning courses. The videoteque is updated daily and now contains almost 15,000 videos.
PharmaLeaders
PharmaLeaders.com is an online environment dedicated to enriching the careers of more than 200,000 life sciences professionals. With breaking news and informative content grouped into one of nine segmented channels, in-depth special reports, job and events postings, and so much more, industry executives, manufacturers, marketers and educators can count on PharmaLeaders for the tools they need to succeed in today's competitive market environment.
pharmaphorum.com
pharmaphorum drives innovation within the pharmaceutical industry, by bringing together healthcare through a suite of media services that help produce and disseminate thought leadership, combined with an online platform for communicating messages to a global audience.
PharmaVOICE
PharmaVOICE magazine, reaches more than 41,000 qualified subscribers and 100,000 users with its digital edition. PharmaVOICE is the forum that allows business leaders to engage in a candid dialogue on the challenges and trends impacting the industry. PharmaVOICE provides readers with insightful and thought-provoking commentary in a multiple-perspective format through forums, topics, and articles covering a range of issues from molecule through market. PharmaVOICE subscribers are also kept abreast of the latest trends and information through additional media resources, including Social Media, WebLinx Interactive WebSeminars, Podcasts, Videocasts, White Papers, E-Surveys and e-Alerts.
PM360
PM360 is the premier, must-read magazine for marketing decision makers in the pharmaceutical, biotech, and medical device industries. Published monthly, PM360 is the only journal that focuses on delivering the full spectrum of practical information necessary for product managers and pharma marketing professionals to succeed in the complex and highly regulated healthcare environment. The journal's targeted and insightful editorial focuses on issues that directly impact critical decision making, including: planning and implementation of cutting edge strategies, trends, the latest technological advances, branding/marketing, advertising/promotion, patient/professional education, sales, market research, PR, and leadership. Additionally, the '360' in our title signifies the combination of this critical, how-to info with personal and career insights for an enjoyable and thought-provoking read. By providing the full circle of enriching content, PM360 is truly an indispensable tool for busy and productive marketing professionals to stay at the top of their game.
Technology Networks
Technology Networks is an internationally recognised publisher that provides access to the latest scientific news, products, research, videos and posters. Our global community is made up of over 300,000 researchers and scientific professionals from the life science, drug discover and analytical arenas.
Please contact the event manager Marilyn below for the following:
- Discounts for registering 5 or more participants.
- If you company requires a price quotation.
Event Manager Contact: marilyn.b.turner(at)nyeventslist.com
You can also contact us if you require a visa invitation letter, after ticket purchase.
We can also provide a certificate of completion for this event if required.

NO REFUNDS OR TRANSFER ALLOWED ON REGISTRATIONS
-----------------------------------------------------------------
This Event Listing is Promoted by
New York Media Technologies LLC in association
with EXL Events Inc.
http://www.NyEventsList.com
http://www.BostonEventsList.com
http://www.SFBayEventsList.com
-----------------------------------------------------------------
SHU170504CEV VJ170529Ucity MYL170721OTH MAR170928UPD
Agenda
---
Agenda
Day One
Conference Day 1 - December 6, 2017
8:00AM – 9:00AM
REGISTRATION AND CONTINENTAL BREAKFAST
9:00AM – 9:15AM
WELCOME AND OPENING REMARKS
9:15AM – 12:15PM
CONFERENCE WORKSHOP: HOW TO GUIDE YOUR ORGANIZATION THROUGH AN RX-TO-OTC SWITCH
Susan B. Levy, Founder and Principal, SUSAN B. LEVY CONSULTING
12:15PM – 1:15PM
LUNCHEON
1:15PM – 2:15PM
PANEL: MEDICAL — COMMERCIAL PARTNERSHIP: A KEY TO SUCCESSFUL SWITCH
Philip Kantor, Former Global Marketing Director, Allergy, GLAXOSMITHKLINE
Juby Jacob-Nara, Former CMO, and Vice President, Global Clinical Development and Global Medical Affairs, PFIZER
2:15PM – 3:00PM
DISCUSS CHANGES IN THE FDA UNDER THE TRUMP ADMINISTRATION
3:00PM – 3:30PM
NETWORKING BREAK
3:30PM – 4:15PM
NOVEL STRATEGIES TO MAXIMIZE SWITCH COMMERCIAL SUCCESS
Susan Lavine Coleman, President, NCI CONSULTING
4:15PM – 5:00PM
SUCCESSFULLY SWITCHED CASE STUDY: BEST PRACTICES AND INSIGHT FROM GALDERMA AND SANOFI ON SUCCESSFUL RX TO OTC SWITCHES
James Kenney, Global Brand Marketing Director, GALDERMA
5:00PM –
DAY ONE CONCLUDES
Day Two
Conference Day 2 - December 7, 2017
8:15AM – 9:00AM
CONTINENTAL BREAKFAST
9:00AM – 9:15AM
CHAIRPERSON'S RECAP OF DAY ONE
9:15AM – 10:15AM
PANEL: DRIVE INNOVATIVE MEDICAL AND REGULATORY STRATEGIES AND INTERACT EFFECTIVELY WITH THE FDA
10:15AM – 10:45AM
SUCCESSES AND FUTURE CHALLENGES WITH RX-TO-OTC SWITCHES
10:45AM – 11:15AM
NETWORKING BREAK
11:15AM – 12:00PM
POTENTIAL FUTURE OTC SWITCHES FROM A PHARMACIST'S PERSPECTIVE
Randall Thornton, Clinical Pharmacist, EMORY HEALTHCARE
12:00PM – 1:00PM
LUNCHEON
1:00PM – 1:45PM
EXPLORE POLICY AND PROGRAM IMPLICATIONS OF A NALOXONE RX-TO-OTC SWITCH
Erin E. Haas, MPH, Prevention Policy Manager, Maryland Department of Health Behavioral Health Administration
1:45PM – 2:30PM
UNDERSTAND KEY ELEMENTS OF CONSUMER BEHAVIOR STUDIES IN A COMPLEX RX-TO-OTC SWITCH
Edwin Hhemwall, Ph.D., Principal, EDWIN HEMWALL LLC REGULATORY AND SCIENTIFIC CONSULTING SERVICE
2:30PM – 3:00PM
NETWORKING BREAK
3:00PM – 3:30PM
THE JOURNEY OF MOVING ORAL CONTRACEPTIVES OTC IN THE U.S.
3:30PM –
CONFERENCE CONCLUDES
Event Categories
HEALTH AND MEDICINE CONFERENCES
,
Healthcare
,
Life Sciences, Biotechnology
,
SCIENCE AND TECHNOLOGY CONFERENCES
,
Technology
Keywords: fun, access , analyze, audience, business , Clinical , community , conference , design , development
---
---
---
Comments
---
---
Newsletters
VIP Life Time Subscription to our Newsletters!

$399.99